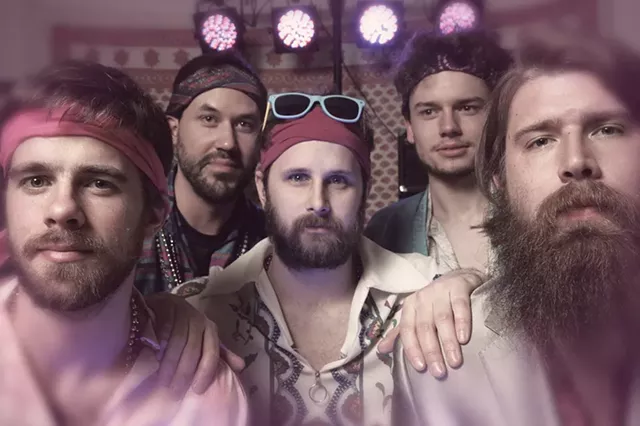 Another week, another milestone show for one of the state's most swiftly rising bands.
Last Friday, Kat Wright and the Indomitable Soul Band sold out the Higher Ground Ballroom. I opted for the Lynguistic Civilians at Nectar's that same night — which was excellent, by the way. So I can't report on how Wright and co. fared beyond packing the joint, which is impressive. But if Facebook is to be believed — and, really, when is it not? — it was a command performance. I mean, someone even made the band a cake to commemorate the occasion.
(As an aside, what an embarrassment of riches when concertgoers are forced to choose between groups like the LCs and the Indomitable Soul Band playing big shows on the same night. We've got it pretty damn good here in BTV.)
This week, it's Madaila's turn. They've been among Burlington's elite from the moment they debuted at the Precipice in 2014. Since then, it's been a rapid rise from a packed residency at Nectar's to sold-out shows at offbeat venues such as Burlington City Hall Auditorium and the ECHO Leahy Center for Lake Champlain. Hell, they even sell out local clubs as their alter-ego band the Medallions, such as at the Rusty Nail in Stowe on New Year's Eve. Er, I mean ... they would if the Medallions were, in fact, Madaila and not a time-traveling disco band stuck in Vermont from the 1970s. Obviously.
Remember last week when I wrote about the strategy of gigging selectively as a means to build anticipation? No one locally has mastered that quite so fully as Madaila. Though they're now gigging fairly often regionally, the band doesn't play with much frequency in Vermont. And when they do, their shows aren't just shows. They're events.
This Friday, April 8, Madaila will host the next such blowout shindig, called Madaila: The Fair. Joining the band are NYC dance-pop supergroup Superhuman Happiness and jazz-inflected hip-hop outfit Billy Dean & the Honor Roll. And because he's everywhere all the time, DJ Disco Phantom will be spinning, as well.
As you may have surmised from the name of the party, the show is, in fact, at the fair — the Blue Ribbon Pavilion at the Champlain Valley Exposition in Essex Junction, to be precise. If you're unfamiliar, that's the building where the giant pumpkins are exhibited, and where you can buy hot tubs or enlist in the armed forces, come fair time in August. Man, I love the fair.
Anyway, Madaila's version will indeed be fair-themed, with midway-style games, racing pigs, a dunk tank, cotton candy, carnies, and fried ... everything. The works.
OK, fine, I made up some of those. But I'm going to let you guess which ones. Think of it like being that guy on the midway who guesses people's weight.
But that's not all. Madaila have been hard at work on a follow-up to their exceptional 2015 debut, The Dance. According to bassist Jer Coons, that record won't come out until summer. But the band is planning to debut songs from the album at the show, which is tremendously exciting.
I know what you're thinking: Dan, that sounds like a hootenanny and half. But how the hell am I going to get all the way out to Essex Junction?
I hear ya. It's true, the fairgrounds are a bit out of the way for the downtown crowd. But Madaila's got you covered. Or rather, their alcohol sponsors do. Citizen Cider and Otter Creek Brewing are teaming up on something called the Unified Backseat Berner Bus. It's a shuttle that will ferry fans from Nectar's in Burlington to the fairgrounds and back again. Which, of course, is all the more reason to enjoy a few extra Dirty Mayors or Couch Surfers at the show. (Note to Citizen Cider and Otter Creek: You can make that check payable to Dan B-O-L-L-E-S. Thanks.)
For more info and tickets, visit nectarspresents.com.
Summer Flings
Speaking of the fair, the folks at the Champlain Valley Fair made their first concert announcement. So let's get to that and, while we're at it, catch up on some other news on the summer concert beat.
On Saturday, August 27, Rock & Roll Hall of Fame inductees ZZ Top will rock the midway with Allman Brothers Band founder Gregg Allman. Might be time to get that IROC-Z out of storage, no? In other fair news, comedian Jim Gaffigan will perform on Friday, September 2. And, because it's the fair, pop-country stars Rascal Flatts will play on Saturday, September 3.
The Burlington Discover Jazz Festival has made another round of announcements for this year's fest. Highlights of the announced acts include vocalist Diane Schuur & the Count Basie Orchestra at the Flynn MainStage on Sunday, June 12; Afrobeat torchbearers Antibalas with Cumbancha's Lakou Mizik and locals Barika at the Waterfront Tent on Saturday, June 11; Afro-Cuban hard boppers the Rodriguez Brothers at the FlynnSpace on Monday, June 6; and N'awlins party band Naughty Professor with locals Soule Indomitable at Nectar's on Wednesday, June 8.
BTW, if that last band sounds oddly familiar, it should. They are a hybrid of the Indomitable Soul Band and organ-funk duo Soule Monde, featuring Bob Wagner, Josh Weinstein, Russ Lawton and Ray Paczkowski.
Calling all Deadheads! In mid-August, Prospect Mountain in Woodford will host Alive & Dead. That's a three-day celebration of the Grateful Dead, slated for August 12 through 14. No artist announcements have been made quite yet, probably because it's really tough to find a Dead tribute band in Vermont.
Mildred Moody's Full Moon Masquerade is back and bigger than ever, now under the stewardship of the folks from Signal Kitchen. The next installment of Burlington's most brilliantly debauched party is slated for Saturday, May 21, at the ECHO Leahy Center for Lake Champlain. Headlining is an Alex Toth (Rubblebucket)-led project called "Farewell, Starman: the Music of David Bowie Re-imagined." Jocie Adams' (ex-the Low Anthem) band Arc Iris will be on hand, in addition to DJs, live theater productions, visual art and lake sturgeon. Lots of lake sturgeon.
Staying close to the lake, the Lumineers will headline the 2016 Lake Champlain Maritime Festival. They play Burlington's Waterfront Park on Sunday, July 31, with opener Rayland Baxter.
Finally, a new festival is in the works in central Vermont. It's called the Eat More Kale Festival and is indeed founded by Bo Muller-Moore, aka "the Eat More Kale guy." It's scheduled for Saturday, June 25, at Morse Farm Maple Sugarworks in Montpelier. Details are still being worked out, but at present the music lineup includes Kat Wright and the Indomitable Soul Band, Gang of Thieves, the Aerolites, Brickdrop and Abby Jenne.
RIP, DJ BP
We close this week on a tragically sad note. On Sunday, April 3, local DJ Ryan Morin, aka DJ BP, died unexpectedly. According to rapper Devon Ewalt, aka Learic, Morin, 35, was found unresponsive at his home on Friday night. Paramedics were able to revive his heart, but he had already gone too long without oxygen to his brain. Morin was kept on life support in the intensive care unit at the University of Vermont Medical Center, which allowed family and friends the chance to say goodbye.
Morin was best known as the DJ for pioneering BTV hip-hop group the Aztext, which also included Learic. He was also the DJ for an early incarnation of the Lynguistic Civilians. More recently, Morin performed as part of the group Unkommon, with rapper Kin. Morin was also a rapper and had been writing and recording a new album with Kin, Truth, Learic and Pro, the last of whom was also part of the Aztext. In a recent email, Ewalt writes that the album was half finished when Morin died, but that they will finish it, "making sure those BP verses get heard."
"He was a beacon of light and positivity for whoever he came in contact with," writes Ewalt. "It didn't matter who you were, he would make you feel comfortable and like you'd known him forever. He was the most generous human being I've ever known, and he was a brother to me and our other close friends."
Rest in peace, Ryan. You're gone way too soon.
Listening In
A peek at what was on my iPod, turntable, eight-track player, etc., this week.
Charles Bradley, Changes
Spain, Carolina
Julianna Barwick, Will
Winterpills, Love Songs
Lucius, Good Grief