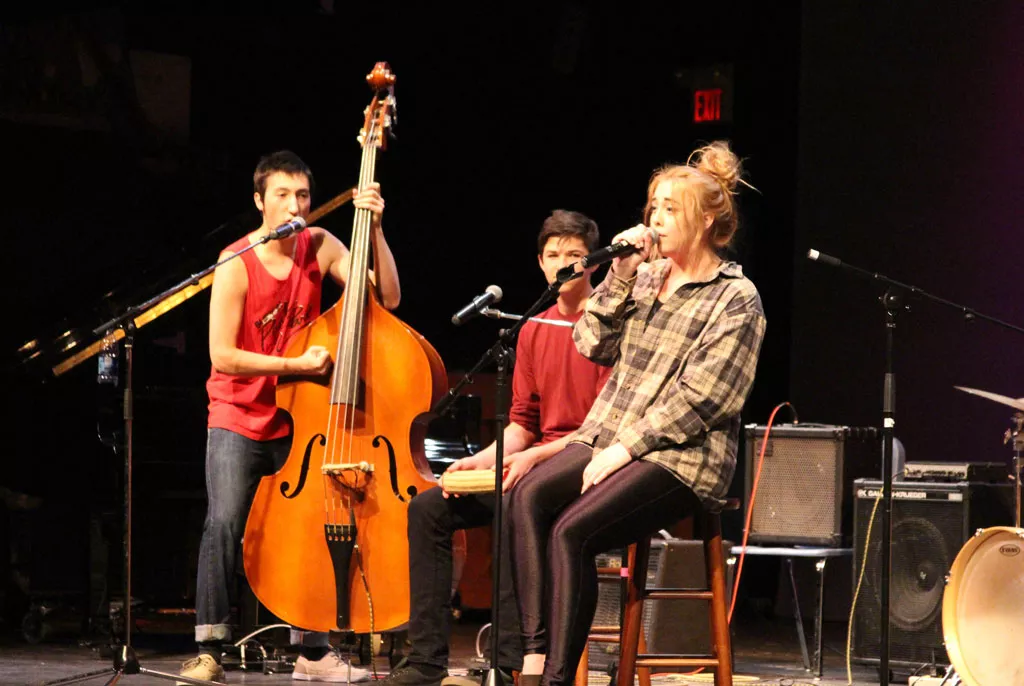 courtesy of Sam Krotinger
The Harwood Union High School Assembly Band
If you're just joining us, for the past few weeks we here at your friendly neighborhood alt-weekly newspaper have been running the annual Grand Point North Local Band Contest. Seven Days readers vote to decide which Vermont band gets to open the festivities at the Grand Point North music festival in September. Not to toot our own horn, but it's kind of a big deal. The two previous winners were the DuPont Brothers in 2013 and Dwight & Nicole last year. Those are two high-profile local acts right now, which makes for some good company. And GPN is a pretty high-profile gig.
Anyway, the votes have been cast and the people have spoken. Drum roll, please...
The winner of the 2015 Grand Point North Local Band Contest is ... the Harwood Union High School AssemblyBand!
I know what you're thinking: Did a high school band seriously just win the GPN contest? And not a high school band like the Snaz, who are a band whose members happen to be in high school. But an actual freakin' high school band?!
Yes. That's exactly what just happened. And it's awesome for four specific reasons.
Reason 1: Who'd a-thunk it?
I actually have a lot less to do with this contest than you might assume. Though I think it's pretty cool, it was not my idea. I in no way coordinate or influence any of the decisions behind it. I help publicize it because it's newsworthy, and that's about it. That said, when 7D and Higher Ground devised the contest, the intention was to find a way to spotlight worthy working bands from the local scene. That a school band could or would win was, I'm pretty sure, never a thought. But there was also never any rule against it. The only rules were that the band with the most votes wins and that the band has to be from Vermont. The HUHS Assembly Band winning is a total curveball. Curveballs are fun.
Reason 2: Curveballs are fun, but not as fun as chicanery.
Here's how the HUHS Assembly Band won. On the final day of the contest, last Friday, May 22, HUHS jazz band director Bruce Sklar saw an email from the Contois School of Music Band urging supporters to vote for it. The Contois band had been a front-runner for much of the contest and included the latest voting tally in the missive to help get them over the final hump. But Sklar noted that the Assembly Band was only about 200 votes off the lead. He saw his opening.
"It was like if you're a general and you see that your opponent had just made a fatal error," says Sklar by phone. High school band, meet The Art of War.
Sklar immediately emailed everyone in the school. Then an Assembly Band member commandeered the school's intercom system.
"I think everyone in the school stopped dead and voted," says Sklar of the school-wide announcement. If the final numbers are any indication, that's precisely what happened. Including the adjoining middle school, Harwood Union has about 900 students. HUHSAB finished with 1,437 votes. That's nearly 500 more than the runner-up band, Cricket Blue, and more than double the next-closest finishers, Evansville Transit Authority and Contois. That means the Assembly band tallied about 1,000 votes in the contest's final hours. (By comparison, last year's winners, Dwight & Nicole, received 362 votes.)
Is having a built-in voter base of fellow students an unfair advantage? Probably. But it's legal. Sklar and HUHS just happened to figure out that loophole before anyone else. As a longtime New England Patriots fan, HUHS, I salute your vigor.
Reason 3: The Harwood Union High School Assembly Band ain't your average school band.
Don't expect to hear the Assembly Band playing "Spain" or "In the Mood" come September. They are less like a select jazz band than, well, a band. Sklar explains that the Assembly Band consists of juniors who have been together since they were freshmen — that's longer than your average local rock band, by the way. As the name implies, its members play every few weeks at school assemblies. For each gathering, they work up a song or two to feature as well as transition music between assembly segments.
"They're really more like the 'Tonight Show' band," says Sklar.
In a related story, Harwood has the coolest school assemblies ever.
Sklar adds that each member of the group is responsible for bringing material to the group, which they all arrange together. Recent tunes have included a jazzed-up acoustic version of Stevie Wonder's "Isn't She Lovely" and songs by the Rolling Stones and Amy Winehouse — not "Rehab," presumably. And Sklar, a veteran local player perhaps best known as the keyboardist in the Grippo Funk Band, helps them through sticky intra-band dynamics.
"They're learning what it means to be in a band, what it is to be a professional," he says.
Reason 4: Grace Potter, HUHS Class of 2001.
That's right. Grace Potter is a Highlander — that's the school mascot. And she's maintained strong ties to the school as she has ascended to pop stardom. In 2012, Potter surprised her chorus teacher, Di Phillips, by performing at Phillips' retirement assembly. Shortly thereafter, Potter's buddy, country superstar Kenny Chesney, donated a white baby grand piano to the school's music department.
"I'm so psyched for the Harwood Assembly Band!" writes Potter in an email to 7D. "I was blown away by some of the local talent that emerged this year, and it's kind of a cosmic full circle that my alma mater will be there to represent at Grand Point North!"
You have to admit it's pretty neat that players from Potter's high school will open the huge rock festival she founded. Plus, you gotta figure she might sit in for a tune, right?
"I'm hoping that might happen," says Sklar.
And, hey, what with the rumors that Potter might be in the market for a band, Grace Potter & the Assembly has a nice ring, doesn't it?
BiteTorrent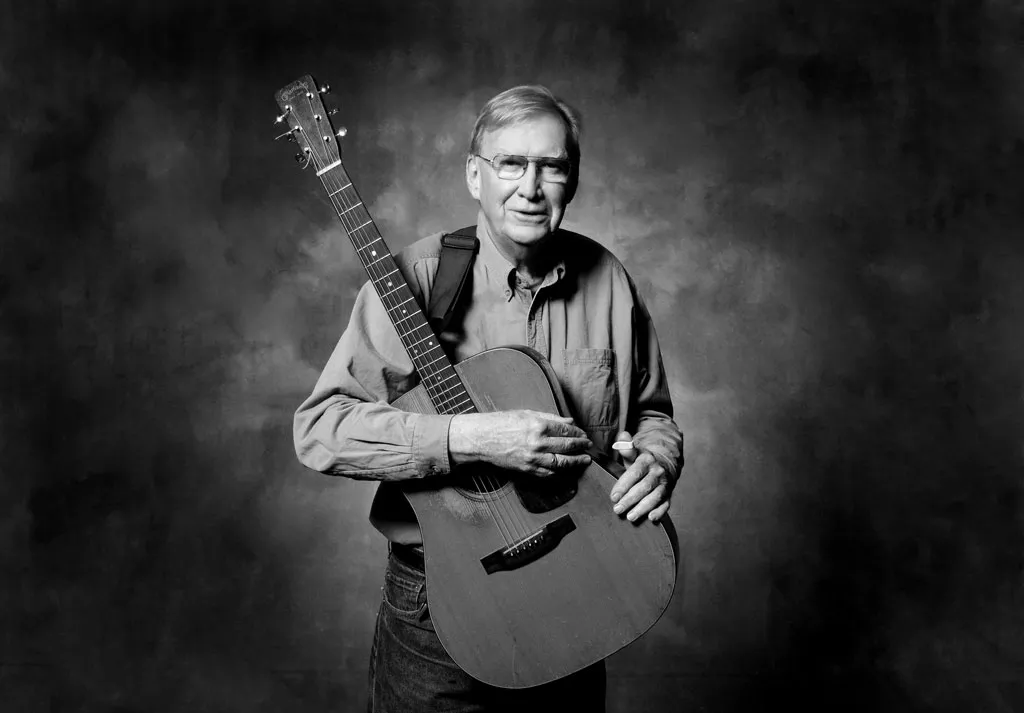 Courtesy Of Jim Rooney
Jim Rooney
In other news, Jim Rooney is my hero. Dude is a walking encyclopedia of modern music history, primarily because he lived most of it. He helped run the Newport Folk and Jazz festivals in their earliest days. He was at the center of the Cambridge folk scene in the 1960s. As a producer in Nashville, he discovered Iris DeMent and Nanci Griffith. Muddy Waters crashed on his couch. And he's a fine musician, to boot.
Find out for yourself when Rooney, who now lives in Sharon, plays a rare local show with his pals Chris Brashear and country songwriter Pat Alger at the Tunbridge Town Hall this Sunday, May 31. Alger, by the way, is pretty much the reason Garth Brooks has a career. He penned several of Brooks' No. 1 hits as well as writing tunes for the likes of Trisha Yearwood, Hal Ketchum and Don Williams. Dolly Parton and Lyle Lovett have been known to sing his stuff, too.
Courtesy Of Gift Of Gab
Gift of Gab
Last but not least, hip-hop fans, take note: Blackalicious rapper Gift of Gab drops by Nectar's on Tuesday, June 2, which is pretty damned incredible — because Blackalicious. The local support ain't bad, either, featuring Enemy Self, Mertz, Bless the Child and VT expat Learic.