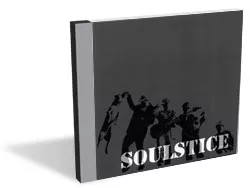 (Self-released, CD, digital download)
Why, oh why, is there so much terrible reggae in the world? Perhaps it's because the genre is presumed — incorrectly — to be easy to play. How hard can it be to just play on the upbeat, right? Or maybe it's got something to do with the pervading drug culture surrounding the genre. (A great idea stoned is usually half-baked sober.) In fairness, irie island music holds no monopoly on egregious violations of taste or quality. But for some reason, it seems to fall victim to frustrating clichés masquerading as soul or ingenuity, time and time again. And it needs to stop.
All of which brings us to the newest member of Vermont's reggae community, Soulstice. On its self-titled debut EP, the Warren-based quintet offers 20 minutes of island grooves that demonstrate nearly every crime against reggae perpetrated in the last 50 years. Disingenuous proclamations of faith in Jah and/or Rastafarianism? Check. Obligatory ode(s) to getting high? Check. Obvious fusion with paint-by-numbers jam and funk grooves? Check and check.
If predictable, this stuff is merely mildly frustrating. But what really irks about the EP is that Soulstice are better than this. Aside from the obvious shifts in tempo and syncopation, what made reggae different from its comparatively simplistic predecessors — ska and rocksteady — is that it introduced a subtly complex style. Soulstice seem to understand this. Their opening cut, "Tour the World," is richly arranged and textured. So, too, are tracks such as "Gotta Be Good" and "Sensi Time" — both capture classic, undulating reggae feels fleshed out with intricate and understated accents.
So why the reliance on every limp lyrical cliché in the book when Soulstice have the musical sense and creativity to do better? I (and I) don't get it.
Reggae is soul music. It is, pardon the chestnut, the music of the people, born of social and political unrest. (Look it up, kiddos.) Yet what Soulstice offer is the same pseudo-hippie bullshit that has surely caused Bob Marley to spin in his grave for decades — or, at the very least, made for this brilliant yet sadly telling 2005 Onion headline: "Bob Marley Rises From Grave to Free Frat Boys From Bonds of Oppression."
Sigh.