Tom mcneill
Worthy Kitchen
For a town that teemas with tourists by day, Woodstock can seem a little deserted after dark, save for a few sedate restaurants. That could explain why Worthy Kitchen created a splash when it opened last summer. Inside this industrial-chic spot on the edge of town, Motown blares as neighbors mob the bar, grab their own food from the kitchen window and gossip over pints of beer — very, very good beer. Co-owner Dave Brodrick also runs the New York City craft-beer bar Blind Tiger, and his connections guarantee regular access to rare, small-batch Vermont brews.
442 Woodstock Rd.
Upper Valley
Woodstock, VT
802-457-7281
American (New)
But sought-after suds are only one reason people are beating a path to Worthy Kitchen. Another is that Brodrick and partners Jason Merrill and Kurt Lessard have created a locavore oasis with a wood-burning oven in back and a menu that features a whole animal each week. A grass-fed lamb raised by their friends might be marinated, skewered and grilled, while a Lombard Farms pig could make a tender contribution to a sage-and-pistachio-spiked pork sandwich studded with puckery house pickles.
Tom mcneill
Worthy Kitchen
What Chef Scott Liberty doesn't touch with flame is often anointed with luscious fats: Chile-laced mayo lends glistening life to corn on the cob. Fried chicken thighs await inside a crisp, peppery armor of golden batter. Truffled shoestring fries are cooked in beef tallow, dusted with herbs and totally addictive. A plate of greens is anointed with a coral-like Parmesan crisp, while a hunk of flaky roasted cod gets a dollop of spicy remoulade. Although the lard doughnuts sound like they might block an artery — they're also fried in beef tallow — each cinnamon-showered pastry is like a puff of heaven, and petite enough to eat in two bites. The s'mores are to die for.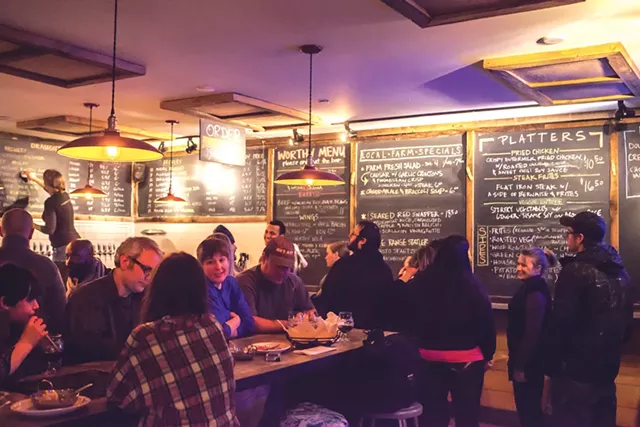 Tom mcneill
Worthy Kitchen
If there's such a thing as Vermont soul food, this is it — with a buzzing scene and good beer to back it up. Sleepy Woodstock may never be the same.