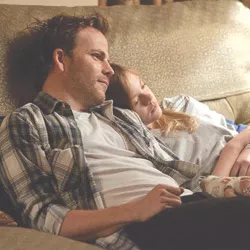 ENNUI R US Dorff shares a tender (or just tired) ?moment with his daughter in ?Coppola's latest.?
Somewhere, the latest acclaimed film from writer-director Sofia Coppola, would make a great double feature with I'm Still Here, the first and probably last, completely unacclaimed fake documentary from Casey Affleck and Joaquin Phoenix.
I'm Still Here is two movie stars' attempt to make a movie about the private life of a movie star as they think nobodies in flyover country would imagine it. (The whole thing, Phoenix now claims, is a satire of "celebreality" TV.) Somewhere is a Hollywood-royalty director's movie about the private life of a movie star that refuses to cater to any desires we hoi-polloi might have to see him engage in drug-fueled antics, make scenes on talk shows, confess his innermost fears, reminisce about his childhood ... or, really, do much of anything.
In portraying the day-to-day life of Johnny Marco (Stephen Dorff), Coppola goes so far in the direction of art-film austerity that her protagonist becomes a cipher. In one scene, Johnny goes to an F/X studio to have a cast of his head made for his latest film. As Dorff sits alone with his face completely covered in plaster, just breathing, Coppola keeps the camera on him and very, very, very slowly pulls in till he fills the shot. Johnny's erasure would be a powerful moment if we knew more about who he was under the Hollywood mask. But we don't.
Nor do we ever see him do the work that made him famous. Living at the Chateau Marmont, Johnny clearly regards the promotion of his latest film — which looks like generic action junk — as a chore. He spends his time lounging in bed, hooking up with star-struck women and occasionally dialing a pair of twin strippers — Kristina and Karissa Shannon, Hugh Hefner's erstwhile girlfriends — to entertain him. Their performances are almost endearingly bad — but, hey, at least they're trying.
Another character who tries to draw some reaction besides a glassy stare from Johnny is his 11-year-old daughter, Cleo (Elle Fanning), who arrives for a visit. She comes off as sweet, genuine and mature enough to take her father's moods in stride. Coppola focuses on the fleeting, low-key pleasures of Johnny and Cleo's relationship — the gelato they share in bed in an Italian hotel, the funny faces they make underwater in the pool. The expression Dorff wears throughout the movie could best be described as a frozen wince; just opening his eyes seems to hurt him. (Could Johnny be in recovery? Who knows? The most we learn about his past is that his mom has written a book about him.) But his face sometimes softens when Fanning is around.
Unlike Affleck and Phoenix, Coppola clearly isn't interested in what regular people want from movie stars. She's interested in capturing moments in the life of a numb, disconnected individual who happens to be a movie star. Part of what makes it possible to sit through I'm Still Here is our memory of Phoenix's brilliant past performances. Since we never see Johnny Marco perform — other characters perform for him — he might as well be the dour guy smoking on his porch next door to you. His status helps sell the movie, because the Chateau Marmont is a more picturesque setting than, say, a trailer park, and a guy driving his Ferrari in circles (it's a metaphor!) is more glamorous than a guy driving a souped-up junker. But all that is finally beside the point.
That point being that, by paring her film down to bare essentials, Coppola finds some beauty. She also reveals just how unenlightening an unhappy, unexamined life can be. Is it more enlightening in Hollywood than in your kitchen? You be the judge.