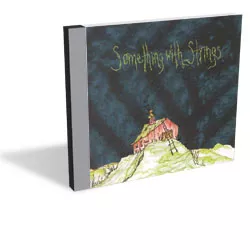 (Self-released, CD)
To hear them tell it, Something With Strings exist because, and I quote, "deep down everybody loves bluegrass." That may or may not be true. I suspect it's not — I have one buddy in particular who friggin' hates the stuff. Muddying the picture, the brand of bluegrass proffered by the Burlington-based quintet do-si-dos an often contentious line between tradition and fusion. If you're the type of bluegrass fan who rolls your eyes at the mere mention of the words "newgrass," "punkgrass," "truegrass" or any other offshoot, deep down, you may not love Something With Strings. However, if you are the type of fan who allows for a more liberal interpretation of the term, the band's genre-hopping, self-titled debut may land right in your wheelhouse.
The record opens on the fiery "Go Away." Over a snappy train beat courtesy of so-called "lead" drummer Matt Vaughan, the band lets loose a boot-stompin' rodeo of ragged, twangy roots pop. While not virtuosic by any stretch, Something With Strings are generally solid players and impart enough free-spirited energy to make up for a lack of jaw-dropping riffs — though at times their jams do meander aimlessly. Generally, "lead" guitarist Adam Howard provides a sturdy rhythmic foundation, while "lead" bassist Charlie Whistler ably holds down the ones and fives. "Lead" banjo player — are you sensing a theme? — Patrick Giblin picks rudimentary but tasteful lines, balanced nicely by Matt Francis' high-toned accents on "lead" mandolin.
"Darlin'" is a loping, paint-by-numbers country weeper that vaguely recalls punk-grass standouts the Avett Brothers, minus that band's clever turns of phrase. It is mincing, standard fare, treading ever-so-politely on the time-honored topic of love gone wrong — or, in this case, just gone. It's not unpleasant, but it's not particularly gripping, either. That's the case with a few other numbers, as well. Tunes such as "Drinkin' You Away," "Ain't That Kind of Man" — all seven-plus minutes of it — and "Going Off to War" seem to have been written by tearing out pages of a rhyming dictionary, as if the lyrics exist simply as a vehicle for a melody.
But the band can do better, and sometimes does. "Sweetest Thing" is jaunty and irreverent. "Might Not Be Love" is cheeky and oddly heartfelt. And "1000 Miles," which may be the clearest indicator of what the band can do, is a rousing, slyly crafted little gem, reminiscent of They Might Be Giants' John Linnell is his (marginally) more serious moments.
Something With Strings, the album, is an imperfect debut. But it's hardly a mulligan. It contains enough bouncy, well-harmonized bluegrass-ish fare to suggest this is a group that will be converting more than a few trad-addicted skeptics in the near future.
Something With Strings release their debut album with a two-night hoedown at Nectar's on Wednesday, July 6, and Thursday, July 7.