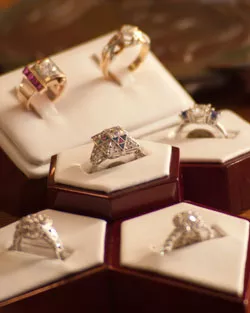 It didn't surprise jeweler David Sisco that the bride-to-be who wanted her vintage engagement ring resized was nervous to commit to a jeweler. Sizing a ring isn't a big deal; jewelers do it all the time. But for someone who has just inherited an estate piece, it can be scary to leave it in the hands of a stranger. Finding a jeweler is like finding a dentist, Sisco says. "You want to find somebody you trust."
Luckily, there's an embarrassment of riches in our area when it comes to jewelers. Downtown Burlington alone boasts more than half a dozen. "We know each other; we're competitors," Sisco says. "But there's nobody on Church Street you'd get a bad job from."
On a recent afternoon, Sisco and fellow jeweler Neil Wiener are working on rings in the studio they share. The place is dusty, with fluorescent lights and a tinny radio. Both men have worked as jewelers for more than 20 years — Sisco owns Designers' Circle on Church Street — and you can tell by the graceful way they navigate the cluttered room that they've shared a work space much of that time.
Sisco, 56, is resizing an engagement ring from the 1920s. It's platinum with delicate filigree, a half-carat center diamond and six tiny melee diamonds around it. He plans to reduce the ring by two sizes while sparing an engraving from its previous owner. To do this, he'll have to cut from the side.
Sisco saws through the band, nimbly avoiding his fingers — "This will cut right to the bone," he says — then gingerly uses pliers to bring the sides together. Next, most jewelers use a torch to fuse the joint, but a few Vermont jewelers use lasers. Sisco is one of them. The $30,000 instrument allows him to use platinum as his solder metal, matching the host metal of the ring.
"It takes a tremendous amount of heat to get platinum to flow," he says. For white gold and silver, the melting point is 1600 to 1800 degrees; for platinum, it's roughly 3500 degrees. If you don't have a laser, you have to use a solder metal that melts at a lower temperature, so as not to melt the whole ring.
Sisco puts his hands inside the machine and aims the laser at the joint, setting off tiny fireworks. While he works, he talks about marriage.
"I'm on my second one," he says. "I can tell you this: If you guys communicate with one another, you'll go a long way. Stop communicating and you won't."
Of course it helps to share some interests, which Sisco and his wife, Dolores Kurjan, do. In fact, she's the owner of Vintage Jewelers on College Street and contracted him for this job.
Kurjan, 47, can trace her love of vintage jewelry to a single, stunning ring she first saw more than a decade ago. She was working at Designers' Circle when a woman came in with a 1930s 18-carat white-gold ring with delicate filigree and a sea of European-cut diamonds. The woman's daughter had inherited it from an aunt but didn't want it; she wanted to buy a new computer.
"I fantasized about that ring," Kurjan says, but the store didn't deal in vintage jewelry at the time. So she bought it herself. "I still have the ring, but I'm sure that computer's long gone," she notes.
On a recent afternoon, Kurjan is wearing a long, Victorian necklace adorned with a cross chock-full of amethysts. It's not hers, she says; it's a piece she's selling, but it spoke to her today. The shop, she says somewhat guiltily, "is like a big jewelry box … I try not to [wear too much of it], because then I want to keep it."
Vintage Jewelers' showroom is a wonderland of sparkles and baubles, art-deco rings, cameo necklaces and elaborate brooches. Kurjan has everything from 1950s rings to a 14-carat gold pocket watch from the 1850s. But diamond engagement rings are her biggest market. Couples buy vintage rings, have their own resized or repaired, or create a whole new design around vintage stones.
A diamond, it turns out, is forever, "but the mounting will wear away," Kurjan says. So, how do you care for your vintage ring? First, take it to a jeweler who can check the setting and the tips of the prongs to make sure the gem is secure. Once everything's tight, jewelers recommend taking it back every three to six months to be checked, because stones loosen up with normal wear.
One of the easiest ways to damage an engagement ring is to wear it next to your wedding band. The rings rub against each other until the metal setting wears away and, eventually, becomes razor sharp.
"I'm guilty of this as well," says Kurjan. She's only been married since August, but already the setting on her platinum engagement ring is wearing down. One solution is to weld the two rings together, which adds strength to both. But people usually aren't so crazy about that idea. Neither is Kurjan.
"I figure, well, you wear it out," she says. "It's an older piece, which we replicated and remounted because it was worn out. Somebody else did what I'm doing and wore it out."
Still, for longevity, you can't beat platinum. It can usually last until the next generation without any repair, Kurjan says, while white gold might need attention after 10 to 12 years.
Back at Sisco's workshop, he slips the platinum engagement ring on a metal post and bangs it with a mallet to round it out. He washes it, buffs it, slides a dental probe through its nooks and crannies, and the ring is as good as new.
Finishing up the job, Sisco offers one more piece of advice. There's an art to receiving jewelry, he says, just as there's an art to creating it. "Don't complain about what you get," he says. "If you don't like it, just nudge the person so that they'll be getting into the tastes that you have. Because, if you say you don't like it, you're not going to get another piece of jewelry."
The man knows what he's talking about.