Matthew Thorsen
Molly Conant
The first piece of jewelry Molly Conant fell in love with was her mother's silver charm bracelet. "I'd go down the line of charms and tell my mom, or whoever would listen, a story. So, if there was a boot, the boot would be incorporated into the story. I'd make up a new one every time."
Now, as the proprietress of her own jewelry and clothing company, Rackk & Ruin, Conant threads, hammers and saws reclaimed metals and miscellany into polished pieces as distinctive as those stories she told as a child.
The Burlington native has come a long way since 2009, when she began crafting one-off pieces of jewelry in the spare bedroom of the Old North End house she shared with her now-husband, Eric Seitz of Pitchfork Farm. At the time, Conant was waitressing at American Flatbread Burlington Hearth. "It was such a wonderful incubator space for people that were really motivated — going to grad school or starting a small business — to be able to work in a supportive environment, make a good amount of money and still have a huge chunk of their day free to explore what they wanted to do," Conant says.
In 2013, she left Flatbread to pursue her passion for making jewelry full time. First Conant worked in a studio behind Speeder & Earl's Coffee, but its poor ventilation nixed the idea of soldering. Then she tucked into a storage space at Conant Metal & Light. Finally the young designer opened Rackk & Ruin in a sunny, second-floor space above Vintage Inspired Lifestyle Marketplace in the Soda Plant. (Her windows overlook the building's distinctive rhino head.)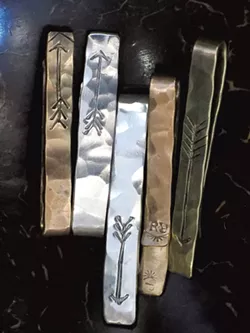 The shop, which doubles as Conant's studio, is filled with delicate adornments wrought from repurposed metals and vintage trinkets, as well as a small but carefully curated selection of fine vintage and altered clothing.
"I really love hunting for unique materials and completely changing them, turning them into something someone can possess and wear — that can represent their personality," Conant says. She digs out a strip of embossed brass from behind her antique wooden worktable and shows how she sawed out tiny raised ovals to make earrings. Dainty brass chains come from her favorite supply place in New York City; East African coins, from her own collection. In addition, Conant says she constantly combs flea markets, estate sales and eBay for treasures.
Art and creative recycling run in the family: Her father, Steve, owns Conant Metal & Light and makes light fixtures from vintage materials; mother Maggie, also an artist, was a longtime art teacher in the Burlington School District.
Though Conant earned her degree in studio art and sociology at the University of Vermont, she didn't study metalwork in school. "I love the idea of taking a two-week intensive to learn a specific skill, more than doing a one-year program," she says. "A lot of my knowledge has come from trial and error, YouTube, googling ... just figuring it out." Conant also picks up tricks from neighboring artists, including the metalworkers downstairs.
For example, while trying to fasten a delicate chain to a tiny pendant for a bracelet, the designer hit a roadblock. "My dad came up with the idea of soldering a little tube to the back, then running the chain through the tube," she says.
Rackk & Ruin's collection of vintage clothing also reveals some tinkering, as well as restraint. While a breezy silk tank top or perfectly weathered Levis remain untouched, Conant transformed a black leather jacket into a vest, adding a bronze beaded collar rescued from an old dress.
Her philosophy has as much to do with the environment as with aesthetics. "When you're buying vintage, you're not contributing to the waste stream," Conant notes. And when you buy her customized clothing, you're guaranteed not to run into anyone else wearing the same thing.
Rackk & Ruin's products aren't cheap, but they're priced fairly: A black velvet vest with decorative gold piping retails for $72; vintage jeans range from $30 to $92. A cuff bracelet goes for $78 in brass and $106 in sterling silver, and Conant's popular ZoëWolf earrings, delicate handstamped brass triangles, are $48.
Most of the clothing is one of a kind, but Conant produces large batches of her jewelry — primarily septum cuffs and studs — for three wholesale accounts. Fortuitously, hippie-chic giant Free People contacted her soon after she quit her job at Flatbread. "That definitely was a big pat on the back," Conant says, noting that the company gives her credit for her work on its website and doesn't try to "pass it off as theirs."
Currently, Conant estimates that 70 percent of her sales are online, 20 percent are wholesale orders and the rest are in-store. Those numbers might suggest focusing on web efforts, but Conant is committed to her shop. "It's the direct communication I get from people walking in that really helps me remember that what I'm doing is fun and different," she says. "A lot of people talk about how they envy my little messy desk in this sunlit corner, and I believe them. I'm incredibly lucky."