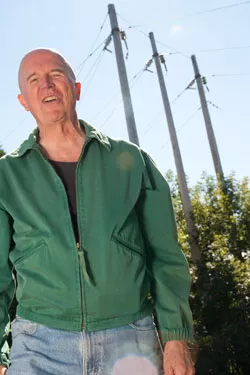 Matthew Thorsen
Jeffrey Frost
Green Mountain Power has faced plenty of citizen opposition this year, from protesters at the Lowell Mountain wind farm to a well-funded advertising campaign demanding the utility refund ratepayers $21 million as part of its merger with Central Vermont Public Service.
Now Vermont's largest utility is facing blowback from Winooski, where some residents are worried about a high-voltage transmission line that would replace one washed away by Tropical Storm Irene. Instead of stringing the wire across the river, where it once was, GMP wants to run it along existing power lines and under the parking lot of a densely populated residential development. Canal Street occupants of the Millyard Condominiums are concerned about the possible health effects of electric and magnetic fields, or EMFs, emitted by the 34.5-kilovolt power line, which carries almost three times the voltage of a typical distribution power line.
In the 1990s, some epidemiological studies suggested a possible link between EMFs and increased risk of leukemia in children. For a time, public concern grew about the EMFs, which are emitted by everything that carries an electric current, from toaster ovens and computers to military radar and the planet itself.
Representing the resident group is 65-year-old Jeffrey Frost, a greenhouse- gas accounting expert and treasurer of the nine-member condo association board. Frost, who is unemployed, has devoted all of his free time to researching what's known about EMFs.
"There has never been a case like this in Vermont where a transmission-scale power line is being put underground through a property where 44 families and numerous neighborhood groups will walk over it all the time," Frost contends. "Many people think that if you bury a power line, you reduce exposure. It turns out that it's diametrically the opposite."
Frost explains that EMF fields increase in strength the closer one gets to a power source. EMFs from a buried transmission line dissipate more quickly than EMFs from an overhead one, but it's also closer to people. Frost notes that the new line would be buried less than 36 inches deep; overhead power lines are 30 feet or more away from people.
Currently, Winooski gets all of its electricity via a single transmission line, according to GMP spokesperson Dorothy Schnure. As Schnure explains, GMP wants to build a backup line to ensure that if the first line gets knocked out or needs repairs, Winooski won't go dark. Ideally, the two lines would share the city's power load.
Reinstalling the old line is no longer an option. The Winooski River island that once hosted an electrical pole no longer exists, and the Vermont Agency of Natural Resources won't let the utility rebuild it.
In its filing with the Public Service Board, Green Mountain Power laid out five alternate routes for the transmission line, which were presented to Winooski residents at four public meetings. GMP's preferred route — overhead and under the parking lot — would be the most cost-effective and least intrusive environmentally and aesthetically, Schnure says.
She says she's sympathetic to resident fears and acknowledges that scientific uncertainties about EMFs still exist. But after following the science for more than two decades, she says she believes such concerns are unwarranted.
The exposure to magnetic fields from this project "is similar to what everybody is exposed to every day in various places," she says. "The idea that people who would go back and forth across this buried cable would be exposed to anything unusual just doesn't hold water."
In 1996, the World Health Organization launched its International EMF Project aimed at reaching scientific consensus on the potential dangers of electromagnetic fields. After reviewing 25,000 scientific articles, the WHO concluded that the evidence "does not confirm the existence of any health consequences from exposure to low-level electromagnetic fields." However, the WHO acknowledged "gaps in knowledge about biological effects" and suggested the need for more research.
Three years later, in 1999, the National Institute of Environmental Health Sciences and the U.S. Department of Energy released the results of a six-year evaluation on EMFs. They concluded that the connection between childhood leukemia and EMFs was "weak." Nevertheless, EMFs remain controversial. Some opponents still blame them for ailments ranging from chronic fatigue syndrome to brain tumors.
The PSB asked the Vermont Department of Health to weigh in on the EMF issue when the Vermont Electric Power Company asked to upgrade its high-voltage transmission system between Rutland and Burlington in 2002.
"Given the present uncertainties about EMF and human health, Vermont's policy should strike a reasonable balance between avoiding potential harm and the attendant costs and risks," the health department advised in a report.
The health department recommended a policy of "prudent avoidance" that calls on power companies to pursue alternatives that lower magnetic-field exposure when it can be done "at modest cost." Siting new or rebuilt power lines away from populated areas is one way to do that, health officials said.
Frost contends that GMP isn't abiding by those health guidelines and has put forward a sixth alternative, which would avoid routing the transmission line beneath the condo's property. If GMP chose his route, Frost says, it would free up a large right-of-way along the riverbank to expand the Winooski Riverwalk south of the Winooski-Burlington Bridge.
But Green Mountain Power's Schnure rejects the idea, saying Frost's proposal would increase the power project's $1 million price tag by $750,000. That doesn't qualify as a "modest cost," Schnure says.
Currently, there are no state or federal limits on EMF exposure. But in VELCO's 2002 application for its Rutland-to-Burlington transmission-line project, the health department recommended that power lines should not exceed 833 milliGauss, consistent with international health standards at that time.
In a filing with the Public Service Board last week, Green Mountain Power estimated the maximum EMF exposure to adults and children passing over the buried power line would be just 205 milliGauss when the transmission line is operating at peak load — something that rarely happens.
The Winooski City Council has yet to weigh in on GMP's proposal but will take up the Millyard residents' concerns at its September 17 meeting.
One longtime Millyard resident, attorney Beth Danon, says her concerns are twofold.
"There is some evidence that [EMFs] do cause health issues," says Danon, who has lived at the condo complex for 14 years. "Of course, I'm concerned, too, about eventually selling my condo."
Danon also suggests that the socioeconomics of Winooski, with a large percentage of recent immigrants and low- and moderate-income households, could be a factor in GMP's decision to run a transmission-grade line through a residential neighborhood.
"I'd be hard-pressed to think they would do this in the Hill Section of Burlington," she says.