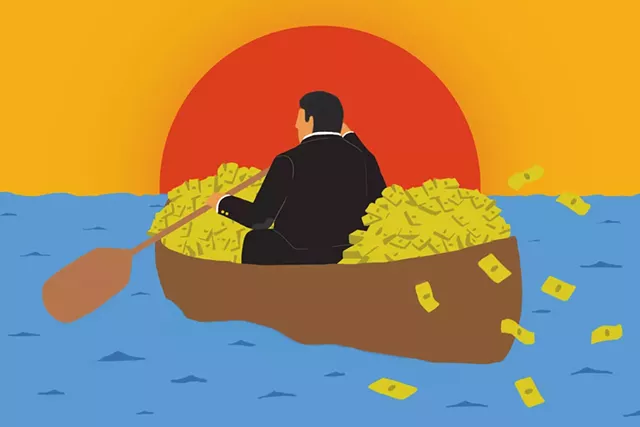 When Tom Lovett moved to the Northeast Kingdom in 1984 to teach high school English, he wasn't expecting a six-figure salary.
"I come from a family of teachers," he said. "I did not get into this profession for any kind of financial benefit."
But after 34 years at St. Johnsbury Academy, including 17 as its headmaster, Lovett has become the highest paid secondary school employee in Vermont. According to the institution's most recent publicly available filing with the Internal Revenue Service, Lovett earned nearly $287,000 in 2016, plus $72,000 in benefits.
That's more than twice what Vermont's highest-paid public school principal makes, and it even exceeds the $223,000 in wages and benefits that Vermont State Colleges System Chancellor Jeb Spaulding earns to run four colleges and universities.
But St. Johnsbury Academy's executive compensation pales in comparison to what's offered at other tax-exempt 501c3 organizations in Vermont.
According to a Seven Days database of IRS filings, at least 60 employees of 16 Vermont nonprofits earned more than half a million dollars during the most recent year for which records are available. (Only nine were women.) The filings show that at least 81 Vermont nonprofits paid at least one staff member more than $200,000 in 2015 or 2016.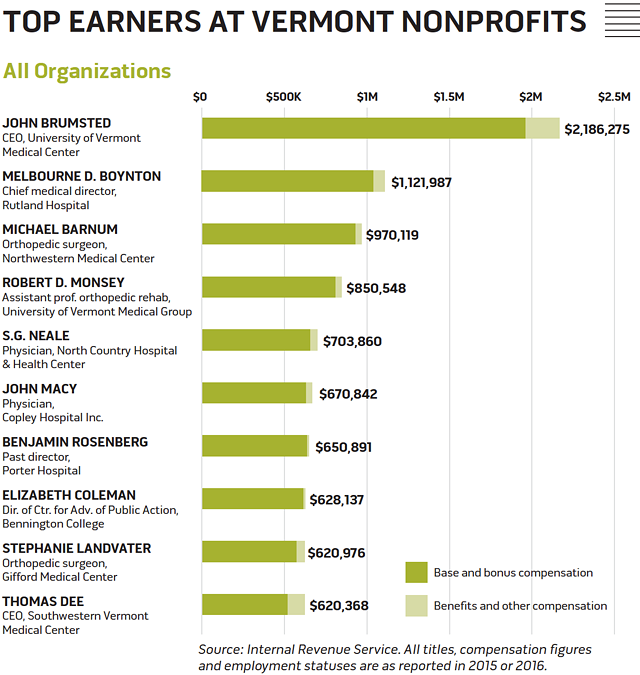 The high earners include leaders of Vermont's top hospitals and colleges, which are designated nonprofits under federal law despite having budgets in the hundreds of millions — or even billions — of dollars. At the top of the list is Dr. John Brumsted, CEO of the University of Vermont Medical Center and its network of six regional hospitals. In 2015, Brumsted earned nearly $2.2 million, including $979,000 in base pay, $492,000 in bonuses, and hundreds of thousands in retirement contributions and payouts, and health and life insurance premiums.
Other well-compensated executives hail from smaller or more obscure institutions. The CEO of the Holstein Association USA, a Brattleboro organization devoted to the bovine breed, earned $309,000 in pay and benefits in 2016. The president of the Woodstock Foundation, which operates Billings Farm & Museum, made $301,000. And the executive director of the Keewaydin Foundation, a summer camping organization on Lake Dunmore, earned $201,000.
Most of their peers make quite a bit less. According to Seven Days' database of IRS filings, leaders of Vermont nonprofits earned an average of $75,312 in 2015 or 2016. Nonprofit employees earned an average wage of $23.83 an hour, or $49,566 a year, according to the advocacy group Common Good Vermont.
An older but far more comprehensive study by the federal Bureau of Labor Statistics calculated that, in 2012, Vermont nonprofit workers made an average annual wage of $44,882. That was roughly on par with the $44,540 that all Vermont workers averaged that year.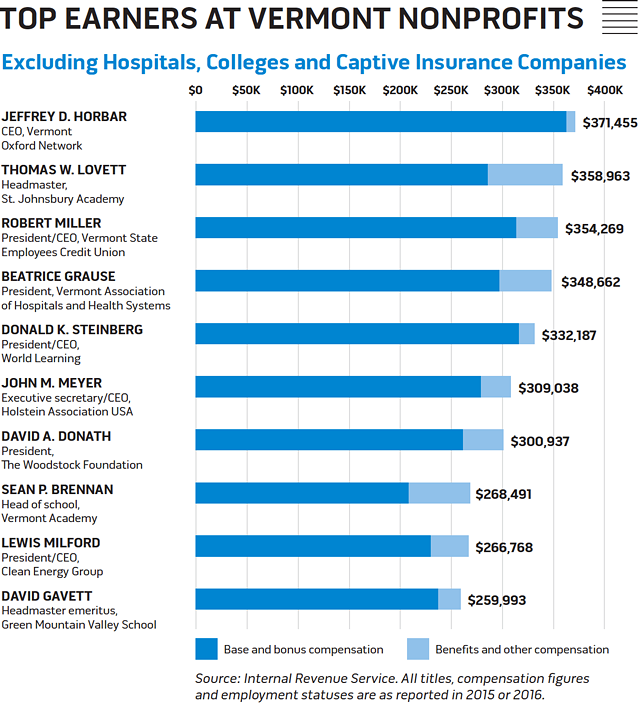 At some nonprofits, the gulf between highest- and lowest-paid employees is vast.
According to UVM Medical Center spokesman Michael Carrese, the hospital's starting wage for cleaning and food service workers is $11.79 an hour. Brumsted's monetary compensation — excluding benefits — of $1.47 million works out to an hourly wage of about $707 — or 60 times what a janitor at his hospital might make.
Sen. Chris Pearson (P/D-Chittenden) says he's "outraged" by such disparities. "This makes me angry," he said. "I think it's part of the gross inequality that is pervasive through our economy."
Last August, the Green Mountain Care Board, a state health care regulator, released a list of nearly 70 Vermont hospital employees who made more than $400,000 in 2016. "We thought it was important to provide transparency, especially to board members," said GMCB chair Kevin Mullin. "We want the best doctors and administrators, but we don't want to pay too much for them."
Publication of that list prompted Pearson to introduce legislation in the Vermont Senate last winter capping compensation at nonprofits that receive more than $1 million in state funding. Such entities would be allowed to pay their employees only as much as the governor of Vermont — roughly $166,000 in 2017 — unless they received a waiver.
"I wanted to spark a conversation about public dollars that flow into our nonprofit sector," said Pearson, whose bill died in committee. "I wanted to point out that we, as a state, actually contribute to [income inequality] as a buyer of services — for instance, in the health care arena, where Medicaid dollars are contributing to excessive salaries in our biggest health care facility."
'Reasonable and Not Excessive'
Many leaders in Vermont's nonprofit community disagree with Pearson's logic.
"It seems to me that if you want the best and the brightest to run nonprofits, they should be compensated as well as those in the private sector," said fundraising consultant Tere Gade, who previously worked at Champlain College and Vermont Public Radio.
Among the institutions that would have been affected by Pearson's legislation are Vermont's independent schools, which receive public dollars through the state's extensive voucher system. Roughly $12.2 million of St. Johnsbury Academy's $31.9 million annual budget comes from state sources, according to school spokesperson Dennise Casey.
In addition to Lovett, the heads of five other independent schools made more than $200,000 in wages and benefits, according to their latest filings: Vermont Academy ($268,000), Green Mountain Valley School ($260,000), Stratton Mountain School ($247,000), Burr and Burton Academy ($229,000) and the Putney School ($204,000).
At St. Johnsbury Academy, a total of seven staffers made six-figure salaries in 2016, including associate headmaster John Cummings, who earned $156,000 in pay and $46,000 in benefits. Starting teachers with no experience make $31,850, Casey said.
According to Vermont Principals' Association executive director Jay Nichols, most public school principals earn between $60,000 and $120,000 a year. The size of the paycheck typically depends on the size of the school, the scope of a principal's responsibilities, and the number of days per year he or she works.
"Many public school principals are very, very underpaid," said Nichols, adding that he does not begrudge independent school headmasters who make more.
Though the IRS requires nonprofits to disclose the salaries of certain key employees, some leaders are hesitant to discuss pay. Reached by phone last month, St. Johnsbury Academy board president Jay Wright grew hostile when asked about Lovett's compensation.
"No, that's not a matter for public disclosure ... This is none of your business," Wright said shortly before hanging up on a Seven Days reporter.
Casey later arranged interviews with Lovett and board member Ed Zuccaro, both of whom defended the school's compensation practices. According to Zuccaro, a local lawyer, the board benchmarks Lovett's salary to similar institutions throughout New England. The size of St. Johnsbury Academy's budget and student population — 680 day students and 260 boarders — makes it impossible to compare to other Vermont schools, he argued.
"I think what he's paid is a fair, reasonable compensation," Zuccaro said of Lovett. "It's really a 24-7 job."
The Keewaydin Foundation looks after summer campers, not boarding school students. But when it set executive director Pete Hare's compensation at $201,000, according to board member Marshall Morton, "We looked at what other private school heads were making and what other camp heads were making."
The $5 million operation includes three summer camps — two in Salisbury and one in Canada — and a year-round environmental center. Hare, whose father co-owned Keewaydin until it became a nonprofit in 1982, has directed the boys' camp since 2001 and run the foundation since 2002.
In the latter role, Hare supervises 10 year-round employees and 225 seasonal staffers. He spends much of the off-season raising money and building the foundation's endowment so that it can offer scholarships to those who can't afford the eight-week price tag of $9,250.
Hare acknowledges that he's well compensated, but he argues that the camps offer competitive pay to all their employees. "What it leads to is getting good people and getting them to stay for a while," he said. "That's why parents send their kids back year after year — because they know we have great staff and leadership."
Keewaydin, St. Johnsbury Academy and other organizations profiled in this story comply with the IRS' guidelines for setting "reasonable and not excessive" compensation for nonprofit chiefs. The agency recommends that an "independent body" — usually a board-appointed compensation committee — look at comparable salaries at similar institutions and then document the process for the sake of transparency.
A key factor is an organization's size. Nonprofits that pay their leaders a large percentage of their revenue may not be getting a great deal.
By that metric, the Vermont Energy Investment Corporation, the Howard Center and the Vermont Electric Cooperative are comparatively frugal. Before she left VEC to run for governor, then-CEO Christine Hallquist earned $228,000 in pay and $30,000 in benefits in 2016 — big money by Vermont standards, but a fraction of the cooperative's $82 million in revenue. (See sidebar on page 20.)
At the other end of the spectrum, a handful of Vermont nonprofits devote more than 15 percent of their annual revenue to compensating a single employee. Those include Grounds for Health, the Greater Burlington Industrial Corporation and the Vermont Association of Hospitals and Health Systems. VAHHS, which lobbies for the state's hospitals, paid outgoing president Beatrice Grause $349,000 of its $1.9 million in revenue in 2016, before she left for a job in New York.
Surely the most lucrative pool job in the state belongs to Charlotte Brynn, a New Zealand native and internationally ranked swimmer. When Burton Snowboards owners Jake and Donna Burton Carpenter built the Swimming Hole in 2001, they hired Brynn to manage the nonprofit aquatic center in Stowe. In 2015, the Stowe Swimmers Foundation paid her $188,000 to run the $1.2 million operation — and give swim lessons.
"My role as executive director is to oversee all the operations at the facility, including the building plant," Brynn explained.
Until recently, the Windham Foundation was among the most generous nonprofits in the state. Founded in 1963 by Wall Street banker Dean Mathey, its mission is to preserve the rural character of the southern Vermont town of Grafton. These days, it owns and operates the Grafton Inn and Grafton Village Cheese.
The organization, which reported $1.2 million in revenue and $35 million in assets in 2015, paid its last president and CEO, Robert Allen, $317,000 that year. According to board chair Bill Bruett, the foundation brought on the former Vermont Country Store exec to stem mounting losses in its hospitality and dairy operations. "In order to attract someone of that caliber, we had to pay that kind of money," Bruett said.
As recently as 2011, the Windham Foundation paid its board members $22,000 a year and its chair $29,000 — a highly unusual practice among Vermont nonprofits, which rarely compensate board members at all. But as the organization's endowment dwindled, it gradually scaled back the payments to $5,000 per board member.
"The economic reality of the foundation was that we had to look at bringing our costs way down," said Liz Bankowski, a former board chair who succeeded Allen as president and CEO in 2016.
Bankowski did something unusual when she took the job: She demanded a pay cut. Her $160,000 salary is roughly half of what her predecessor made. "It's an interesting position for me," said Bankowski, who served as former governor Madeleine Kunin's chief of staff and as an executive at Ben & Jerry's. "If any woman came to me under these circumstances, I would say, 'What? Are you crazy?'"
Docs and Profs
Colleges and universities are some of Vermont's largest — and highest-compensating — nonprofits. In recent years, two of the state's biggest payouts went to departing college leaders.
In 2014, according to an IRS filing, Champlain College doled out $1.1 million to retiring president David Finney. According to spokesperson Stephen Mease, the college had agreed to match a post-retirement health care benefit when it hired Finney away from New York University. Upon his departure from Champlain, its board decided to pay out the estimated value of that benefit, to the tune of $700,000.
Elizabeth Coleman spent 25 years as president of Bennington College. In June 2013, she stepped down from the $500,000-a-year gig and took a $225,000 post as founding director of the college's Center for the Advancement of Public Action, according to spokesperson Alex Dery Snider. After two years in that role, Coleman fully retired in 2015 and collected a $500,000 payment for an unused sabbatical she'd been guaranteed in her final contract as president.
"I had worked for 25 years without a minute off," Coleman said. "No sabbaticals or nothing."
According to IRS filings, the highest collegiate compensation in 2015 — excluding Coleman's payout — went to Finney's successor at Champlain, Donald Laackman ($522,000); Norwich University president Richard Schneider ($506,000); and Saint Michael's College president John Neuhauser ($503,000).
Some nonprofits, including religious organizations, are not required to file disclosure forms with the IRS, so they are not included in Seven Days' database. Among the exempt are UVM, the Vermont State Colleges System and the Vermont Student Assistance Corporation. All three voluntarily agreed to provide comparable data.
In 2016, according to spokesman Enrique Corredera, UVM paid eight employees more than $300,000, including Larner College of Medicine dean Frederick Morin ($560,000) and university president Thomas Sullivan ($429,000). Those figures don't include health insurance or a 10 percent contribution to retirement accounts, capped at $26,500. Sullivan also receives free housing.
State college presidents make far less than their counterparts at private institutions. The heads of Northern Vermont University, Castleton University, Vermont Technical College and the Community College of Vermont all make between $151,000 and $175,000, plus health insurance and retirement contributions of around $10,000, according to state colleges spokesperson Tricia Coates. All receive free cars and most receive free housing.
VSAC, which provides student loans to Vermonters, pays president and CEO Scott Giles $257,000 and provides $59,000 in benefits, according to the IRS filing of a related organization.
Also excluded from the IRS data is Blue Cross and Blue Shield of Vermont. Though registered with the state as a nonprofit, it and other such health insurance companies are not designated 501cs by the federal government. But according to a filing with the state Department of Financial Regulation, its CEO, Don George, made $614,000 in pay and $22,000 in benefits in 2016.
The Vermont nonprofits that dole out the most are hospitals, which account for 12 of the 16 institutions that paid at least one employee half a million dollars or more in 2015 or 2016. Twenty-one doctors and administrators at the UVM Medical Center and its associated physicians' group earned that much, including general counsel Spencer Knapp ($677,000) and lobbyist Theresa Alberghini Dipalma ($524,000).
According to Scottie Emery-Ginn, who chairs the UVM Health Network's board, CEO Brumsted's base pay is at the 50th percentile of comparable academic hospitals. The board sets financial, operational and quality goals for him. Recent goals, according to Carrese, included integrating the culture at the network's hospitals and achieving a net operating margin of 4 percent.
"If he gets a home run, his compensation can go up to the 65th percentile for total compensation," Emery-Ginn explained. Brumsted uses a similar system to set pay for the 18 hospital chiefs and administrators who report directly to him.
"I do believe we're paying John fairly for the job he does," Emery-Ginn said. "Our success is due to him."
Not all of Brumsted's employees agree. Deb Snell, an intensive care unit nurse and president of the American Federation of Teachers' Vermont chapter, said the CEO's salary makes her "nauseous." The Vermont Federation of Nurses & Health Professionals, an AFT affiliate, has been locked in contentious contract negotiations with UVM Medical Center for months.
"I think they're all overpaid," Snell said of the hospital's top staffers. "It really boils down to the fact that they're willing to invest at that level but not at the bedside where the work is really getting done."
Asked what would happen if Sen. Pearson's compensation-limiting legislation became law, Emery-Ginn did not mince words.
"I think it would cause us to lose a lot of our senior team," she said. "I don't think we'd be able to get anyone of that caliber to replace them. I think it would decimate us."
At least one nonprofit hospital has reined in its executive compensation.
The Brattleboro Retreat, which provides mental health and addiction services, paid then-president and CEO Robert Simpson $508,000 in overall compensation in 2014 and $494,000 the next year. His successor, Louis Josephson, made just $402,000 in 2016. (On his way out the door that year, Simpson took another $150,000 in pay and bonuses.)
According to board chair Elizabeth Catlin, Josephson subsequently recommended a salary freeze for himself and his executive team in 2017 and 2018. The hospital was facing serious financial pressures, she explained, and the new CEO felt that "accountability starts at the top."
"This is not a group that is passing the buck," Catlin said of the Retreat's top administrators. "In a time of financial challenge, they're not looking to line their own pockets at the expense of the rest of the hospital."