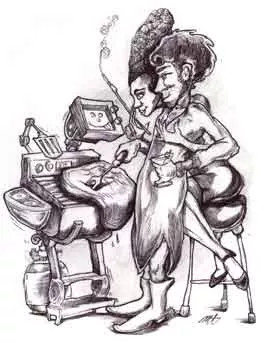 Is it wise to trust — let alone consume — a food whose recipe calls for clean cat-food cans? Should the word "dump" ever be part of your menu litany? Should that electric cord be so close to the swimming pool? And finally, how long do you cook lettuce?
These are but a few of the urgent questions being mulled by enlightened home barbecuers as we launch into the bare-shouldered, sweat-laced, smoke-infused peak of summer. Out of the kitchens we pour, eager to reconnect with our primal roots — an act that can be quickly sketched as one frustrated cook in a humorously decorated apron poking a resistant piece of burned meat with one hand and holding a cocktail with the other.
Now it appears that food can actually be cooked without fire, and that said food need not even be meat. Given the giddy technological advances in 'cueing, the modern flame-grower can fry, flambé and fricassee with nary a briquet nor beefsteak in sight. Rife with gender politics, lousy with fancy food snobbery and a helluva lot less alcoholic than it once was, barbecuing has entered a new age.
The innovative Char-Broil Company is leading the way in this new millennium of outdoor cooking with a large, friendly lug of a 'cue, "The Big Easy," that appears to have a smiling face and little chub wings — hood handle and side counters, respectively. This N'awlins-inspired steel-and-ceramic good buddy is replete with a griddle for those barbecued morning pancakes we so crave, and has an insert for use in frying foods.
Don't want to get your hands dirty? Char-Broil also makes a non-ignition electric model called the "Patio Bistro." Unlike that unstable little hibachi of yore, the Patio Bistro has a large work counter, a dishwasher-safe cutting board and a temperature gauge to take the former guesswork out of cooking times. Its masculine advertising also boasts a built-in cooler, "perfect for some cold ones!" These days, they mean bottled water.
Whether you're seated or standing, the PB handily brings all the hassle and mess of full-blown kitchen cookery outside, which is surely the rub. For sexists of a certain age, barbecuing meant Dad, or any male, standing lonesome by the grill, gleaning ineffable man-secrets by gazing at the coal, drink in hand. Indeed, the Patio Bistro's Web site shows a hirsute mid-level male executive standing powerfully over skewers 'n' steaks by the pool while a blonde woman just past her youth adoringly passes appetizer plates in the background.
You needn't know any man-secrets, of course, to guess who's actually doing the work. The new 'cues allow Dad to lean back in his lounge chair while Mom dashes in and out the back door fetching forgotten kitchen items like vinegar and capers. Such barbecue parity offers Mom a nice little aerobic workout, but may do little to promote gender equality.
Regardless of who's cooking, though, the menu has changed since Granddad's time. Utilizing the shiny new machinery, modern barbecuers can now cook just about everything outside, from pizza to pasta to Baked Alaska to fruit to, yep, lettuce.
Perhaps throwing a few burgers or hotdogs on the fire is still OK for the kids. Perhaps. The last group of youths for whom I performed this Mom-magic looked wiltingly down on their plates, shifted uncomfortably, and nudged each other until one politely inquired about marinated Portobello mushrooms. I will never again throw a child's party without them — or without designer water and lime.
Nowadays, when preparing to roast outdoor foodstuffs of the burgers-and-'dogs variety for adult company, that burger had better be a Boursin Inside Out model with imported French cheese spooned delicately into a pocket of hormone-free ground sirloin. The 'dog must either have some intricate Eastern European lineage or be stuffed with a free-range-chicken-basil-dried-tomato-pine-nut plug. And don't even consider grabbing a bag of those crappy white-flour buns off the shelves. Oiled foccacio rolls infused with rosemary are acceptable, as is seeded artisan sourdough. You may have to work to find them, but with a BBQ capable of everything but washing dishes, it's only right that you should strive in other ways.
Able to produce everything short of wedding cakes, these new-fangled grills could be used for every meal — though that is a double-edged sword. I, for one, do not intend to wander outside in a bathrobe and fire up the barby to make oatmeal when the kids go back to school. I'd rather be sitting blearily in the kitchen watching the coffee make itself while the cereal nukes away in the microwave.
Later in the day, lunch and dinner — especially with summer guests — benefit nicely from the huge technological strides that have been made in the name of heating things up. Many home cooks take pride in pulling at least a portion of every course off the grill. Appetizers? Please, have a grilled artichoke with garlicky aioli. Save room for the prosciutto-wrapped shrimp! Salad? Allow me to whip up a vaguely Asian sauce with soy, ginger, sesame oil, white wine and brown sugar, drizzle a head of firm, clean Romaine leaves with it, and baste over low flames for 15 minutes. Pizza? Don't send out — I'll smack a pie right onto the coals here using a specially perforated, heat-resistant pan. Don't you know? Pizza is the new 'cue.
Dessert? My, my. Like breakfast, the final course is one the new age of barbecuing should neglect but won't. As with other misguided American endeavors, dessert is relentlessly broached upon the grill and sometimes even eaten. Some treats retain their dignity, like those calling for warmed apricots or peaches doused in yummy liqueur and topped with ice cream. Others do not. I'm thinking of one that calls for pie filling and cake mix gathered horribly together in cleaned cat-food cans and humbly titled "dumps."
Some foods are raised to glamorous new levels by being fired up for dessert. Shunned by the incurious for its grainy, vaguely sexual connotations, the homely raw fig is celebrated when barbecued. Whether stuffed with cream cheese or slathered in honey, hot figs suddenly join the hip elite. So, curiously, does pineapple. While most of us enjoy the swift, acidic thwack of this fruit fresh, the cooked stuff sadly joins a ham-slab dinner in dim, distasteful memory. But grill that taste-of- the-tropics with a dab of buttered brown sugar and it suddenly becomes the J. Lo of the plate, dancing saucily on the tongue with just a hint of last night's steak sluicing the taste buds.
Surrounded by a buffet of hot figs, Inside-Out burgers, warmed lettuce, smoky pizzas and Lithuanian bangers, we can now lounge restively in the new era of the grill. The black cord of the Patio Bistro may flirt dangerously with the wet sides of the backyard pool, but at least most of us are sober and on guard. A timer goes off, the fries are done. Everyone in shorts steps back from the barbecue. Passing the homemade chipotle-plum ketchup, we dine.
Yet somewhere, in a backyard far, far away, people — unenlightened souls who have yet to embrace the new age — prepare to eat hormone-teeming hamburgers and meat-byproduct hotdogs. A man in a humorously decorated apron gives one last left-handed poke to the charred, resistant meats smoking on his outmoded Weber. It looks done, maybe, hard to tell. He takes a meditative sip of his cocktail, gleans one last great man-secret, and calls the kids to the table. They don't even know how unhappy they are.