Photos: Oliver Parini
Hasna Said practicing her sewing
Binti Abdullahi's biggest dream is to start her own clothing line. She and her peers "don't want to dress how our grandmother ... and mother [are] dressed," said the 23-year-old Somali Bantu woman.
Outside of her home, she no longer wears a baati, a loose cotton dress with bold prints that's still popular among women in her community. Nor does she wear the long, billowing head scarves typically favored by older Somali Bantu women. She still remembers the taunts she endured throughout her schooling years for wearing "so much stuff."
Her clothes would reflect Islamic sensibilities, American fashion and her African heritage, she explained.
"I want to mix things up a little bit, have my own kind of style and also be modest — the way my mother and grandma would be," Abdullahi said.
On February 3, she took her first step toward fulfilling that dream. Along with eight other Somali Bantu women of varying ages, Abdullahi attended a sewing class at Generator, Burlington's community maker space.
The women are part of a pilot program comprising six sewing classes underwritten by Generator and the nonprofit Champlain Valley Office of Economic Opportunity. Most of the classes will take place at a Riverside Avenue apartment complex in Burlington, where many of the participants live. Each woman will receive a sewing machine and a starter kit.
"I want to be able to make sure [that] when people have the desire to learn something, we're creating programming for them," said Rachel Hooper, director of community outreach at Generator.
Last October, a participant in Asma Abunaib's financial literacy house party for Somali Bantu women asked her to organize a sewing class. Abunaib is the manager of CVOEO's New American Financial Empowerment Project. If the women could make their own clothes, the participant reasoned, they would be able to save money. Some might even create an additional source of income by becoming small-business owners.
"They already had the vision," said Kate Larose, director of CVOEO's Financial Futures Program.
Eager to sustain and expand the relationship that the nonprofit already has with the Somali Bantu women, Larose approached Generator. It was a good fit: The maker space was seeking ways to reach out to underserved populations.
The sewing classes were a "direct response to clients saying, 'We want this. We need this. Will you help us?'" said Larose.
During their first sewing class at Generator, instructor Meg McCarthy drew looks of approval from the Somali Bantu women when she told them she'd made the denim pants and cowl-neck top she was wearing.
"Wow!" exclaimed one.
"I like it," said another.
Yasmin Mohamed, a participant in the class, hopes to make clothes for herself and her family. She usually buys clothing from Somali-owned general stores in the Old North End or gets them from a sister who lives in Tennessee.
Photos: Oliver Parini
Hawa Sheikh
Her baati cost about $10 each, said Mohamed. Because local seamstresses charge about $5 to repair one, she often throws away slightly torn baati, even relatively new ones.
"That's why we asked [Abunaib] to look for somebody who can teach us," Mohamed said. She wants to make dresses and head scarves for her daughter, she added. If she becomes a professional seamstress, she would consider starting her own business.
"This is a great opportunity," said Abdullahi. "I am very excited to find a class where I don't have to pay."
Over the past few months, Abdullahi has been watching sewing instruction videos on YouTube. "There's nothing YouTube can't teach you," she said with a grin. But having someone she can turn to for help will make a better learning experience, she allowed.
Abdullahi will also help to interpret for participants who aren't proficient in English. But McCarthy is confident that language won't be a barrier. "In sewing, you can always demonstrate something, and everyone can watch," she explained. Besides, she noted, some of the women already know how to sew and can help their peers.
The first thing the women will make is a grocery bag. "I want people to have something they can actually use," said McCarthy.
She's confident that, by the end of the last class, participants will be able to cut out patterns, sew curved and straight lines, sew French seams, finish a neckline, and hem. These basic skills will constitute their "first building block," said McCarthy.
"If they have that foundation and they want to go further, I think there's a good opportunity for that, too," she added, referring to the complimentary three-month Generator membership that the women will also receive.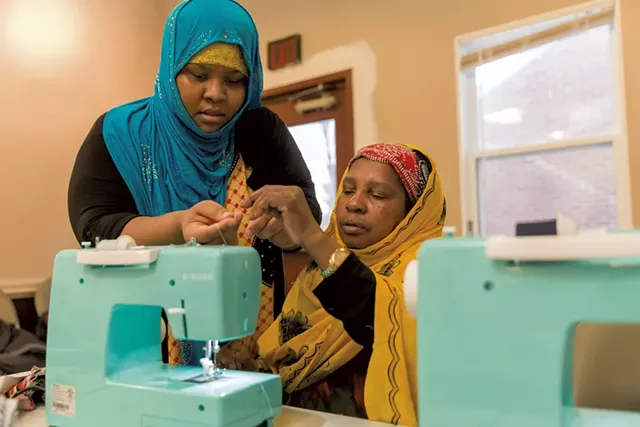 Photos: Oliver Parini
Khadija Abdi (left) and Isha Abdi
The maker space tends to be "very white" and "very male," Hooper acknowledged. Though the rest of the sewing classes will be at Riverside Apartments, she wanted to hold the first class at Generator so that the women could tour the facility and meet other artists and creators.
"My biggest goal is to let people know that we're here and that our space is available to everyone," said Hooper. "I want them to feel welcomed here and to utilize the space here if it's useful and convenient."
Generator has also created a scholarship fund that will be devoted to paying for membership fees and classes for New Americans, people of color, women and the LGBTQ community, Hooper added.
In the spring, the next round of sewing classes will start with a new group of Somali Bantu women. Hooper hopes to see a "pipeline of classes" at Generator arising from this initiative. "I'd love to work with them to build more projects," she said.