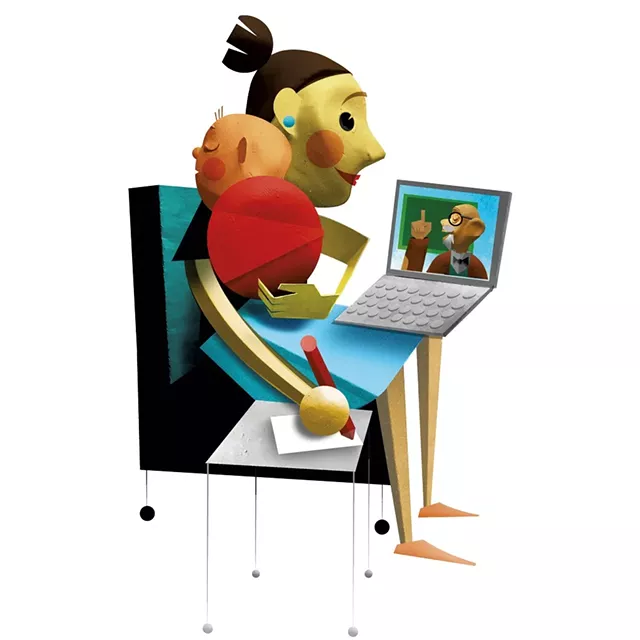 In 2016, Emma Longe was working long hours cutting hair to support her daughter, Kayleigh, then 4. With another baby on the way, she hoped to find a more lucrative career with a better schedule, so she could spend more time with her children, but that would mean going back to college.
After graduating from Burlington High School, Longe attended community college briefly, but dropped out at age 19, when Kayleigh was born.
Through friends, she learned about an unusual initiative at Champlain College designed specifically for students like her. The Burlington school's Single Parents Program — one of only 11 such programs in the country, according to the program's case manager, Hilary Watson — helps pave the way for single moms and dads who want to earn a college degree. It provides them with free tuition, a case manager, tutoring and access to funds to help cover unexpected expenses.
Longe enrolled and is now in her fourth semester, majoring in accounting and minoring in event management.
Each weekday, she wakes before sunrise to get herself and her kids ready, shuttling them across Chittenden County to 1-year-old Carson's childcare, three towns over. Then, she drives back to Burlington to drop Kayleigh off at kindergarten and head to campus. For the next seven hours, she's either attending classes at Champlain or working as a paid accounting intern for Housing Vermont, where she spends 10 hours a week. From 4:30 to 5:30 p.m., she's picking up her children and driving them home for dinner. "I'm really into my Crock-Pot these days," Longe said, with a laugh. The children are bathed and in bed by 7:30 p.m., then Longe puts on her student hat again, often studying until midnight.
Longe is part of a growing demographic — in fact single parents are one of the fastest growing segments in higher education. The rate of single parents enrolling in college more than doubled between 1999-2000 and 2011-2012, according to the Institute for Women's Policy Research (IWPR). That mirrors a spike in single-parent households nationally over the last five decades. According to the United States Census Bureau, from 1960 to 2016, the percentage of children living with only their mother nearly tripled from 8 to 23 percent, and the percentage of children living with just their father rose from 1 to 4 percent. In Vermont, Census Bureau estimates show that 33,800 kids — 29 percent — were living in single-parent households in 2016.
But for single-parent students like Longe, national drop-out rates are high: Only 28 percent of single mothers who entered college between 2003 and 2009 earned a degree or certificate within six years, according to the IWPR.
Holden Thorp, provost at Washington University in St. Louis and co-author of the forthcoming book, Our Higher Calling: Rebuilding the Partnership Between America and Its Colleges and Universities, told Slate in September 2017 that beginning a degree but not finishing it is "the worst thing that can happen to a student in higher education." Not only have they likely taken time out of the workforce and away from their families, many of these students are now burdened with the debt of a college education, without any of the benefit. "If you don't finish, you're better off not going at all."
How it All Began
Champlain's Single Parents Program helps defy such staggering odds. Launched 30 years ago, under the leadership of Gov. Madeleine Kunin, it boasts an 88 percent graduation rate and has 650 graduates to date, about 90 percent of whom are women.
The program was started in 1987, after Kunin tasked Gretchen Morse, then Vermont's secretary of Human Services, and Sallie Soule, then head of the state's Department of Employment and Training (now the Department of Labor), to help women move out of the cycle of poverty. Backed by research that showed that young women living in poverty lacked the supports to stay in jobs, Morse and Soule looked to find a solution.
In a speech to celebrate the 30th anniversary of the Single Parents Program, Morse elaborated on their rationale. "Sallie and I were motivated by the devastating reality that the poorest segment of Vermont's population was single women with children under 6 years old. Also, one of the most important factors in determining a child's success is the education level of the mother," Morse said. "Many of these women had a desire to work, but often got caught in the revolving door of the social welfare department."
Tapping resources in their agencies, the pair started the Reach Up program, which is still in existence. It provides services, case management and funds to help parents gain job skills and find work so they can better support their children. Soule and Morse also set up a meeting with Champlain to try to persuade the college to create a program for single parents. Because of Champlain's small size and focus on career readiness, Morse recounted, they thought the college would be a good fit. The college agreed.
Over the years, government funding for the program has dried up. But, Morse said, "the early success of the single parents themselves, and the basic concept of the program were solid enough to keep it going." In 2016, the program costs the school $545,000. Nearly 86% of that was covered through grants from private foundations and donations.
Program case manager Watson said she regularly fields calls from prospective students around the country who've heard about the program. Native Vermonters often enroll after spending time in other states.
"Our students know that their end goal is their degree and their job that is going to bring them meaning and fulfillment and stability, and joy in their life for themselves and their families," Watson said. "Our students are so dedicated — they have no shortage of reasons to work really hard."
A Tailor-Made Experience
Applicants to Champlain's Single Parents Program must have already been accepted to the college through the regular application process and applied for and received government-funded Pell Grants, which — unlike loans — don't need to be repaid. After that, the college covers their remaining tuition — roughly $27,348 per student, per year. The number of students in the program varies from year to year; currently 32 are enrolled.
The on-campus financial aid center helps students find lenders to get low-interest student loans to help cover living expenses and childcare costs. Last year, the Stiller Family Foundation gave the program a grant to repay all of those loans for current students.
The college has also established a "Save the Day" fund to help single-parent students with unexpected expenses. Recent graduate John Quinlan benefited from the fund when he was enrolled in the program, after his family lost everything in an apartment fire. "Homeless, down, and out — they were there to help with financial gift cards to grocery stores, gas cards, etcetera," he said. "It was a huge help."
Support is more than financial. Each single-parent student is matched with a case manager who helps them create and carry out an educational plan, adjusting it along the way as necessary. Students also have access to free tutoring and career advisement. Professors provide extended, flexible office hours to students with childcare and school pick-up constraints and have even allowed students to participate in class via Skype when they are home with sick children.
Quinlan said that the academic tutoring he received in the program helped more than his grades. It kept him going. "Without the assistance, it could have affected not only my grades — it would have been an impact on my overall morale moving forward," he explained.
A Community of Peers and Advocates
Champlain offers several events that foster a sense of community among program participants. They start with a private orientation to give incoming single-parent students a chance to meet each other, as well as academic and financial advisors and technical support staff.
Monthly drop-in lunch socials give students an opportunity to speak with case managers, get help with homework and connect with each other. Quinlan spoke highly of these gatherings. "They added some very desired personal touch to the program," he said. "The group was always upbeat and extremely supportive."
Once a year, the highly anticipated holiday party brings students and their families together to celebrate the year's achievements, complete with presents for the children collected from faculty and the greater Burlington community. Through the college's holiday sponsorship program, additional anonymous donors purchase gifts for students and their families. "This program truly transforms what can be a stressful time of the year into a magical one for our students and their kids," Watson said.
The Ripple Effect
Accessible quality education doesn't just help the parents who earn degrees. It benefits their children. "A mother's college attendance has a significant effect on a number of child educational outcomes, including vocabulary, reading and math scores, and college attendance," reports the IWPR.
Longe is proud of the example she's setting for her now-5-year-old daughter, Kayleigh. "She loves knowing that Mommy has to go to school, too," Longe said, "and that the reason we go to school is so that we can learn and one day have a good job that we enjoy."
Barbara Rachelson, executive director of family-support agency Lund, said the commitment Champlain has made to single parents has created a brighter future for many. It "has made a remarkable difference in the lives of so many women that we have worked with," she wrote.
Nadia Mitchell is proof of the program's success. Mitchell, Champlain's associate director of admissions and adjunct professor of event management, is the daughter of an early Single Parents Program graduate. Her mother, Adline Robertson, received a business degree from Champlain in the early '90s, while raising three children and caring for her ailing mother. She went on to earn a master's degree in public administration from the University of Vermont and worked for many years at local nonprofits, including United Way and the Chittenden Emergency Food Shelf.
"My mom has been able to accomplish so much, I really can never come up with an excuse about anything," said Mitchell, a mother of two. "She just took on everything: within the community, her home, her family, all while completing a degree and doing what she needed to do for herself. That's the legacy that I'm following."