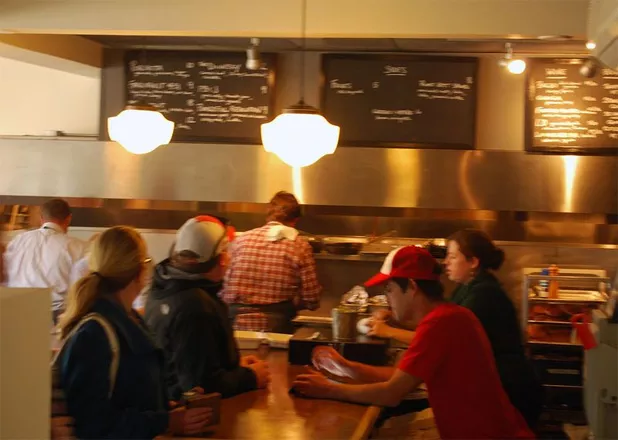 By 11:30 a.m., every table was packed, jazz was blasting, and oversized sandwiches were flying off the grill. Such was opening day at the Winooski location of Misery Loves Co. this Monday.
Partners Aaron Josinsky, Nate Wade and Laura Wade have been renovating 46 Main Street since early October, when they announced that they would abandon their bright-red food truck, Big Red, for the former Don Pedro's Taqueria space on Winooski's mini-restaurant row. They launched a $20,000 crowdfunding campaign on Localvore Today and were just shy of their goal by early November.
The only remnant of the former taqueria is a small tray of hot sauces. The formerly parrot-hued walls are now white, and herringbone-pattern pine floors and tile lend the space a clean feel that's somewhat at odds with Misery Loves Co.'s colorful, heavy fare. Visitors order at the counter in full view of the open grill, but their food is delivered to them at one of the nine or so tables.
The opening-day menu resembled a carbon copy of the one on the black chalkboard that used to hang on the side of Big Red. Seven sandwiches included the fatty and sweet PB&J — grilled pork belly, tomato jam and dandelion greens — and a riff on the Reuben called a Dunnsky, with corned beef, sauerkraut and raclette.
Now, though, patrons can wash down their porchetta sandwiches with something stronger than Limonata: A separate board lists Spanish and Italian wines by the glass; a handful of beers (including Trapp Family Lodge Brewery Vienna Amber Lager and McAuslan Brewing's St-Ambroise Oatmeal Stout); Citizen Cider from Essex; and a clutch of sodas.
For the time being, MLC is serving lunch only, Mondays through Saturdays, with dinner service to follow in December.