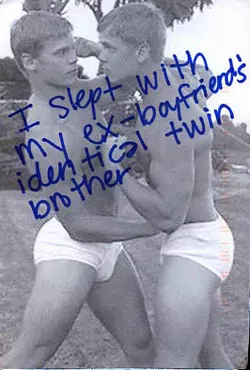 Frank Warren, 44, lives in a nice brick house in Germantown, Maryland. Most days, like the rest of his neighbors in the Washington, D.C., suburb, he walks out his front door to see what the mail carrier left for him. But unlike his neighbors, Warren consistently pulls out a fat stack of postcards from all over the world. He gets about 1000 per week . . . from strangers.
The cards come bearing provocative photographs and original artwork, along with messages such as "I lie to my gynecologist about everything" and "Shit. I was almost happy again." This has been going on for almost four years, ever since Warren, the owner of a medical information company, decided to leave 3000 blank postcards around D.C., along with his address and a request for anonymously submitted secrets.
The postcards trickled in at first, and Warren turned them into an art exhibit. He thought that would be the end of it, but the postcards kept coming. So, a few months later, he created www.postsecrets.com in order to showcase a sampling of the postcards he receives each week. To date, 180 million people have visited the site, and it's won a bucketful of awards at the annual Bloggies, including, in 2006 and 2007, Weblog of the Year. In the meantime, Warren has compiled four books. The latest, A Lifetime of Secrets, reached Number 7 on the New York Times bestseller list last year.
Warren also travels the country giving presentations, primarily at colleges, about PostSecrets. That's what brings him to the University of Vermont next Tuesday, October 14. He'll share stories and secrets, show the dozen or so "secret secrets" that were censored out of his books, and invite audience members to come on stage and liberate skeletons from their own closets. Warren says he's always amazed at students' courage to reveal a hidden part of themselves in front of others.
So what prompts a person to wake up one day and decide to create a monument to unspoken truths excavated from the human psyche?
During a recent telephone interview, Warren deflects the question: "What kind of motives can you have when you start passing out postcards to strangers asking for their secrets?" he asks rhetorically. "I wasn't thinking that clearly, evidently."
In hindsight, it makes more sense, Warren suggests. "At a level beneath my own awareness, I was struggling with secrets of my own life; secrets from my childhood that I didn't even think of as secrets, but they needed to be reconciled." His effort was aided, he explains, by the strength of the strangers who spill their guts to him every day.
Warren spends 40 to 50 hours each week reading the postcards and choosing ones to post on the blog. He calls the endeavor "painstaking" because he tries to compile a selection that speaks to our emotions, be they sanguine, hopeful, shocking, sexual or disturbing. In all cases, the postcards can be thought of as graphic poems, quick jolts of feeling and visualization. The medium is a unique partner ship between two humans who can never meet, and it invites an interpretation with no right answer.
"The sender is trying to build a bridge," Warren explains, "but it doesn't reach all the way across and you have to finish the work."