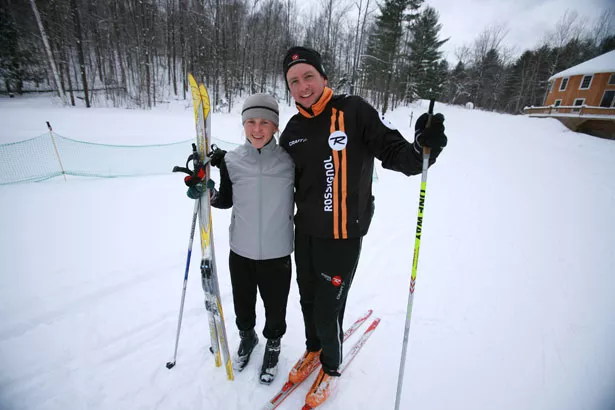 Scan the results of endurance races around the country, and chances are you'll see the name "Enman" near the top, if not occupying the numero uno spot. Middlebury College graduates who married in 2002, Eli and Kasie Enman are two of Vermont's finest fleet-footed athletes. Thirty-year-old Eli, who runs Huntington's Sleepy Hollow with his family, kicks and glides on Rossignol skis, while Kasie, a 28-year-old Starksboro school teacher, pounds the pavement as an elite marathoner. (A time of 2:44:07 at the 2006 Grandma's Marathon has already qualified her for the Beijing Olympic Trials, to be held in Boston in April.)
So what's it like to have such a cutthroat sweetheart? With Valentine's Day around the corner - and a rare break in the Enmans' racing, training and working schedule - Seven Days got the pair to share.
SEVEN DAYS: How did you guys meet? It was at Middlebury, right?
ELI ENMAN: Yeah, we were both on the cross-country running team. I thought she was cute, so I would do things like steal her hair elastic off her ponytail, and she would try to chase me down. I called it flirting, while it probably drove her crazy.
KASIE ENMAN: I eventually gave in, and the rest is history.
SD: What other sports did you each play at Middlebury?
KE: I competed in cross-country running, indoor and track.
EE: I was on the cross-country running team, the Nordic ski team in winter, and I did track and field in the spring.
KE: I skied for fun in the winter, including one epic time when Eli pushed me down a hill and broke my ski in three places.
EE: That was more me trying to flirt with her. It's amazing we ended up together with that kind of beginning.
SD: How did you decide to stay in Vermont after graduating from Midd?
EE: My parents and I went into business opening Sleepy Hollow. It was an easy decision to make, starting up a Nordic ski area in beautiful Vermont.
KE: After I graduated from Midd, two years after Eli, we knew it was meant to be. I got a job [with] AmeriCorps-VISTA in Burlington, and we moved in together the next year.
SD: Tell me about your wedding. Kasie, I seem to remember hearing that you ran a race that day, and you wore your veil?
KE: I did run a race on our wedding day. I decided that we should leave the boys in charge for the morning, and I got all the girls in the wedding to come run the Round Church Women's Run [in Richmond]. I didn't have a veil, but we made a sign saying, "I'm getting married today" and attached it with a bunch of streaming ribbons to my shirt. I ran the 5K that day instead of the 10K, because I figured I should get back for the wedding. [Kasie won the race in 18:56.]
EE: She must have had a fun time in the race, because she's now the Round Church Run race director.
SD: Eli, you're traveling for cross-country competitions; Kasie, you're traveling for running races. How often do you travel together?
EE: To race, unfortunately, just a few times a year. But we always keep in touch while we're gone and have stories to tell when we come back. I've convinced Kasie to come along on a few of my race weekends. One time she raced the Craftsbury Marathon on really slow, waxless skis and vowed never to do it again. But she relented and raced another ski marathon with me in Rangeley, Maine, and had a much better time.
KE: Eli, every once in a while, will join me for a running race, too. Once every year or so, we'll go on a non-race-related vacation together. Last summer we spent a week hiking and running around Colorado. I watch most of Eli's local ski races and help out with feeds.
EE: I make it to one or two of Kasie's races a year, such as the Boston Marathon last year. We got to stay in a really nice hotel right near the finish line, but the weather was horrendous. There was a full-scale nor'easter that blew through. And I usually get to join Kasie at the New England Cross-Country Championship Race at Franklin Park in Boston. She usually finishes near the top.
KE: Eli's easy to pick out when he runs at Franklin Park - he's the only one racing without scrawny runner's arms.
SD: What's it like to watch each other compete? And to win?
EE: It's always great to see Kasie run really fast and reach her goals. It's also really hard to see the flip side, like when Kasie is injured or has an off day. You get to experience all the highs and lows of competition like it's yourself [racing], because you see all the work that's gone into the process.
KE: I agree. I love watching Eli ski race. Nordic skiing is such an impressive sport, and it's so fun to see Eli in his element - and in his Spandex racing suit.
SD: How do you manage to find time to hang out together?
KE: At certain times of the year, my schedule is: wake up, run, eat, go to work, run again, eat some more, watch TV, go to bed at 9 p.m. There isn't much extra time or energy to do much more than that.
EE: Luckily, we're both fairly boring homebodies. If we felt the need to head into town often, we'd end up quite exhausted. But occasionally we do go out.
SD: Have you ever tried coaching each other?
KE: I did try to coach Eli a couple of years ago. I really like writing up training plans. But I didn't feel like I had enough ski-specific knowledge to do him justice. So he's moved on to a real ski coach.
EE: Kasie is über-organized with her training. So in general I avoid giving her any kind of training advice, though sometimes I sneak onto her laptop and post things on her training log, like "Give Eli a back massage," or "Make Eli pizza for dinner."
SD: Yeah, what is the cooking like in your house? Do you follow strict training diets?
EE: We somehow seem to go through three bags of chocolate chips a week, but that's only after we eat three to five square meals a day.
KE: Eli does most of the cooking, which means we eat pizza at least three times a week. We've been on a local food kick as of late.
SD: How competitive are you with each other?
EE: Kasie has quite the competitive side. She's personally affronted that I have a 30-second faster marathon personal best.
KE: I had a faster marathon personal record before, and will again this spring. And my time for the Mt. Washington Road Race is 14 minutes faster than Eli's.
EE: I ran that when I was in high school. I want a rematch!