© Cabot Creamery Co-operative
Ella Purchase at Fairmont Farm in East Montpelier
D
og lovers call themselves "dog people." Feline fanciers dub themselves "cat people." According to Clara Ayer, she and her family are "cow people." The 30-year-old, third-generation dairy farmer is part owner of
Fairmont Farm
in East Montpelier, one of the 800 family farms that owns
Cabot Creamery Cooperative
. Cabot's award-winning cheese and dairy products come from farmers just like her.
Ayer grew up on a farm and studied dairy science in college, earning a bachelor's degree in animal science from Cornell University. "I knew that I wanted to do something in the farming community," she said. "I just wasn't sure exactly what."
She started out working at Yankee Farm Credit, but, Ayer said, "I missed being with the animals." So she came home to work on her family's farm.
As Fairmont's office manager, she handles administrative work and human resources, deals with vendors, and manages community relations. But, like her parents and grandparents before her, she still has a hands-on relationship with the animals in her care.
Walking through the farm's main cow barn one morning in mid-January, Ayer approached a black-and-white Holstein named Alice. "Most of our cows have names," she explained. "Alice" was printed on an orange tag hanging from the bovine's ear.
Ayer reached out a hand to pat Alice's cheek; the cow nuzzled her fingers. When Ayer pulled back a bit, Alice playfully stuck out a long, pink tongue and tried to lick her. Ayer smiled.
"Our cows are
why
we farm," she observed. "Because we love them."
But if
why
they farm hasn't changed,
how
the family farms certainly has.
You'd never know it from sampling a block of
Seriously Sharp Cheddar
or spooning up a rich bite of
Cabot's Greek yogurt
, but the practice of dairy farming is in a state of constant transformation.
© Cabot Creamery Co-operative
Another Cabot farmer, Marie Audet of
Blue Spruce Farm
in Bridport, put it this way: "People assume we farm the way we used to. But we don't farm the way our father did. We don't farm the way
we
did 10 years ago. We're changing and evolving as fast as the rest of society."
Cabot turns 100 years old in 2019. In honor of the co-op's centennial anniversary, we talked with three of Cabot's farmer-owners, who offered a behind-the-scenes look at how innovations in technology, alternative energy and bioscience are reshaping their work today and helping to sustain it for the next century.
Size Matters
© Cabot Creamery Co-operative
Clara Ayer pumping whole milk into the calf barn tank at Fairmont Farm
When Ayer's grandparents ran a dairy farm, they milked 90 cows. Ayer's parents, Richard and Bonnie Hall, started with a 90-cow farm, too. In fact, their first farm is still visible from Fairmont's hillside cow barn.
Today it's hard to be sustainable at that scale. To buy out her grandparents, Ayer's parents expanded the herd. When her cousin Tucker Purchase became an owner in 2006, they expanded again. They grew again when Ayer and her brother Ricky Hall came on board in January. Fairmont now milks 1,450 cows at three separate locations in East Montpelier and Craftsbury; the free stall barn where Alice the Holstein beds down is home to 900 of them.
Ayer may not know all those animals by name, but she can plug the number on their tags into her computer to find out their parentage, medical history, daily diet, and the quantity and quality of their milk. All of that info and more is compiled on spreadsheets in her office.
Those cows currently produce 120,000 pounds of milk a day, which adds up to 43 million pounds a year. To compete with large farms in the Midwest, Ayer explained, her farm needs to make that milk as efficiently as possible.
With dairy farming today, she noted, "there's a lot of analyzing."
SmartCows
© Cabot Creamery Co-operative
Brooke Gladstone and daughter Maddie at Newmont Farm
Brooke Gladstone of
Newmont Farm
in Fairlee can relate. Like Ayer, Gladstone and her husband, Will — both Vermont Technical College graduates — are in their early thirties and are part of a multigenerational family farm.
Newmont milks 1,400 cows daily and tracks each of them using a tiny radio frequency identification (RFID) chip embedded on each cow's ear tag. Farmworkers "read" the chips — which are similar to the ones embedded in the covers of U.S. passports — using sensors mounted in the milking parlor and with a handheld wand, said Gladstone. The farmers can also enter information into the computer system manually so that anyone on the farm can see "the story" of the cow.
That program also helps determine what the cows are eating; their diets change depending on how much milk they're producing and what stage of life they're in, whether they're pregnant or have just given birth.
"It's really cool," gushed Gladstone. "We want to know that our food is safe. This really helps us track every single cow on our farm and helps solidify our records."
The sensors also help identify health problems. If the cow's milk drops unexpectedly, for example, it could indicate that the animal is sick, even if she's not yet showing signs of illness.
Newmont also recently installed a heat-detection system in the barns. It's not checking the temperature; it's tracking the cows' movements and alerting the farmers when the animals are ready to be bred. That task used to require close observation.
This new system, said Gladstone, is "like a FitBit for cows."
Fertility Specialists
© Cabot Creamery Co-operative
Tucker Purchase using a microscope to look for eggs for in vitro fertilization
Most dairy farmers use artificial insemination to breed their cows, but the farmers at Fairmont also use in vitro fertilization. Their aim? To breed healthier, more efficient milk producers.
They identify cows with a high GTPI, or genomic total performance index. This indicator scores a cow based on health, reproductive and milk production traits, among others.
Naturally, Fairmont wants more of these high-GTPI cows. To that end, the farmers stimulate them to produce more eggs, inseminate them, then "flush" out all the eggs, searching for the embryos using a microscope. They implant these embryos in animals with lower GTPI scores that then carry the calves.
This method has allowed the farm to more quickly improve its herd. Fairmont's matriarch cow, Rescue, is just 5 years old, but she now has more than 200 descendants. Said Ayer: "It's really fun to see the families kind of grow and develop, and to see your herd change over time."
Cow Power
© Cabot Creamery Co-operative
Tractor at Blue Spruce Farm scooping up separated, digested plant fibers used as fluffy bedding for cows
Another way of increasing efficiency, as with any business, is to cut costs. Ayer and her fellow farmers scrutinize every expense carefully.
Consider electricity: Fairmont's East Montpelier milking parlor is active nearly 24-7, with workers cleaning cows and hooking them up to milking machines three times a day.
Ayer pointed out that Fairmont recently installed energy-efficient LED lighting in its barns, recommended by Efficiency Vermont. And it now has solar panels on the roofs. The company that installed the panels last year now sells power to the farm at a reduced rate. Ayer expects that arrangement to shave 11 percent off the farm's annual power bill.
© Cabot Creamery Co-operative
Wind power at Blue Spruce Farm in Bridport
At last year's cost of roughly $125,000 a year, she said, "even if it's 11 percent, that's a lot!"
Gladstone noted that Newmont runs on alternative energy, too. The farm worked with Green Mountain Power, Catamount Solar and Yankee Farm Credit to install a solar array in Fairlee that produces 50 percent of the farm's power. "It kinda seemed like a no-brainer," she remarked.
Blue Spruce Farm in Bridport generates some of its energy using a wind turbine, but the cows there also create some renewable energy of their own — with help from a biodigester. The digester, which looks like an in-ground pool with a sealed concrete cover, collects cow manure, which is scooped from the barn floor by a slow-moving device resembling "a squeegee on wheels," described farmer Marie Audet. "We're able to capture all the manure and water used on the farm."
The digester provides the right environment for the manure to break down and release methane gas, which in turn powers a generator producing renewable electricity for Vermont homes and businesses. Aptly dubbed "Cow Power," it's available to Green Mountain Power customers, who can choose to pay an extra four cents per kilowatt for it; the money flows back to the farm.
Upon exiting the digester, the plant fibers from the manure are mechanically separated from the liquid. They have a consistency similar to peat moss and can be used as fluffy bedding for cows. The remaining liquid is stored to meet the farm's fertilizer needs when the timing is right for the crops.
An added benefit of the process: "It kills most of the odor," noted Audet. "It helps us be a better neighbor."
Do Not Disturb (the Soil)
© Cabot Creamery Co-operative
Cows at Blue Spruce Farm
Sustainability is important to the Blue Spruce farmers. In fact, Blue Spruce won a national award for it in 2012, from the Innovation Center for U.S. Dairy.
The farm, which Norman and Mary-Rose Audet bought in 1958, continues the tradition of the family farming together, with 20 family members in eight homes living on the farm. Marie Audet, 58, is married to their eldest son, Eugene. She emphasized that farmers today aren't just producing dairy products — they're also acting as stewards of the land and the water. "We have to think a lot about the future of food security while protecting the ecosystem for our future generations," Audet said.
Blue Spruce occupies roughly 4,000 acres and produces all the hay and corn its cows consume. Audet noted that though the farm buys grain for the cows, the farmers are researching how they might grow it locally. "Just because we've always done something doesn't mean we always will," she said.
These days, to grow its crops, Blue Spruce practices low-till and no-till farming methods, which don't disturb the topsoil or break it up with a plow. It's good for soil health, and it saves labor and fuel. The undisturbed topsoil absorbs water better, too, so it helps reduce agricultural runoff.
Fairmont Farm also uses no-till methods on its 3,600 acres, many of which are hilly and rocky. Ayer pointed out another benefit of this way of farming: It leaves worms intact. They add nutrients and churn the soil. "The worms do a lot of work for us," she quipped.
'So Much More Than Milk'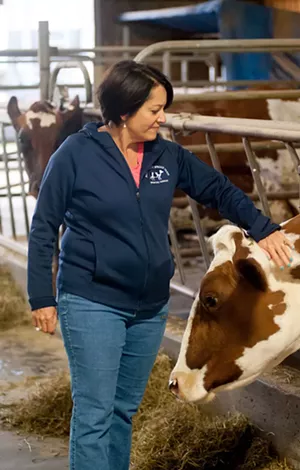 © Cabot Creamery Co-operative
Marie Audet of Blue Spruce Farm
Today's dairy farms aren't just more efficient, they're also are increasingly diversified. All three of the farms featured in this story have developed additional revenue streams. "These days," said Audet of Blue Spruce, "we do so much more than milk."
At Blue Spruce, years of breeding quality registered Holsteins and Ayreshires have helped develop a market that enables the farmers to sell cows for a premium. The farm also has its own shop where one of Audet's nephews, a mechanic, can repair and maintain equipment in-house.
In addition to selling extra bedding and compost produced by the digester, the farm is now separating out nutrients like phosphorus and nitrogen from the soil and working with partners to create new opportunities to repackage these nutrients into value-added products. "Being early adopters sure keeps things interesting," says Audet.
Newmont Farm grows 200 acres of pumpkins each year, which it sells to wholesale clients. Gladstone and her husband also recently purchased a seasonal ice cream shop in Fairlee, which they'll open in May.
Fairmont Farm auctions off some of the cows it breeds. It also runs a dairy farm summer camp. "It's really fun for us to have kids interested in farming," said Ayer.
It's fun for the kids, too, said mom Bridget Coburn of East Montpelier. Her 13-year-old son, Donovan, attended the farm's summer camp several years ago. "He just loved it," remembered Coburn.
The experience prompted Donovan to get involved in the 4-H club that meets at the farm. For the last few years, he's leased a calf from the farm in the spring and showed it at fairs throughout the summer and fall. He'll spend 30 to 60 minutes a day, six or seven days a week, at the farm. "I'm not sure who loves it more, myself or him," said Coburn, who grew up in New Jersey and still calls herself a flatlander.
Keeping community members connected to their cows is "really important," said Ayer. It's a sentiment echoed by both Gladstone and Audet. It's why Blue Spruce has hosted countless farm tours over the years, and why Newmont Farm hosts an annual open house that draws 1,800 people.
"I think that's what set us apart," Audet said of Cabot farms. "We value and foster that community connection."
All in It Together
© Cabot Creamery Co-operative
Isabel and Bonnie Hall with Clara Ayer at Fairmont Farm
Another thing that distinguishes Cabot's farm families? They're all working together.
In 1919, 94 Vermont farmers agreed to form a co-op, pooling their resources to cultivate out-of-state markets for their excess milk. Since then, Cabot has gone from producing a few hundred pounds of cheese a year at a single butter plant in the town of Cabot, to making more than 1,000 varieties of dairy products at four creameries — products that are distributed in every state and in 22 countries.
Cabot's farmer-owners share the expenses, and they share all the profits. Through their partnership, they've built a trustworthy brand known for making the World's Best Cheddar.
"At its core, the mission of our co-op has not changed since the day it was founded," said Cabot CEO Ed Townley. "Our job as employees of the farmers has always been to find a profitable home for their milk. That mission and purpose has been in place since day one."
"As we hit this milestone, we remain focused on ensuring the next generations of family farms are able to continue farming and 900 employees are engaged in making sure the farmers' products remain the best."
That's good news for Clara Ayer of Fairmont Farm. She also has high hopes for the next 100 years. Her son is 2 now; her brother has a 9-month-old. Her cousin's kids are 5 and 2. "I think all of us would love to have the farm be passed on to our next generation, too," she said.