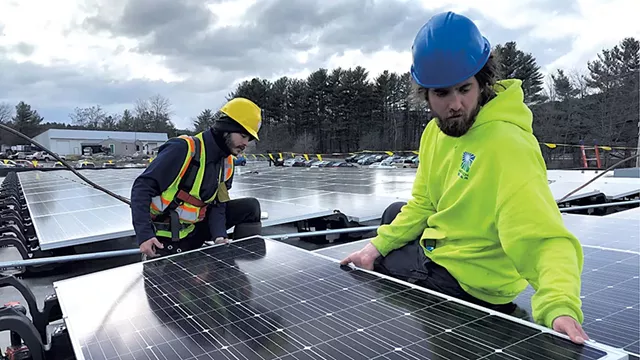 Courtesy Of Norwich Solar
Norwich Solar workers installing a new PV system on a business in White River Junction last week
Four years ago, chilly Vermont was one of the hot spots in the nation's solar industry. Fields of dark, shiny panels were popping up with surprising frequency in pastures where heifers had grazed.
Homeowners and businesses around the state, enticed by generous federal and local subsidies, proudly bolted photovoltaic cells on their rooftops or to poles allowing them to track the sun's arc across the sky. Solar companies were growing so quickly that Vermont had more solar jobs per capita than any other state.
What a difference a few years makes.
Solar developers and installers say they've been burned by new state regulations that have reduced the rates paid for solar power at the precise time when they've been socked with soaring costs.
"The industry overall in Vermont has seen a dramatic decline," said James Moore, copresident of Waterbury-based SunCommon.
New grid-connection fees, longer and more restrictive permitting processes, higher installation costs, and hefty tariffs on imported panels have forced the company to look for new markets outside the Green Mountain State.
"The regulatory changes over the last few years have limited solar's growth and have limited Vermonters' ability to participate," Moore said. "We would love to grow more here, but we've looked to other places for our hiring."
That includes New York, where business conditions are favorable, he said. Solar jobs there grew by 10 percent in 2019, according to Renewable Energy Vermont, a Montpelier-based advocacy group.
Meanwhile, solar jobs in Vermont have declined 33 percent since 2016, to 1,186 last year, according to statistics compiled by the Solar Foundation. During that time, the state has slid from first to third in per capita solar jobs, displaced by Nevada and Utah.
"Our jobs have literally been exported out of state," said Olivia Campbell Andersen, executive director of Renewable Energy Vermont. "Other states are setting policies to encourage solar, but Vermont's regulators are going in the opposite direction."
Norwich Solar Technologies is also struggling under the regulatory changes, which CEO Jim Merriam says have frustrated his company's efforts to expand the state's renewable energy capacity.
Vermont's regulators have pared the price utilities must pay to homeowners and others who sell their excess solar power, an arrangement known as net-metering. The per-kilowatt-hour rate for small systems has dropped 13 percent, from 20 cents in 2016 to 17.4 cents today, with more tightening ahead, according to the Department of Public Service. The rate paid to larger systems has dropped even more sharply, by 35 percent, Merriam said.
"The costs have gone up dramatically for us, while the prices have come down," Merriam said. "What industry out there gets paid less every year and is expected to pay more every year?"
The amount of new solar capacity installed annually in the state peaked in 2016 and declined for the next two years. New installations increased slightly in 2019, but they remain well below the 2016 high.
Applications for new net-metered solar projects are also slumping. The total capacity of projects proposed in 2019 was 21 megawatts, roughly half the previous year's.
In the face of such dimming prospects and growing concerns about climate change, Vermont's solar industry is pressing legislators to brighten its prospects.
A renewable energy bill requiring utilities to get 100 percent of their electricity from green sources by 2030 — up from the existing requirement of 75 percent by 2032 — is viewed by many lawmakers as one of this session's most consequential pieces of environmental legislation. There is strong support for moving the overall renewable energy goalpost outlined in S.267, said the bill's sponsor, Sen. Chris Pearson (P/D-Chittenden).
The bill includes a lifeline to local renewable energy firms that gives regulators, utilities and some lawmakers pause. The bill would double — from 10 to 20 percent by 2032 — how much power utilities and their customers would be required to purchase from renewable sources in Vermont. With no large hydroelectric or wind projects on the horizon, that means the increase in locally generated power would almost certainly come from relatively expensive new solar projects, raising concerns about the impact on ratepayers.
Supporters say accelerating local renewable energy production would have a host of benefits. The proposed requirement would generate well-paying jobs, improve the grid's resilience and ensure that new renewable energy sources actually get built.
Pearson said he's been surprised by some of the pushback this piece of the bill has received from utilities and regulators.
"Is it really outlandish to suggest that one-fifth of our power and all the jobs and ancillary benefits to the economy associated with it ought to rest here?" Pearson said. "Or should we truly be sending all of that cash out of state every month?"
The Senate Finance Committee approved the bill Tuesday afternoon, but only after a sharp debate about how much rates might increase. Sen. Michael Sirotkin (D-Chittenden) expressed frustration that the amount wasn't clear.
"I spent four years trying to get the minimum wage up 50 cents, and nothing could be more regressive than rate increases on Vermonters," Sirotkin said.
Vermont Electric Power Company, which manages the state's electric power distribution system, estimated that the grid would need $900 million in battery storage alone to handle the jump to 20 percent locally generated renewable power — a claim that some lawmakers have questioned.
That could drive rates up 6 to 12 percent annually for most of the state, according to Green Mountain Power officials.
Such imprecise projections have Ed McNamara, planning director for the Department of Public Service, recommending that lawmakers hit the pause button to give him time to conduct a thorough study of the impact. The issues around boosting in-state renewables are complex, and the costs to ratepayers must be carefully considered, he said.
The state did "tap the brakes" on the prices paid for net-metered solar in 2017, McNamara said. The previous rates were too generous and didn't reflect decreasing installation costs, he said. The state wants a vital solar industry, McNamara added, but also needs to keep electricity rates low so more people can be convinced to switch to electric cars and heat pumps, two strategies with the best chance of reducing Vermont's greenhouse gas emissions.
"I understand that the policies are negatively impacting solar developers, and that sucks," McNamara said. "But my job is also to look at, overall for Vermont, how do we best meet our carbon reduction goal and affordability goals, as well."
He noted that while solar jobs have slumped, the state's overall clean-energy workforce has remained strong as people transition to jobs in sectors such as energy efficiency. He also said that, as the industry has matured, solar companies have become more efficient and, in many cases, can complete installations with fewer workers.
The best way to keep rates low and meet the state's renewable energy goals might be to support promising projects in other states, he said. Agreeing to buy power from a future offshore wind project near Cape Cod might not create jobs for Vermonters, but it could bring cheaper renewable energy to the state, he said.
Vermont has about 364 megawatts of solar installed — 45 percent of the state's total renewable energy capacity. That's enough to power about 60,000 homes on a sunny day. Because it is intermittent, however, solar makes up just 6 percent of the energy used by the grid annually.
Solar's value is greatest when the sun is strongest. But that will change with the increased deployment of batteries that allow electrons from sunlight to be stored and used after sunset. While targeted upgrades to the electric grid are needed, massive investments just to deploy "solar for solar's sake" are neither wise nor necessary, McNamara said.
"I'm not trying to completely disparage solar. I'm just saying there are other ways to provide renewable power to Vermonters," he said.
Just as diverse ecosystems are resilient, a power grid connected to multiple generation sources inside and outside the state is more likely to be reliable, he argued. Focusing solely on building new generation in the state at all costs is an "isolationist" approach that doesn't really make the grid stronger, he said.
Josh Castonguay, Green Mountain Power's chief innovation officer, cautioned against requiring that utilities such as his buy twice as much solar power.
Solar has lowered the region's need to buy electricity from out-of-state sources while the sun is shining. It has also helped spread power generation sources around the grid, which has great potential to lower costs and improve grid reliability, he said.
But at some point, solar becomes too much of a good thing and the grid upgrades needed to handle an intermittent power source become a problem, he added. Solar's dramatic rise a few years ago was probably unsustainable, and the focus should shift to diversifying, not just expanding, renewable energy in the state, he said.
In response to such concerns, Pearson updated the bill to give utilities greater flexibility — lifting the cap on power purchased from Hydro-Québec and expanding the kind of projects that qualify toward meeting the 20 percent renewable energy goal. Utilities that couldn't meet the goal would be allowed to purchase power from large in-state renewable facilities or out-of-state renewable sources.
Pearson said he understands utilities would rather run their businesses "without the meddling of the legislature," but he thinks some of the cost projections are overblown and fail to account for the economic and environmental benefits of boosting local renewables.
Moore, of SunCommon, said the industry's estimates of huge costs to boost in-state renewables seem like the latest in a long line of efforts to convince people they can't afford to address climate change.
"That's effectively what we've done as a society 30 years," he said, "and it's not working out so well for us."