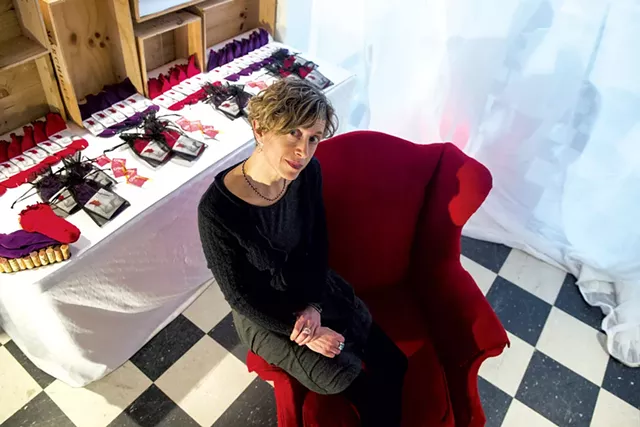 James buck
Andrea Grayson
Andrea Grayson wants to start an intimacy revolution — with socks. Last month, the Burlington-based educator and founder of marketing and video production company the Grayson Group launched her newest endeavor: O'Sox. The specially designed socks "offer a light-hearted, non-threatening way to increase the intimacy in your sensual encounters," according to the product website.
Why socks? Because, again according to O'Sox, research shows that women are 40 percent more likely to achieve an orgasm if their feet aren't cold. Seriously.
That research is real, though the company's claim is slightly exaggerated. While studying the impact of orgasm on male and female brains, a team at the University of Groningen in the Netherlands, led by neuroscientist Gert Holstege, discovered that blood flow to the pituitary gland increased when women reached orgasm. This did not apply to the male subjects.
When online media outlets learned of the study, they latched on to the researchers' side discovery: When the women wore socks, they were more likely to climax.
It makes sense. Reaching orgasm would be hard enough while being manually stimulated in a cold lab with your head strapped to a table under a scanner, as the study's subjects were. Freezing feet would be a major distraction. So it's no surprise that when the scientists gave their tingly-toed subjects warm socks, the women were more likely to relax and, well, enjoy themselves.
While socks may have helped in the chilly lab, there's no saying how effective they would be in an uncontrolled setting — or a warmer room. Nonetheless, the study inspired Grayson. When she came across the research last year, she says, her first thought was "Oh! Somebody should start a sock company." Being the daughter of "serial entrepreneurs," as she puts it, her second thought was "That could be me."
For her first round of production, Grayson has limited her inventory to two colors: red and purple. The socks are fitted, with extra plush around the heel and ball of the foot, and have an "evocative ruffle edge ... suggestive of a woman's anatomy" (i.e., labia), according to the online copy.
Grayson isn't just in the sock biz for the sex, as it were. O'Sox falls under the umbrella of her company Effort & Grace, which she established with the goal of "developing products and services that inspire positive social and behavioral change," according to its online description. With a master's in media ecology from New York University and a background in television production, Grayson has produced change-focused campaigns for many local institutions and taught communications courses at Saint Michael's College and the University of Vermont.
At first glance, socks don't seem like a tool for changing the way we think about sex. But Grayson hopes that the humble accessories will inspire an "intimacy revolution" by encouraging partners to check in with each other more often.
What "checking in" means can vary, but Grayson's marketing materials promote the question "What can I do for you?" And she makes it clear that the objective is women's pleasure. "It sort of brings you and your partner together in the moment," she says of the slogan. "In a way, it's sort of a sexual reeducation."
That focus on female needs is what Cara Joy Brand appreciates about O'Sox. Brand teaches orgasmic meditation, a practice that focuses on the female orgasm, through an organization called OneTaste Burlington. "I'm a huge fan of Andrea," she says, "and I love that she's bringing up the conversation of what women want, and women's desires. It's a really important conversation that will benefit both men and women."
Beyond improving the sex lives of her customers, Grayson hopes the socks will allow her to promote what she calls "real" sexual education. While sales of her new product haven't generated much profit yet, she hopes to use a portion of eventual proceeds to create sex-education programming that targets teenage boys and college-age women.
"For girls, [it will be] about empowering your voice and self-confidence; it's not so much about sex," Grayson explains. "But I want to develop early-stage, entertaining sexual education for boys. Because the guys, specifically, need sex instruction."
According to a 2011-2013 Centers for Disease Control and Prevention survey, most boys start having sex before they're 20. So teaching them how to do it right isn't a bad idea.
"In middle and high school, we teach about ovaries and testes and how babies are made," Grayson says. "And then there's pornography. So there's a huge gap in knowledge.
"It makes sense that we look at how men learn about sex and relations with women, because whatever we're doing isn't working very well," she continues. "And while we can't regulate the misogynistic behavior that is rampantly portrayed in the media, we can and must start infusing it with positive role models. The hero who doesn't rape or dominate but is transformed by the intimate connection."
To that end, Grayson is collaborating with cartoon designer Will Payne on an online sex-education product for teenage boys. That's all she'll reveal about the project at this time.
She does note, however, that she needs to sell her current inventory of O'Sox to finance her projects promoting social change. To date, sales have been slow on her website, and fewer than three dozen pairs have sold through PajamaGram, a subsidiary of Vermont Teddy Bear in Shelburne. (O'Sox are currently offered as an "add-on" when customers make other purchases.)
"I think the concept is compelling and certainly appropriate for Valentine's Day," says PajamaGram brand director Stacey Buonanno via email. "So far, most of our customers think it's a playful gift."
Grayson is still in the market-validation phase with O'Sox, "so we'll see if they sell," she says. "If it flies, it's a business. If it doesn't, I'll move on. I'm just trying to use the capitalist system to effect social change."