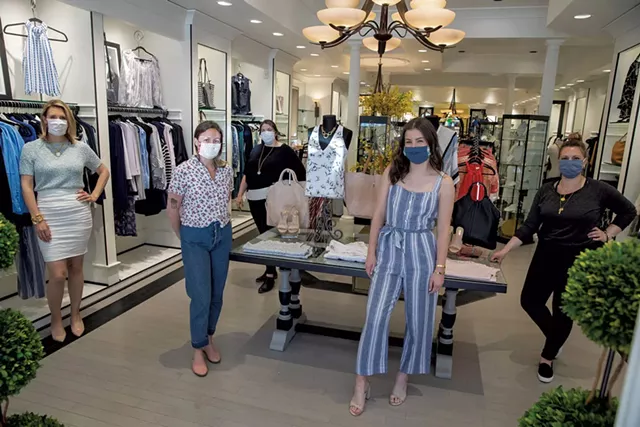 James Buck
From left: Alexis Pomerleau, Shannon Kamnick, Samantha Sleeper, Amelia Frederick and Erin Brennan inside Jess Boutique
When Burlington's Jess Boutique and its sister store, Expressions, closed to customers on March 16 to help prevent the spread of COVID-19, Jess manager Erin Brennan knew they'd reopen, but she had no idea when.
The women's clothing stores, situated side by side on the Church Street Marketplace, were stocked with spring merchandise. But at the time, they relied solely on in-person sales. To pay the bills, Brennan and her 14-person team had to get creative — and fast.
Two days later, the women behind Jess and Expressions started experimenting with "live shopping events" streamed on Facebook and Instagram. The first one was a hit, and they've been hosting at least one event per week ever since. For 90 minutes or so, they film themselves in the stores modeling clothes and accessories and offering style suggestions. To claim items, viewers comment on the video in real time; staff follow up afterward to take care of payment and shipping details.
A few dozen people have tuned in for each video from their kitchens and couches in the Burlington area and beyond. In addition to supportive comments and lots of heart and hand-clapping emojis, the viewers have provided a vital infusion of cash. In fact, though both stores are preparing to reopen — they'll be serving customers by appointment only starting May 22 — the staff may continue the social shopping events.
For customers stuck at home, these virtual gatherings have been more than just a chance to buy clothes; they've also been an opportunity to socialize and take a break from pandemic news. Christine Bridge of South Burlington, who's been quarantining at home with her two twentysomething children, has participated in three or four events and made several purchases. "With everything else that's going on, it was like, this is a fun way to spend an hour instead of spending it worrying," she said.
Michelle Trottier, a self-described "frustrated shopaholic," has tuned in a few times, too. "It wasn't exactly like shopping with a girlfriend," she said, "but comparable."
Stream Team
James Buck
Jess Boutique
Most of the live events are still viewable on Jess and Expressions' Facebook and Instagram accounts; sometimes clothes from one store make it into a broadcast from the other. Even after the fact, the videos are entertaining to watch.
The broadcasts are a group effort — Brennan is often present off-camera, along with Expressions manager Shannon Kamnik and sales associate and social media manager Amelia Frederick; sales manager Samantha Sleeper assists from home. In front of the camera is Alexis Pomerleau, the face of both stores, cousin to owner Jess Pomerleau. The svelte 37-year-old Burlington native recently moved back to the area after living in Austin, Texas. She has a background in marketing and is a natural on camera. "She should have a film career after this, because she's so good at it," said Trottier.
Pomerleau's evolution as a host mirrors our societal journey. In the first video, filmed on March 19, she's glamorous but a bit stiff, still adjusting to the chaos: "So, we want to start off by saying that we recognize what an uncertain and scary time this is for a lot of people right now," she began. "It's completely unprecedented. Everyone is doing the best they can to figure out how to manage this."
By Saturday, May 17, Pomerleau had grown accustomed to the new reality and loosened up a bit. "Is everyone having cocktails tonight?" she asked at the start of an evening session. "I want to know what everyone is drinking."
As she models the clothes and accessories, Pomerleau keeps up a steady, informative and endearingly self-effacing banter. On April 30, she modeled jewelry from the Julie Vos collection.
Said Pomerleau, as she showed viewers her gold bracelet: "I do not have a petite wrist, let me just say that, and this one fits me really well."
Like a skilled salesperson, she offers personal anecdotes when appropriate. Here's how she praised a pair of small silver earrings: "They're big enough that they're really easy to handle ... and they're super secure in your ear," she said. A horseback rider, she rarely wears earrings while riding because it's not safe, she said. "But the few times that I have, with these backs, they keep the earring in my ear."
Sometimes Pomerleau improvises an outfit. During an event on May 8, she held up a basic navy blue silk tank top, then put it down. "It actually would look adorable paired under this," she said, reaching for a shirt. "This is a linen Ecru top. It's a beautiful sky blue. Originally $165, and it's on sale 20 percent off. It's a very light, beautiful linen ... I'm going to unbutton it and show you the navy tank underneath it, because I think that would look so cute with a pair of white jeans, which we have here." Someone handed her the jeans, and she put the three together.
"How cute is that?" she asked rhetorically. "So summery, you get the dimension with the color. You have the cotton with the silk and the linen. I love mixing fabrics."
Just then, a colleague behind the camera piped up. "The navy tank is sold," she said. In jubilation, Pomerleau sang out, "Absolutely!" A viewer might get the sense that, if they weren't social distancing, the women would be high-fiving each other.
Trottier said she bought a Nicole Miller outfit after a similar display. "They way it was promoted on these live events, I thought, Well, that's really cute," she said. "I bought some things that I probably wouldn't have bought off the rack myself."
Together Time
Without online shopping, Trottier wouldn't be buying from Jess at all. Though she was born and raised in Vermont, Trottier has lived in Florida for the past three years. She watches the interactive Instagram streams on her smartphone from her home in West Palm Beach, sometimes while cooking.
"It's such a nicer experience than getting on a website and looking at something static," she said. Plus, "I almost always recognize somebody in the comments field, so that's fun, too."
Christine Bridge sometimes tunes in when a friend is also watching. The two women text each other to make sure they don't both end up with the same item.
Both Bridge and Trottier also appreciate this opportunity to support a small business they love and to see them meet the challenges of the moment. It's exciting and inspiring, Bridge said, "watching a business try to find a new normal."
Shelburne retiree Lori Rowe, another loyal shopper/viewer, echoed that sentiment. "They've done it with grace and good humor," she observed, "which under the circumstances is miraculous, really."
Back to Work?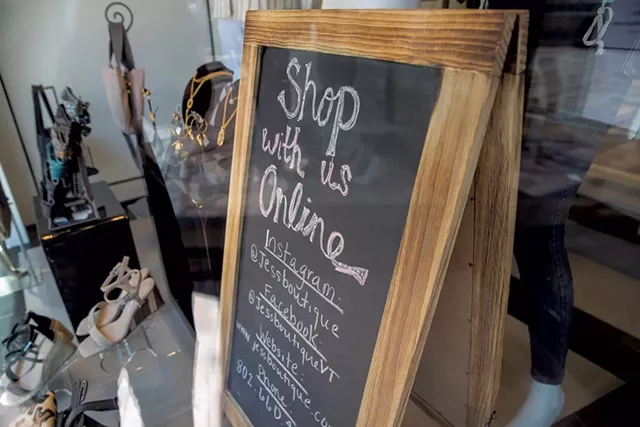 James Buck
Sign in front of Jess Boutique
Rowe has nothing but praise for the Jess and Expressions team. She described them as compassionate, customer-oriented and — importantly in this moment when customers' and employees' safety is on the line — ethical. "I know they're going to open really carefully, thoughtfully and safely," Rowe said. "They're not going to just open the doors on May 18 just because they can."
She added: "It's a big responsibility."
Brennan is feeling it. Gearing up for the time when Jess and Expressions will allow in-person shopping, she's been buying cleaning and PPE supplies, making checklists, rewriting policies, and rethinking how employees will handle sales while social distancing.
"I want to reopen in a really organized fashion," Brennan said.
She likens the process to other transitions she's experienced at Jess since it opened in 2011, including a renovation of the space, the initial rollout of the online store — which was closed recently and is now open again — and the purchase of Expressions. "This feels like one of those big projects all over again," Brennan said.
This time, though, the staff and their customers will help decide when it's over. Brennan is checking in with them to see whether they're ready to return. The majority of the staff is willing to come back to work, she said. Some are eager and excited to have something to do.
The customers are another story. "A decent percentage" aren't ready to shop in person yet, Brennan reported on May 14. Bridge is one of them. "I'm not comfortable with going all out there yet," she admitted.
Though plenty of Burlington retailers have opened up for business again — including Homeport, Danform Shoes and Outdoor Gear Exchange — others, such as Jess Boutique and Expressions, Phoenix Books and Lunaroma, are taking it slow. Slate opens on Wednesday by appointment only.
Trottier won't be stopping by any of those stores anytime soon; she'll be in Florida until she and her fiancé can return to Vermont.
She said she has loved the online events, and she encourages other businesses to try them. "If we reopen and we have another spike, it may be the way we're holiday shopping," she predicted ominously.
Still, Trottier would prefer to shop at Jess in person. "When I get back, I'm hoping I can open the door and walk in," she said. "But time will tell."