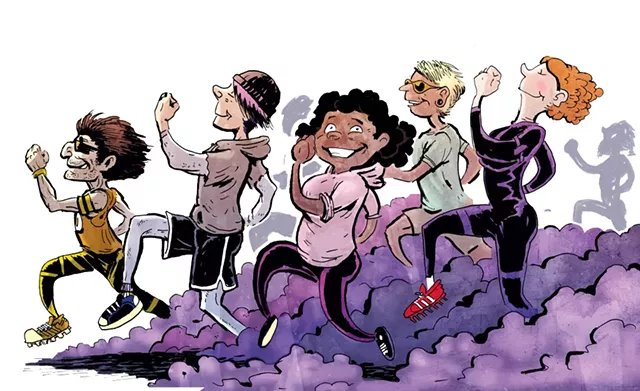 Waiting for the light to turn green at the corner of Flynn Avenue and Pine Street, I had my first sighting: about 10 of the creatures swooping around a telephone pole. A few days later, I spotted another flock on the Burlington Bike Path, and then more circling the track at the University of Vermont. The woods of Shelburne Farms and Williston's Catamount Outdoor Family Center, too, are atwitter with this species.
Birds? Nope — they're runners. Striding two or three abreast or single file, they seem to be everywhere in Chittenden County these days, and not just because of the Vermont City Marathon coming up on May 28.
As a longtime runner who has trained both solo and with groups, I wondered how all this social networking and group running might be affecting endurance efforts in northern Vermont.
My timing, it turns out, was spot-on. A study of more than 1 million people recently published in Nature Communications concluded that the "loneliness of the long-distance runner" — a phrase popularized by novelist Alan Sillitoe in 1959 — is now passé.
"The study offers some of the first hard evidence that health-related habits can spread — and so perhaps could be deliberately seeded and encouraged — by social influence and peer pressure," write the editors of research done by the MIT Sloan School of Management in Cambridge, Mass. "People run more when their friends do."
That's certainly true for Colchester's Erin Randall-Mullins, who ran her first marathon in 2009, in Burlington, finishing in four hours and five minutes. Soon afterward, hoping to qualify for the Boston Marathon, she joined members of the Green Mountain Athletic Association on Sunday-morning runs. Now, having run Boston twice, Randall-Mullins leads the weekly effort.
"Without the collective knowledge, support and encouragement of the group, I wouldn't have been able to do it," she said. "But, more important than the running accomplishments, the members of the Sunday group have become my second family."
Allen Mead, for his part, joins the Thursday GMAA track workouts as a fun way to train more intensely and jump-start his social weekend.
"Running is a great way to make connections with people you might not otherwise come into contact with," said the 50-year-old health care administrator from Hinesburg. "I met my wife for the first time at a race!"
It's not just romance that grows on group runs; apparently babies do, too. Shelburne's Jan Leja told of several near-due or past-due mothers who participated in a Sunday group run — albeit at a leisurely pace — and gave birth the following Monday or Tuesday.
"Each Sunday run has been truly special," said Leja, who helped organize a Team in Training run for the national Leukemia & Lymphoma Society in 2003; he began calling it Run With Jan the following year.* And, 722 Sunday runs later, the group is still at it, battling blizzards and blisters alike to raise more than $1 million for cancer research.
"I've witnessed those who swore at mile 18 of a training run that this would be their first and only marathon, only to run a dozen marathons after," observed Leja. "And 14 years of running together is comparable to staying together through elementary school, high school and college, plus more. We've had a 'great, long run.'"
Also marking a 14-year milestone is First Strides, cofounded by elite runner Kasie Enman of Huntington. It's a group-based model for getting women into running and fitness walking.
"I got my start in running as part of a team that was stronger and more successful than I was individually," said Enman, referring to her GMAA team. She still serves as GMAA's coach and team racing coordinator when not globe-trotting as part of the Salomon trail running team.
"GMAA shepherded me along into the world of longer distances," she added. "When I started having some higher-level success in marathons, one of my most vivid memories was the joy and pride that I felt on behalf of the GMAA running group. I still get chills and a smile thinking about the collective happiness."
Enman's efforts, in turn, have spawned another group, led by Jamie Sheahan, nutritionist and personal trainer at the EDGE Sports & Fitness. Working with a client who had just completed the First Strides program and then lost motivation to train on her own, Sheahan organized Thursday-evening runs to help others prepare for races.
"Running socially creates accountability," Sheahan said. "It makes the time fly by, and, I swear, something about running together allows people to open up and have really meaningful conversations — and plenty of gossip, too."
Last weekend's Persist 5K on the Burlington Bike Path was born from the meaningful movement of millions after the recent presidential election and inauguration. "The Montpelier Women's March was powerful and invigorating, and we want to keep that spirit going in Vermont," said Meg Smith, director of the Vermont Women's Fund. She decided to stage the race with a group of women who meet regularly for boot-camp classes in Charlotte. Proceeds from the run benefited the VWF.
"One of the tremendous benefits of working together as a group is the support we give one another, whether it's about exercising or how to deal with a tough situation at work," said Smith. "We came together as strangers, but there's a great sense of camaraderie that comes from seeing each other twice a week at 6 a.m."
Social Security: Local Running Coach Sam Davis on Running With a Group
Seven Days: How does running socially help?
Sam Davis: Well, it certainly breaks up the monotony of running alone. Long runs can become boring unless you're occupying your time with earbuds or whatnot. And even the most seasoned runners can lose motivation to go do a workout on their own. Even when I was really competitive, I would call friends and ask them if they were interested in going out for a run.
SD: OK, what about supplementing social running with social networking and apps that track workouts in a group environment?
SD: Yeah, sure, some people post every day — themselves, their dogs, their Strava, whatever. That can bring them out of the doldrums, getting support from the group. I've typically backed away from the day-to-day cheerleader part, but if I feel there is something I can contribute as a coach to this, I will help them out. Apps such as Strava can give you short-term goals, where Facebook or similar platforms give you a less tangible motivational challenge: "Jane went out and ran her eight miles; I should go out and run mine."
SD: Vermont City Marathon is right around the corner. How have your coaching strategies for that changed with group runs and increased technology?
SD: I encourage group runs for the athletes I coach, as long as the group is OK with running at the athlete's pace. Or, if the runner is doing a recovery run, then the slower pace of the group would be a nice opportunity to socialize. Technology and apps have been great for training specificity — you can measure pace, duration, distance, heart rate, intensity, etc. But it can't be a complete substitute for self-awareness and listening to your body.
Group Runs
*Correction: May 17, 2017: An earlier version of this story misidentified the gender of Jan Leja. He is a male.