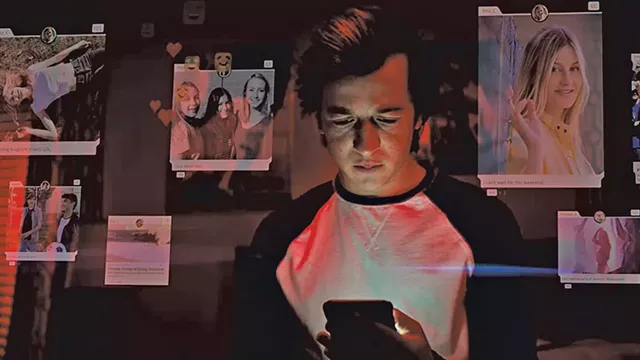 Courtesy Of Netflix
ANTISOCIAL Orlowski's documentary explores how connecting online can end up tearing people apart.
Our streaming entertainment options are overwhelming — and not always easy to sort through. This week, I watched Netflix's blistering documentary about social media, The Social Dilemma, which played at the Sundance Film Festival in January. Since the streaming service released it in September, it's been generating a lot of buzz on — you guessed it — social media.
The deal
Facebook, Twitter, YouTube, Google, Instagram, Pinterest ... If you think these are marvelous free tools designed to inform, connect and entertain you, think again. "If you're not paying for the product, you are the product," warns Tristan Harris, a former Google designer who cofounded the Center for Humane Technology.
Director Jeff Orlowski has assembled a cast of talking heads who understand social media networks because they helped build them — former high-ups at Twitter, Apple, Facebook and more. They describe how those networks are designed to be physiologically addictive, delivering dopamine hits like slot machines while selling our attention to the highest bidder. They caution against the "fake, brittle popularity" that social media offer and tie it to the growing rates of self-harm and suicide among teenagers.
Finally, the film details the threats that misinformation can pose to democracy when social networks give it viral reach. With Facebook's full ban on QAnon content less than two months behind us, and hashtags promoting conspiracy theories about the presidential election still trending, that aspect of the story continues to unfold before our eyes.
Will you like it?
For all its topicality, The Social Dilemma doesn't break any big news. If you've been following what people like Harris and Jaron Lanier (Ten Arguments for Deleting Your Social Media Accounts Right Now) have been saying for years, nothing here will surprise you. But it's still powerful and persuasive to see all the arguments summed up in one place.
Where Orlowski stumbles is in dramatizing those arguments. Experts sitting in office chairs admittedly aren't so fun to watch for 94 minutes, but the doc doesn't gain much from a series of scripted interludes attempting to show how the dynamics of "surveillance capitalism" play out in the real world. We watch as the world's most generic suburban family argues over its social media use, until hangdog teenager Ben (Skyler Gisondo) succumbs to the siren song of his phone and slips down an alt-right rabbit hole.
This playlet does feature amusingly surreal scenes in which Vincent Kartheiser (Pete Campbell on "Mad Men") plays three personified AIs who scheme to monopolize Ben's attention like an evil version of the emotions in Inside Out. Overall, though, this tacked-on family drama is reminiscent of the 2014 hand-wringing-about-the-internet movie Men, Women & Children — that is, terrible.
The Social Dilemma is a better movie when it sticks with the "boring" experts, many of whom speak eloquently about how social media magnify both the good and the bad in human nature. It's natural for humans to care what other humans think of them, for instance, Harris reflects. But "Were we evolved to be aware of what 10,000 people think of us?"
While they wax alarmist at times, these talking heads aren't Luddites who expect you to smash your phone and go live in an unwired hut. They, too, are trying to figure out how to navigate what Harris calls "simultaneous utopia and dystopia." The doc is perhaps at its most compelling when they speak of their own struggles with dependence on particular social feeds or even email.
As the credits roll, these witnesses offer some simple pieces of advice — turn off all of your nonessential notifications! — that are no less vital for being obvious. The message that we need to reclaim control of our virtual lives may not be bold or new, but it bears repeating until it takes.
If you like this, try...
Lo and Behold: Reveries of the Connected World (2016; YouTube, Tubi, Hulu, rentable): While it may not be the most of-the-moment documentary about internet culture, Werner Herzog's quirky take on the subject is fascinating.
Terms and Conditions May Apply (2013; rentable): Cullen Hoback's documentary takes a deep dive into all the ways we surrender our right to privacy every time we click "agree" on a new app.
Eighth Grade (2018; Amazon Prime Video, rentable): What if you poured out your soul on YouTube and nobody clicked? While the dramatic interludes in The Social Dilemma leave something to be desired, this indie drama from Bo Burnham — himself a YouTube star — offers a believable and poignant portrait of a girl coming of age enmeshed in social networks.