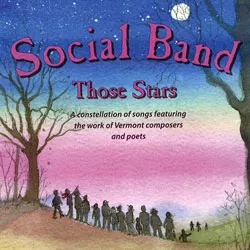 (Self-released, CD, Digital download)
In the age of "Glee," vocal music is no longer the dirty little secret of high school chorus geeks (slightly more outgoing but equally awkward cousins of band geeks) and energetic college a cappella groups. The success of that Fox TV show, coupled with an increase in popularity of vocal-based television talent shows, has sparked a resurgence of interest in a cappella music not seen since Rockapella implored us to wonder where in the world Carmen Sandiego might be.
It's a (mostly) welcome development. Inherent cheesiness of 99.9 percent of modern pop a cappella aside, anything that sparks an interest in singing among kids is a good thing. Because kids who grow up singing eventually become adults who sing and, perhaps, join groups like Vermont's Social Band. Or become snarky music critics. But I digress.
Since forming in 1998, Social Band have ranked among the state's better vocal ensembles. Whether exploring the mysterious tones of American shape-note singing, the classic vocal compositions of the medieval and Renaissance eras, or British Isles folk and madrigal music, the group performs with commendable attention to detail and technique, as well as a palpable, well, glee for singing. While their material is often classical in nature, Social Band's approach is to meld scholarly pursuits with energy and enthusiasm.
The group's latest recording, Those Stars, is similarly marked by heady academic compositions and lively and often playful performances. Much like their 2005 release, Vermont Composers Project, was built entirely of local compositions, Those Stars draws on the works of Vermont and New England-based composers and poets.
The album comprises some 16 compositions in all, including music by the likes of Colin McCaffrey, Pete Sutherland, Tom Cleary and a pair of Pattons, Will and Anna. Poetry is culled from a variety of bards both past and present, from famed Massachusetts preacher and abolitionist John Leland (1754-1841) to modern works from Glover's Burt Porter and Marlboro College professor T. Hunter Wilson.
The result is a collection diverse in both style and language, but one that flows together seamlessly. Cleary's contemporary "Three Seasons" works in concert with more jazz-inflected offerings from Will Patton ("Those Stars," "Morning"). And these sit snugly alongside madrigal-esque suites such as Sara Doncaster's "Early Summer Morning/Summer Evening" and Pete Sutherland's "New Ecstasy."
In certain moments, Social Band could seem to use a refresher in fundamentals. For example, during "Three Seasons" — an admittedly challenging technical piece — the group, particularly the bass section, struggles to maintain pitch and blend. It might be due to a lack of breath support during sustains. But under the watch of director Amity Baker, those moments are rare. On the whole, Those Stars is a fine example of vocal music sung with skill and passion.
Those Stars by Social Band is available at cdbaby.com.