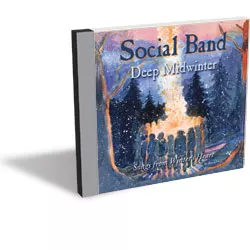 (Self-released, CD)
It's hard to find a term that accurately describes Burlington's Social Band. Are they a folk choir? A band of voices? An eclectic chorus? Whatever you call them, Social Band celebrate 12 years of singing together with the release of an excellent third album, Deep Midwinter. Granted, spring may seem a silly time to talk about winter music. But Vermont's "spring" is so wacky, it can feel like November nearly every other day. More to the point, Social Band's latest — officially released last December — truly takes us back into the cold.
The album offers another generous helping of the 20-odd-voice group's musical specialty: variety. There are Hungarian Christmas carols interspersed with churchy hymns; a Welsh Boxing Day song set alongside a pagan apple tree tune. And the whole project is liberally sprinkled with vocal numbers written by Vermont composers.
Peter Engisch of Ad Astra Recording engineered the album, which was recorded live at Christ Church Presbyterian on Burlington's UVM campus. Engisch is one of a handful of local sound engineers who specialize in acoustic music, and the result here is predictably clean and complementary to all the voices.
One of my current favorites on this recording is "When the Snows of Winter Fall," set to a poem by English folk poet Graeme Miles. The song is performed by just three voices, including that of Amity Baker. She's Social Band's artistic director and conductor and one of the most talented singers in Vermont.
Baker has done a masterful job of selecting the material for Deep Midwinter. Her choices suggest she truly understands the abilities and — just as importantly — the limitations of her singers. She manages to strike a comfortable balance of material that's interesting to listen to, artistically challenging, and which doesn't sound too much like an eternal Sunday morning service. This artful matching of music to musicians is what makes the best of Social Band rank alongside Northern Harmony and the Newark Balkan Chorus as some of Vermont's finest vocal music.
Social Band are currently planning their summer schedule — the warm-weather portion of their twice-yearly tours of Vermont churches and festivals. Regardless of the season, you'll be amazed at how much they sound like themselves live — another compliment to their sound engineer and to the performers!