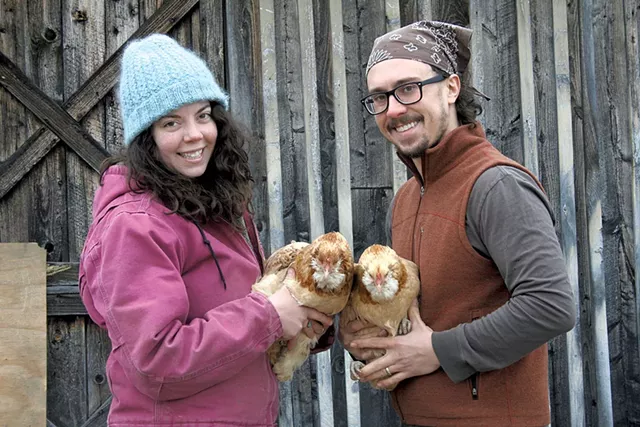 Suzanne Podhaizer
Caitlin and Jason Elberson
When Caitlin and Jason Elberson first considered starting a business based on fermented foods, they imagined growing all the veggies themselves: They would be barraged with beets, crowded by cabbages, drowning in daikon. Just a year into their venture, they've already shifted gears. Although they grow small quantities of "everything" for their own uses and experimental products, they source most of their vegetables from two local growers: Bear Roots Farm in South Barre and Full Moon Farm in Hinesburg.
It's a choice based not just on convenience but on their active support and concern for the surrounding farming community. Caitlin recalls that the shift began when the couple bought a bag of carrots and realized how much time they'd saved by not having to plant, weed, harvest and clean the reasonably priced roots. Says Caitlin, "We thought, Gosh, there are people who are doing a really amazing job farming, and we want to support them and want their businesses to thrive."
That concern for the bigger picture is also reflected in the name of the Elbersons' Marshfield property, Wild Rhythms Farm. There, the twosome makes kimchi, 'kraut and kvass (fermented beet juice) under the name Sobremesa. It's an untranslatable Spanish term best rendered as "time spent lingering around the table after a delicious meal, having food-induced conversations with your companions." Such a meal can't be rushed, and neither can fermentation. Like the products they create, which change slowly over time, the Elbersons' approach to agriculture entails finding rhythms — be they the "wild rhythms" of the land or those of the food community.
Neither Jason nor Caitlin originally imagined a life dedicated to agriculture. At their first home in Pennsylvania, he worked as a mechanical engineer, and she was director of development at a Waldorf school. They owned a house and had a routine. But it wasn't enough. Jason left his job and took part-time work at a biodynamic farm. After seeing the positive changes that outdoor labor wrought in her husband, Caitlin began volunteering in the mornings. It wasn't long before they started envisioning a significant shift.
"We realized we could have a life where we were living intentionally every single day," says Caitlin. "We could spend our time working together doing something meaningful around food." Such work would also allow them to use their complementary skill sets. "So," Jason says, "we sold everything we had, including our house, and moved up to Vermont, only having visited once."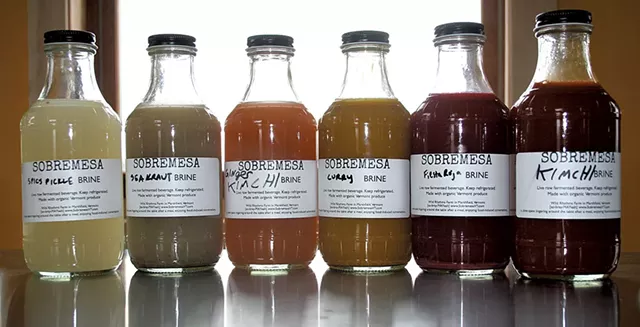 Suzanne Podhaizer
Sobremesa brines
Their impetus for heading north was the six-month Farmer Training Program at the University of Vermont. The Elbersons enrolled, got dirty, met members of the local food community and added skill after skill to their tool kits. They learned about soil health, plant diseases, small-scale poultry systems, farm-stand management, farm financials and more.
Weekly farm visits showed them the ins and outs of different agricultural systems. At Bread & Butter Farm in Shelburne, for instance, they got to work in the greenhouse, handle beef cattle, make bread in the bakery and engage with the wider community at Burger Nights.
The couple planned to live in a yurt on someone else's land until the perfect plot presented itself — and were pleasantly surprised when that happened ahead of schedule. They didn't find their property through real estate agents, who, they recall, seemed to struggle with the concept of a "working farm." Instead of barns and scrubby pastureland, the Elbersons were offered expansive lawns and scenic views.
"We stumbled across it on craigslist," says Caitlin, still sounding a tad surprised by the serendipity. The 7.5-acre property, tagged "a homesteader's dream," met all the qualifications on the "gigantic" list of features they were seeking. In 2014, they moved into their cozy farmhouse. The property's sturdy and weathered barn, sizable garden, and a few acres of pasture gave them the footing they needed to begin creating their homestead and growing their business. Financing came in the form of loans from family members, savings and the proceeds from selling their Pennsylvania home.
On a gray day in March, a pot of sap boils on the Elbersons' porch; the raspberry cane is bare but promises sun-kissed fruit to come. Three ducks, a handful of guinea fowl and some laying chickens meander around the barnyard, clucking and scratching, snapping up compost consisting of vegetable ends and any fermentation projects that weren't up to snuff.
Sheep will arrive in April to feast on the scrubby pastures, helping enrich and transform them. Their wool will be made into clothing, and their meat will provide protein for the farmers' meals. Last year's sheep hides hang upstairs in the barn, waiting to be processed at an organic tannery.
The barn is also home to an inspected commercial kitchen, complete with shiny appliances and plenty of workspace, where cabbage is shredded, garlic is minced and spices are ground into powders. Still in the works are a walk-in cooler and a warm room that will be useful in the initial stages of fermentation.
Caitlin dreams of using a portion of the building as an event space for on-farm dinners. Until it's ready, the couple is organizing events at pop-up spaces, such as Misery Loves Company's Incubator in Winooski. There, in February, Sobremesa hosted its first Vermont Preservation Society meeting, where community members drank, talked and swapped homemade goods, including fromage blanc and pickles.
It's not hard for the Elbersons to find something to trade at these shindigs. Inside their home, they're aging about 2,500 pounds of product — all made between January and March — in food-safe plastic barrels. Last year, Jason says, their total production was about 4,000 pounds, so this represents a serious uptick.
Suzanne Podhaizer
Sobremesa eggs
Healthy Living Market & Café in South Burlington stocks the couple's basic wares, and the Elbersons sell a more exuberant product line — including small-batch test products — at their winter and summer stands at the Burlington and Stowe farmers markets. This year, they hope to get their products into more stores, plus restaurants. In 2017, if all goes well, Sobremesa will begin selling outside Vermont, giving a further boost to the farmers from whom they purchase as their production increases and their name recognition grows.
Like the story behind them, the tastes of the Elbersons' ferments speak to the couple's attention to detail and their passion for flavor and creativity. Lemon juice, dill and garlic ensure that their most basic fermented cabbage is lighter and brighter than your average 'kraut. The Fiesta Roja, made with red cabbage, carrot and jalapeño, is cumin-forward but by no means overwhelming. The Curry Sauerkraut, for which they toast and blend their own spices, is stained a pleasing yellow from the turmeric and tastes nothing like packaged curry powder.
The pair is particularly interested in putting their own spin on traditional recipes from around the world; they like to point out that fermentation spans every cultural culinary tradition. Their spicy kimchi, for instance, laced with Korean red chile flakes and a top-shelf fish sauce, gets its unmistakably fruity note from apples and habañeros.
Sobremesa's blends get even wilder. Crisp pickled celery and fennel, scooped from a large jar they made on a whim, would be perfect mixed into a bread-and-chestnut stuffing. At Christmastime, the Elbersons concocted a butternut squash, cranberry and apple combination that was a cross between a finely chopped relish and a chunky side dish. It wasn't the most successful of their products, they acknowledge, but, Caitlin recalls, the brine was particularly delicious.
One of the cleverest aspects of the Elbersons' business is that they package and sell the brine left over from each of their products. The tangy, salty, seasoned liquid, consisting of juices exuded by the vegetables and the lactic bacteria from the ferments, is an extremely healthy, low-calorie probiotic. And it's delicious. The saline drippings from a batch of spicy cucumber pickles, crisp and refreshing, may be the best of all.
Jason and Caitlin drink the brine like wine — which is, after all, another fermented beverage — but they also cook with it. The liquid from their Atlantic Brine, which incorporates kelp, dulse, wakame and kombu from Ironbound Island Seaweed of Maine, is perfect for steaming mussels or clams. The brine from their spicy kimchi can be splashed over rice or mixed into taco meat. Any of the flavorful liquors can be shaken with olive oil to serve as salad dressing.
This no-waste principle is a driving priority for the founders of Sobremesa, along with dancing to the rhythms of the land on which they live and seamlessly fitting into the puzzle of the existing food system.
And so, a little at a time, as they watch their animals eat, their pastures develop and their products sell, the couple, too, will adjust, change and plan. "Many people jump right in [to projects], because it can take years to see the benefits," Caitlin notes. But for now, Jason says, "We want to work with the natural rhythms, rather than make them work for us."