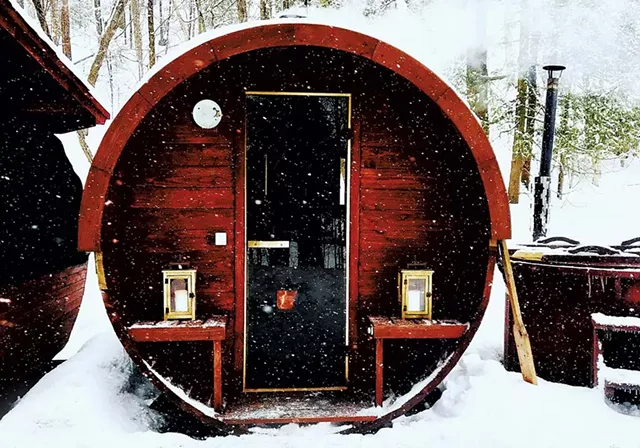 Courtesy Photo
Exterior of a wood-fired sauna
According to the last two United Nations World Happiness Reports, the people of Finland are the happiest in the world. There are undoubtedly myriad social, environmental, economic and political reasons Fins have topped that list for two years running: high-paying jobs, jaw-dropping natural splendor, fish pies, etc. But if Vermont's WilloBurke Boutique Inn + Nordic Spa is any indication, there may be a simpler explanation for Fin euphoria: Their spas are amazing.
Alivia Bertolini opened her eight-suite inn in the heart of East Burke Village, about an hour and 45 minutes from Burlington, in 2015. In September 2018, the Kirby native and former lawyer added a Finnish-style Nordic spa to her offerings, which she believes to be the first of its kind in New England — and possibly the U.S.
Courtesy Photo
WilloBurke Boutique Inn + Nordic Spa
"I don't know of anything like it anywhere else in the country," says Bertolini.
BTV couldn't confirm the existence of similar Nordic spas elsewhere in the lower 48. But just over the Canadian border, there's Spa Nordic Station in Magog, Québec. Like WilloBurke, it's a Scandinavian-style spa focused on hydrotherapy through a series of saunas, cold baths and hot tubs.
Both spas feature rustic architecture and serene riverside settings. But while the Canadian spa encourages a communal social experience in which guests steam, soak and frolic together, WilloBurke offers more secluded environs. Set back in the woods along the Passumpsic River, each of the four clusters of cabanas, cold baths, and wood-fired saunas and hot tubs affords welcome privacy.
"You really feel like you have the whole place to yourself," says Bertolini.
Courtesy Photo
Interior of a wood-fired sauna European-inspired farm-to-table breakfast
For an optimal experience, she prescribes a specific course of action. "The spa is meant to be an evening activity," Bertolini advises. "And you should eat first, because afterwards you won't want to do anything but go to bed."
So, following late-afternoon massages, she suggests fueling up for the spa at the nearby Burke Publick House, a lively bar and restaurant within walking distance of the inn. Pro tip: Try the Romeo chicken wings, slathered in a lip-smacking, nostril-stinging hybrid of mustard and Buffalo sauce.
When you return to the inn, an employee will lead you to your cabana. As you cross a footbridge spanning the river, you'll catch a whiff of woodsmoke in the air. The alluring scent will become stronger as you follow a lit path through the snow and into the woods past the Valhalla Nordic Pub, an outdoor bar that opened in the spring.
Courtesy Photo
Bridge at WilloBurke
You'll change in the cabana, which sits next to the cylindrical, cedar-lined sauna, imported from Europe and wood-heated to a toasty 150 to 160 degrees. Next to the sauna is the wood-fired barrel-style hot tub — heated to a more relaxed 103 degrees — and next to that, the cold bath. It is all impossibly cozy, inviting and — to use a Norwegian synonym — hygge.
Typically, Bertolini advises a traditional circuit: Work up a sweat in the sauna, cool off in the cold bath, then relax in the hot tub. She recommends that guests try to complete the triad three times in a two-hour session, after which point she says they'll experience a kind of euphoria akin to a runner's high. Bold visitors can also brave two other options for the chilly middle segment: taking a dip in the icy brook or rolling around in the snow.
Courtesy Photo
European-inspired farm-to-table breakfast at WilloBurke
The precise science behind hydrotherapy is hazy, much like the steam rising from a hot tub on a frigid night in the Northeast Kingdom. For every study that verifies one supposed benefit, another contradicts it. Bertolini, who first experienced Nordic spas while visiting friends in Finland — and devised the idea for her own Nordic spa over drinks in a sauna there — subscribes to many of the most commonly cited advantages: stimulating the circulatory system, relaxing fatigued muscles and cleansing body toxins.
"It's the use of water to make you feel good," she explains. "It's the heat from the sauna that releases toxins; it's the water from the hot tub that relaxes your muscles. And it all just gives you that euphoric feeling."
Scientifically valid or not, there's no debate that the experience can be therapeutic. And you really don't want to argue with Vikings, who have employed hydrotherapy for centuries — as have countless other cultures the world over. Indeed, if heaven is a place, it might well resemble a lasting impression from WilloBurke: lounging carefree in a wood-fired hot tub on a winter's night under tall pines, glass of wine in hand, next to someone you love.
Just Relax
To learn more about WilloBurke Boutique Inn + Nordic Spa, located at 638 Route 114 in East Burke, visit willoburke.com. Or consider these other spas a little closer to Burlington:
---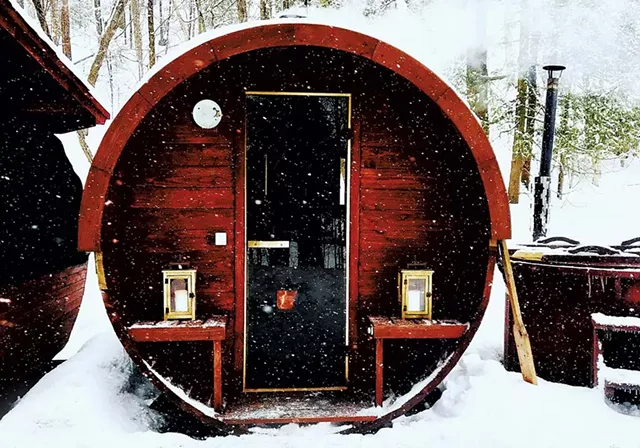 Courtesy Photo
Exterior of a wood-fired sauna
Selon les deux derniers rapports mondiaux sur le bonheur de l'ONU, les habitants de la Finlande seraient les plus heureux au monde. Une foule de raisons sociales, environnementales, économiques et politiques expliquent sans doute pourquoi les Finlandais trônent au sommet de ce palmarès depuis deux ans : emplois bien rémunérés, splendeurs naturelles époustouflantes, pâtés de poisson, etc. Mais si l'on en juge par le WilloBurke Boutique Inn + Nordic Spa, au Vermont, il pourrait y avoir une explication plus simple à l'euphorie des Finlandais : leurs spas extraordinaires.
Alivia Bertolini a ouvert son auberge de huit chambres au cœur du village d'East Burke, à environ une heure 45 minutes de Burlington, en 2015. En septembre 2018, cette ancienne avocate originaire de Kirby a ajouté un spa nordique de style finlandais à son offre, et il s'agit selon elle du premier en son genre en Nouvelle-Angleterre – et peut-être même aux États-Unis.
Courtesy Photo
WilloBurke Boutique Inn + Nordic Spa
« À ma connaissance, cela n'existe nulle part ailleurs au pays », dit-elle.
BTV n'a pas été en mesure de confirmer l'existence de spas nordiques semblables dans les autres États. Mais tout juste de l'autre côté de la frontière canadienne, on trouve le Spa Nordic Station à Magog, au Québec. Comme WilloBurke, c'est un spa de style scandinave axé sur l'hydrothérapie, où saunas, bains froids et bains chauds se succèdent en enfilade
Les deux établissements présentent une architecture rustique et sont situés au bord d'une rivière, dans un paysage serein. Mais tandis que le spa canadien encourage une expérience sociale, où les clients pataugent et se prélassent en communauté, WilloBurke propose un cadre plus confidentiel. Chacun des quatre groupes de cabines, bains froids, saunas chauffés au bois et bains chauds, situés en retrait le long de la rivière Passumpsic, offre une grande intimité.
« On se sent vraiment comme si on avait toute la place pour soi », dit Alivia.
Courtesy Photo
Interior of a wood-fired sauna European-inspired farm-to-table breakfast
Pour vivre une expérience optimale, elle propose une marche à suivre bien précise. « Le spa est une activité du soir, préconise-t-elle. Et il faut avoir mangé avant, parce que la seule chose qu'on a envie de faire après, c'est d'aller dormir. »
Donc, après un bon massage de fin d'après-midi, Alivia suggère d'aller faire le plein d'énergie au Burke Publick House, un resto-bar dynamique situé à distance de marche de l'auberge. Conseil de pro : essayez les savoureuses ailes de poulet Romeo, badigeonnées d'un mélange de moutarde et de sauce Buffalo aux arômes légèrement piquants.
À votre retour à l'auberge, un membre du personnel vous escortera jusqu'à votre cabine. Quand vous traverserez la passerelle qui enjambe la rivière, une douce odeur de feu de bois chatouillera vos narines. Les effluves seront de plus en plus forts à mesure que vous avancerez le long du sentier éclairé, en vous enfonçant dans les bois enneigés au détour du Valhalla Nordic Pub, un bar extérieur inauguré au printemps.
Courtesy Photo
Bridge at WilloBurke
Vous vous changerez dans la cabine, située à côté d'un sauna cylindrique en cèdre importé d'Europe et chauffé au bois jusqu'à une température de 150 à 160 degrés. Suivent le bain chaud de style tonneau, lui aussi chauffé au bois à une température plus douce de 103 degrés, puis le bain froid. C'est l'ABC du hygge : l'art de vivre à la norvégienne.
De façon générale, Alivia conseille le circuit traditionnel : vous suez un bon coup dans le sauna, vous sautez rapidement dans le bain froid, puis vous relaxez dans le bain chaud. Elle recommande de répéter cette routine trois fois durant une séance de deux heures, pour éprouver un sentiment de bien-être général qui s'apparente à l'euphorie du coureur. Deux autres options s'offrent également aux visiteurs plus audacieux pour l'étape intermédiaire de refroidissement : se saucer dans la rivière glacée ou se rouler dans la neige.
Courtesy Photo
European-inspired farm-to-table breakfast at WilloBurke
La science exacte qui sous-tend l'hydrothérapie est plutôt floue, un peu comme la vapeur qui s'élève d'un bain chaud par une nuit polaire dans le Northeast Kingdom. Pour chaque étude qui valide un supposé bienfait, une autre dit le contraire. Alivia, qui a fait pour la première fois l'expérience d'un spa nordique lors d'un séjour chez des amis en Finlande et a eu l'idée de son propre établissement en sirotant des cocktails dans un sauna là-bas, souscrit à la plupart des bienfaits les plus souvent évoqués : stimulation du système circulatoire, relaxation des muscles fatigués et élimination des toxines de l'organisme.
« On se sent bien au contact de l'eau, explique-t-elle. La chaleur du sauna libère les toxines, et l'eau du bain chaud détend les muscles. Cela procure une sorte d'ivresse. »
Qu'elles soient démontrées par la science ou non, les vertus euphorisantes du spa ne font aucun doute. À quoi bon contredire les Vikings, qui ont eu recours à l'hydrothérapie pendant des siècles, tout comme une foule d'autres cultures partout dans le monde? Quand on s'allonge paresseusement dans un bain chaud par une froide nuit d'hiver sous les pins majestueux, un verre de vin à la main, en compagnie de l'être cher, on a beau être au WilloBurke, aussi bien dire qu'on est au paradis.
Just Relax
Pour en savoir plus sur le WilloBurke Boutique Inn + Nordic Spa, situé au 638 Route 114 à East Burke, visitez le site willoburke.com. Ou jetez un coup d'œil à ces autres spas, qui se trouvent un peu plus près de Burlington :