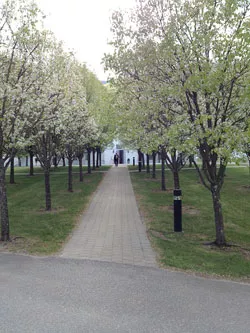 One of my favorite things to do in the summer is take Vermont day trips. There are plenty of reasons to drive around the state, from simple sightseeing to getting oneself to an outdoorsy excursion such as climbing Camel's Hump or kayaking. But if, like me, you enjoy (a) looking at art, and (b) eating, then a road trip that includes an arty destination and a lunch spot is heaven. But I recommend also planning in advance a pit stop or two, and checking out other attractions in the target area. Oh, and if you're a member of Vermont's 251 Club (see Kathryn Flagg's story about that), identifying art venues and checking off the towns you'll pass through to reach them is a lovely way to edge closer to 251 status.
Last weekend, Seven Days associate arts editor Megan James and I took just such an art field trip. Our destination: the Southern Vermont Art Center in Manchester. Estimated time from the Burlington area, where we both live: about 2.5 hours. The anchoring mission was to see an exhibit that opened Saturday — "Our Fragile Home" by Pat Musick and Jerry Carr (see Megan's review). But we made more of it than just a down-and-back by researching restaurants and other sites and activities in the Manchester area, as well as along the way. Much of this we filed away for future trips. Another recommendation: It's good to pay attention and stockpile information, but don't ruin your excursion by trying to do too much in one go.
We met up at the Starbucks on Shelburne Road, got coffees to go, and headed south. It's a straight shot to Manchester on Route 7, but between an old-fashioned Vermont road atlas and Google Maps, we checked out alternative routes to consider on the way home. We also noted the towns we'd be passing through. And, given our coffee consumption, we calculated a pit stop somewhere around Middlebury. Before even leaving Chittenden County, we jotted down a couple of other drink-related stops for the way back: Shelburne Vineyard (and tasting room) and, right across the road, Fiddlehead Brewing. Of course, there are ample art venues in Shelburne to make it a destination unto itself: Shelburne Museum, Furchgott Sourdiffe Gallery, Shelburne Craft School and Luxton-Jones Gallery among them. Not to mention the shopping.
Further south, we also noted Caledonia Spirits & Winery in Ferrisburgh as a point of interest for another time.
Middlebury, too, is an arty haven, between downtown galleries such as Edgewater and the college's Museum of Art, an underutilized Vermont treasure. Another day — maybe next Saturday, when we can revisit the Edward Burtynsky photographs, take in the new "Edward Hopper in Vermont" show, and take advantage of Vermont Open Studio Weekend along the way. And another lunch — say, at the Storm Café with picturesque Otter Creek nearby.
When we arrived in Manchester, about 2 p.m., having forsaken that Middlebury pit stop after all, a convenience store with a bathroom was the first order of business. And then, lunch. We'd scoured the offerings on the 7 Nights website, but ended up pulling into a place that isn't in the guide yet, just because we liked the name: Ponce Bistro, on Main Street. Lured inside by the promise of a half dozen delicious-sounding salads and sandwiches on the menu, we found more than just good food: sepia vintage photos on the walls, of or inscribed to a woman named Felicia, and a loquacious restaurant owner, Ron Rodriguez, who seated us and happily regaled us with stories about the beautiful Felicia. She was, it turned out, his grandmother and a successful singer in the 1930s. Though the photos were taken a couple of decades before "I Love Lucy" burst onto television, the ruffly shirts on the men in Felicia's band made us think of Ricky Ricardo.
Our meals were light, fresh and creative — a salubrious effect we almost ruined by eating desserts. Once we took our leave of dining and family histories at Ponce, it was time to make our way to the Southern Vermont Art Center. But we put on our list for next time a few fancy outlet stores — hello, Kate Spade! — the posh Equinox Resort, Hildene (Lincoln family home), the Northshire Bookstore (which, by the way, is opening a store in Saratoga Springs, N.Y.), and maybe even the nearby British School of Falconry. Hawking is an art, right?
At SVAC, it was a treat to meet Musick and Carr, who are delightful; and also to discover at the gallery a number of woodblock prints and sculptures by the late Elfriede Abbe, whom Robert Resnik memorialized recently on the Seven Days arts blog, Live Culture. An additional bit of advice: If you go art sightseeing, try to plan your visit during a reception. It's often enlightening to meet the artists, and there are usually hors d'oeuvres.
We poked around the members' exhibit in an adjacent building, the elegant Yester House, and took stock of the contemporary outdoor sculptures spread around the grounds and alongside the curvaceous road leading to the gallery. We breathed in art.
And then we headed toward home, having decided on scenic Route 30 — though, really, almost any road in Vermont is scenic. This took us through some appealing hamlets such as Dorset (where we vowed to return for summer theater), Rupert, Pawlet and Wells. Eventually Route 30 brought us back to Middlebury, where we did take a pee break this time, at the Maplefields on the north side of town. And then, on the straight, smooth road to Burlington, with verdant Addison County rippling away to the horizon, we admired the views and the cows and began to hatch plans for the next art trip.