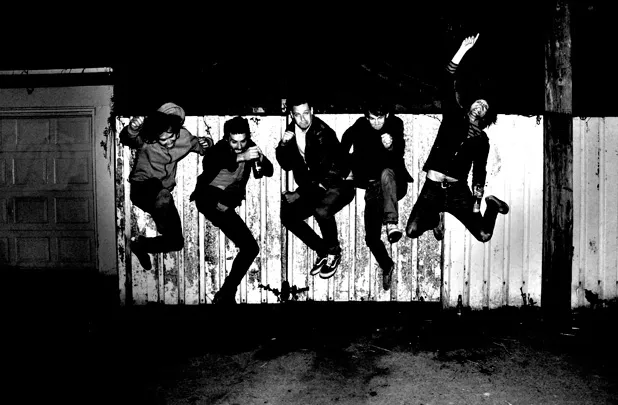 You'll have to excuse me if I seem a bit more scattered than usual this week. You see, I've just emerged from the rock-and-roll rabbit hole that is the CMJ Music Marathon in New York City. If you've been, you know that it requires a three- or four-day recovery period at minimum, which means I'm pretty much screwed until midweek. But, as they say in the biz, the show must go on. And so we begin with a loaded question.
So how was CMJ?
It was fun! It was exhausting. It was inspiring! It was a clusterfuck. It was illuminating! It was overwhelming. It was underwhelming. It was indie-rock heaven! It was a ridiculous hipster shitshow. It was great! It kind of sucked. It was the best of times! It was a waste of time. It was … CMJ.
Depending on which point during the festival you asked, I could have reasonably given you any one of those answers. This was my third go-round at the music marathon, but it comes after a year in which I sat it out. I had sort of forgotten how wildly variable the whole experience can be. Even a rookie learns right away that you can never see everything you want to see. When you're at a great show, you're probably missing 20 other great shows. That's just the way it goes. But that makes it sting worse when you catch a dud. On the flip side, it's extra rewarding when you stumble into a great new band you never knew existed before.
Maybe I'm getting older and harder to please, or I didn't do enough research, or I didn't drink enough, or it was dumb luck, but for some reason my ratio of hits to misses was lower this year. On too many occasions I left some hyped-up show wondering what all the fuss was about. But there were a few diamonds in the rough, including a couple of special moments that had nothing to do with CMJ at all.
The highlight of the festival, for me, was a Montréal-based band called Le Trouble, whom I caught at the Living Room. According to front man Michael Mooney, it was the band's third showcase that day.
"We've played a lot today, and I'm fucking wasted," he informed us before his set — in an impossibly charming Aussie accent, no less. Then they launched into 45 minutes of rock that was among the most enjoyable sets I've ever seen at CMJ.
With a Jaggeresque swagger, charisma for miles and show-stopping pipes, Mooney is about as dynamic and entertaining a front person as you'll ever see. In a rare display of nonbullshit PR, their self-declared union of "Meat Loaf, Hall & Oates and punk" is spot-on. Mooney has Meat Loaf's flair for the dramatic — and reasonably similar vocal chops. The band's dense, pop-centric arrangements channel Hall & Oates, at least in spirit, and they tie it all together with a seriously danceable punk thread. Sadly, it doesn't appear Le Trouble are coming to Vermont anytime soon. But you can catch them in Montréal at Bistro de Paris on Sunday, November 3.
Another non-CMJ highlight was catching Vermont-born composer Nico Muhly paying tribute to his idol, opera composer Benjamin Britten, with a show at Le Poisson Rouge featuring a bunch of famous opera singers. For the uninitiated, Muhly is a 32-year-old wunderkind composer — that's young in opera circles — whose newest work, Two Boys, is debuting at the Metropolitan Opera this week. That's a big deal. I can't pretend to know anything about opera. I do, however, know a little bit about old English folk songs. To close the show, Muhly — who was a pupil of Philip Glass, BTW — adapted a collection of a cappella madrigal songs for piano and voice — the latter courtesy of tenor Paul Appleby. For those keeping score, that means he combined traditional English folk music, minimalist composition techniques and opera. It was chill-inducing.
The final highlight I'll pass along was another detour from CMJ: catching the local sons of Death, Rough Francis, at Europa Club in Brooklyn. The band didn't play for an especially large crowd. But it was an appreciative one, and populated by more than a few Burlington heads, past and present. (Full disclosure: RF front man Bobby Hackney Jr. works for Seven Days. But you probably know that by now.)
What I found interesting — or, rather, perplexing — was that RF were one of so few Vermont options during CMJ, and they weren't even playing CMJ, technically. By my count the number of Vermont artists at CMJ was one: Brattleboro's Happy Jawbone Family Band, who played before I arrived in NYC. So I gotta ask another loaded question:
What gives, dudes?
I know it's a hassle, both to get into a showcase and to travel to NYC. Even the application process is a pain. But as the old carnival-barker saying goes, you can't win if you don't play. For better or worse, CMJ is one of the biggest playgrounds in music. And for Vermont to be barely represented is a bummer. Judging from what I saw last week, there's no gap in talent between the hot-shit bands from (insert bigger city here) and many of our best and brightest.
So whaddya say, maybe next year?
BiteTorrent
If you're looking for some pre-Halloween fun, local pianist Randal Pierce will perform a score to the silent-film version of The Phantom of the Opera at Radio Bean on Wednesday, October 30.
Speaking of the Bean and Halloween, songwriter Dan Blakeslee is in the midst of his annual run of shows as his spooky alter ego Dr. Gasp. He'll be at the Bean this Friday, October 25, and again on Saturday, October 26, the latter date for a special kid's matinee.
One more Halloween note: Signal Kitchen has been tight-lipped about its surprise special guest for a Halloween show on — wait for it — Halloween. But now the secret is out. It's prodigal EDM producers Lazerdisk, fresh from a big homecoming gig at Club Metronome last week.
Speaking of homecomings, welcome back to Seth Gallant (ex-In Memory of Pluto, Maryse Smith and the Rosesmiths), who returns from the wilds of Maine to reunite with his old alt-country band Great Western at Burlington's Skinny Pancake this Saturday, October 26. Something With Strings are also on the bill.
Fanboy alert: One of my longest-running column band crushes, the Low Anthem, are playing Signal Kitchen this Friday, October 25, with Billy Wylder, Henry Jamison and Ben Davis. I haven't seen TLA since multi-instrumentalist and vocalist Jocie Adams left the band, so I'm curious to see what they sound like live now.
Last but not least, Don Sheldon, best known as the man behind the annual Valley Stage music festival in Huntington, unveils a new pseudo-monthly series this week called P.M. Sundays. The concerts take place at the Richmond Free Library and will feature some top-notch regional and national folk talent, including the Stray Birds (November), Vance Gilbert (December) and, kicking this off this Sunday, October 27, Grammy-winning guitarist Ed Gerhard.
Listening In
A peek at what was on my iPod, turntable, eight-track player, etc., this week.
Blessed Feathers, Order of the Arrow
Braids, Flourish // Perish
The Callas, Am I Vertical?
Left Lane Cruiser, Rock Them Back to Hell
Le Trouble, Reality Strikes