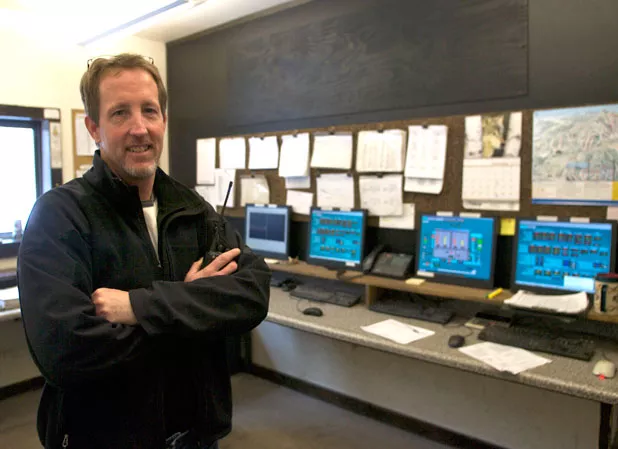 Skiers are a demanding bunch. They expect the mountains to have snow at least from Thanksgiving through March. But Mother Nature doesn't always come through. This season was a prime example — unusually warm temperatures prevented most Vermont ski resorts from opening before the end of November. When the cold finally came, the ski areas called on Uncle Nature — teams of snowmakers armed with snow guns — to get their slopes open.
Steve Reynolds, 47, used to be one of those hardy laborers who brave the elements to set and adjust the snow guns on the trails. Now he has a decidedly cushier job. In a warm office with four computer screens, Reynolds controls much of Killington and Pico's snowmaking system — one of the most extensive in the world — with a keyboard and a mouse. Frostbite was once his occupational hazard. Now it's carpal tunnel syndrome.
But with 45 miles of pipelines, 12 pump houses, five compressor pads and 3500 snowmaking locations, lots of things can go wrong. Seven Days joined Reynolds in his control room at the base of Killington to learn what it's like to be in charge of a weather system.
Seven Days: How does a snowmaking gun work?
Steve Reynolds: It kind of evolved over the years. It used to be a simple mixture of air and water. Basically, water comes through the nozzle of the gun and is mixed with pressurized air, which atomizes the water and causes it to freeze before it hits the ground. With the newer fan guns, it's usually a mixture of a little bit of compressed air and the fan pushes the air faster to atomize the water. With the low-energy guns, the water is forced out of the gun through a small nozzle and atomized externally by a small amount of air.
SD: Where does the water come from?
SR: Our main sources of water are snowmaking ponds. We have one at the bottom of Snowshed [Base Lodge], one at Bear Mountain, and we can draw out of Woodward Reservoir to keep the ponds full. And the Ottauquechee River. As water melts off the mountain, it gets diverted back into the ponds.
SD: How much water does the snowmaking system use in a season?
SR: Something in the 500-million-gallon range.
SD: It seems fairly quiet in here now. What makes your day hectic?
SR: Around the holiday season, we'll have close to 300 guns running at once, and there's always the chance that a pipeline will fail. When that happens, you have 1000 gallons of water running down a trail. It doesn't happen often, but it does happen. Then equipment breaks down. There are 30 guys on the hill to monitor the situation. Tons of things happening all the time.
SD: What else can go wrong?
SR: We've had avalanches on some of the steeper trails. When you're making snow on a very steep trail and there's an icy base, it can slide down to the bottom just like a natural avalanche. Outer Limits let go last year; Double Dipper has let go.
SD: Has anyone been hurt in one of these humanmade avalanches?
SR: Knock on wood, no.
SD: What are the optimal conditions for snowmaking?
SR: Anywhere from 23 to 10 degrees Fahrenheit. You can control the quality as much as you need to from 25 degrees down. Somewhere between 13 and 16 degrees, we're using all of our air and all of our water. Somewhere below that, we're using all of our water and not all of our air, so it gets cheaper. Compressing the air uses the most energy, so it's the most expensive part of snowmaking.
SD: What's it looking like out on the mountain today?
SR: It's 14.5 degrees at the summit, with 88 percent humidity. Our main pump house by Snowshed is online, and it has seven 600-horsepower pumps. Some of that water is being pumped directly to snow guns, and some is being pumped to a pump house at mid-mountain, where it gets a boost and is sent up higher. Today, we've got 9000 gallons per minute available to us. We're using 5000 gallons per minute. We're using 35,000 cubic feet of air. We're making snow on Bittersweet, Conclusion and Double Dipper.
SD: This seems like a lot of infrastructure just to go skiing.
SR: Yeah, people complain about the $80 ticket, but what it takes to open a ski area is huge. It's a lot of energy and a lot of work. That's just for us in snowmaking. When you think about how much it costs to keep the lifts safe, which is very important, and operating smoothly and reliably, there's a lot of money involved.
SD: Do you ever feel like your job is one that people wish ski resorts didn't need but are happy to have?
SR: Sure. I talk a lot to snowmakers in Colorado. We share stories about our snowmaking systems. One guy said his snowmaking system has 200 guns. That's one trail for us. Out in Colorado, they don't need us. They have small systems that basically just make snow at the base areas, and that's all you need to worry about. Here, it's a necessary evil, I guess. If you want to ski the East, you're going to need snowmaking.
SD: Do you like skiing on humanmade snow?
SR: Yeah, if I'm skiing I usually head for wherever we're making snow. Unless, of course, it's a powder day, and then I'll head to Pico, where nobody else is.
SD: Do you ever get complaints from people who don't like skiing on runs where the snow guns are making snow?
SR: Yeah, we hear that a lot. But it's a waste of energy to start a trail up at night and shut it down during the day. On a good cold day, you can run a trail for 24 hours and have it open for the rest of the season.
SD: What's the latest snow-gun technology?
SR: Probably the TechnoAlpin automated fan gun. It's an impressive gun, and we're trying it out for the first time this year. Actually, most ski resorts in Europe use this sort of automated gun, but it's a huge financial investment because you need to run power to the gun's location. The best thing about it is that you can decide where you want to make snow and be up and running in 10, 15 minutes. With regular snow guns, you're sending snowmakers down the trail to start the guns one by one, and it takes hours. With the automated gun, it's on and it's off in minutes.
SD: And you can operate the whole thing with this computer?
SR: Yes, you can dictate what snow quality you want — skiable snow or production snow for base building. During the day, if we're making snow on an open trail, we'll dry it out so it's skiable. Then at night, we'll give it more water. I can control where it's pointed, whether or not it oscillates, and what elevation it's pointed at.
SD: What's your advice to skiers looking for the best snow on the mountain?
SR: Check the website; find out where we made snow and if it's been groomed. Then head there first thing in the morning before it gets tracked up.