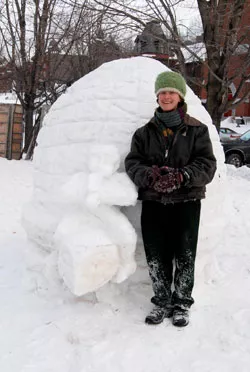 Let it snow, let it snow, let it . . . turn into art? That's the idea behind Barre's Snow Sculpture Competition this Saturday, when 20 blocks of tamped-down snow — each 6 cubic feet — will be carved by individuals and teams, many from the local stone-carving community. The second annual event has attracted far more than the eight teams that participated last year, according to Sue Higby, executive director of Studio Place Arts, which, along with the Millstone Trails Association, is organizing the competition. From early morning until daylight's end, Higby says, the sculptors will work their blocks at various locations around town.
Though cold temperatures are practically guaranteed, carving snow-that's-not-quite-ice is a race against time. The snow, courtesy of Barre's snowplow drivers, is bound to be of inconsistent quality, and it can melt, soften and settle. "In many respects," says Higby, "snow sculpting is an adrenaline sport." It certainly takes energy just to keep bodies warm and fingers from freezing. "And it's not easy," she adds. "You actually use a double-edged saw."
Burlington's Michael Nedell could speak to all that — and no doubt did, at a workshop he held for sculptors last week. This Saturday Nedell — who has led Vermont's team at the U.S. Snow Carving Competition in Wisconsin — will also give a demonstration for the public, from 10:30 a.m. to noon.
In addition to the professional sculptors on hand, Higby notes, the event will feature, for the first time, some competitors from Barre's Spaulding High School — specifically, students from the art department, student council and ROTC. Hmm — junior-league artists, politicians and soldiers. Should be interesting.
Higby also says that if temps dip below zero, she'll give the teams an extra day to work on their sculptures; a three-person panel of judges will announce the winner next week. Meanwhile, anyone who wants to volunteer to stomp snow into giant cubes can contact Higby. Yep, just like stomping on grapes.