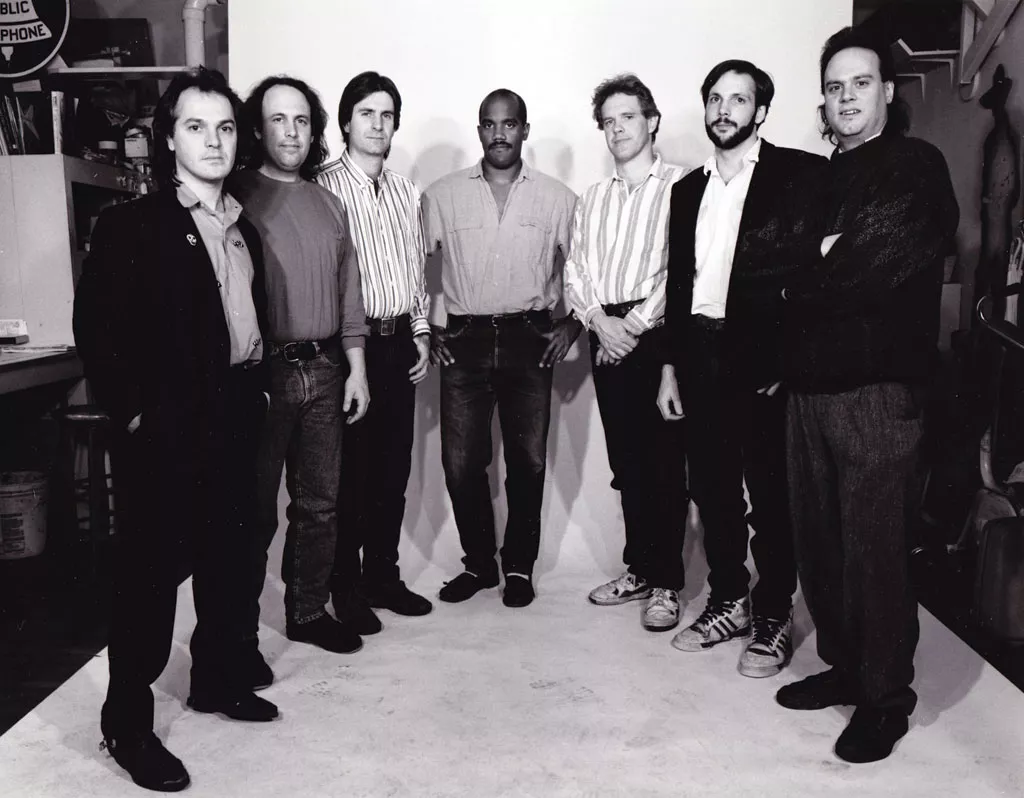 Courtesy of Burlington Discover Jazz Festival
Sneakers Jazz Band
Vermont's venerable Sneakers Jazz Band are currently having a moment. They are rereleasing their one and only album, Live at White Crow, originally issued on cassette in 1989. And the musicians are reuniting to perform two shows at Club Metronome this Sunday, June 14, the last night of the Burlington Discover Jazz Festival. Not bad for a group that last played together a dozen years ago.
Only a modest number of Live at White Crow cassettes were ever sold, mostly at the band's Tuesday-night gigs at the namesake Winooski restaurant from 1984 to 1996. SJB never recorded another album. Their sole release wasn't exactly forgotten, but it did slip through the cracks. Until last summer, when former record producer and White Crow Audio owner Todd Lockwood started sifting through his boxes of old master tapes.
Courtesy of Burlington Discover Jazz Festival
Left to right: Dave Grippo, Russ Remington and Joey Sommerville
It was during the seventh BDJF that Lockwood recorded Sneakers Jazz Band live in the studio at White Crow. The band tore through two back-to back sets in a single day, according to Lockwood. Unusually, about 30 of the band's devoted fans joined the musicians in the studio. Their cheering and clapping, clearly audible on the recording, contributes to the album's buoyant feel. It is dedicated to John Gouvin, then-owner of Sneakers restaurant and the guy who suggested the Tuesday series in the first place.
Another of Lockwood's reissue projects recently made national headlines. Back in 1987, Bernie Sanders, then-mayor of Burlington, and a chorus of local singers released a cassette recording of traditional folk and protest songs, We Shall Overcome. After it was featured on Seven Days' Sanders-centric mini-site Bernie Beat, it went viral, and was talked about on television programs from Fox News to "The Daily Show With Jon Stewart." Lockwood subsequently reissued the album on CD.
Should Sanders win his long-shot bid for the Oval Office, the members of the Sneakers Jazz Band would be able to claim that they had been label mates with the president. Both albums were initially released on Lockwood's now-defunct Burlingtown Recordings.
"There are aspects of the Bernie album that just sound totally cool now," says Lockwood in a phone interview. "I could almost see them taking on some sort of cult status online." Actually, they already have.
"The Sneakers project was a little less unusual, but it's a really solid performance, and with studio sound," he continues. "The fact that there was an audience there had the band pumped up more than they would have been otherwise. I'm quite pleased with what we ended up with."
Courtesy of Burlington Discover Jazz Festival
Bruce Sklar
Chuck Eller, owner of Charles Eller Studios in Charlotte (and a "winter studio" in Mexico), has been a vital part of the Burlington music scene — as a keyboardist, recording engineer and producer — for more than 30 years. He praised the musicianship and dedication of the SJB members, who each earned just $22 per Tuesday-night gig.
"Sometimes, removing money from the equation is a very pure and honest thing to do," says Eller. "It makes it more fun than thinking of it as work. I think that was what ultimately makes [the band] so special. People were just doing it because they wanted to, and everybody was really committed to it."
Over coffee at Burlington's Muddy Waters, guitarist Paul Asbell and bassist Clyde Stats consider the unlikely revival of the band and its album, and remember the recording session with fondness.
"It felt like a gig with a small but extremely enthusiastic group of people who managed to elbow their way into the theater," recalls Asbell. "We knew that the buzz created by playing for real people was going to get captured [on the recording]," he adds.
"When I listen to it again, I hear the energy," says Stats. "These are young guys just getting up there and going for it. The energy of the playing is very robust and aggressive."
Courtesy of Burlington Discover Jazz Festival
Jeff Salisbury
Stats adds that he's equally struck by the tightness of the band's performance. "You can hear that these are people who played this stuff week in, week out; month in, month out; and really got to know each others' phrasing," he says.
Those young guys also included Dave Grippo (alto sax), Russ Remington (tenor sax), Jeff Salisbury (drums), Bruce Sklar (piano) and Joey Sommerville (trumpet). All will be present for the BDJF gigs.
Stats and Asbell agree that the CD's track listing generally reflects a typical Sneakers Jazz Band set from the late '80s. The band approaches such standards as Charlie Parker's "Donna Lee" and Duke Ellington, Irving Mills and Juan Tizol's timeless "Caravan" with the same youthful verve as they do their originals, such as Sommerville's "Leslie" and Asbell's "Blue Lunch."
Among those soaking up the band's improvisational energy at Sneakers were some college kids who would go on to become Vermont's most famous musical sons. All four members of Phish frequented the restaurant on Tuesday evenings, none more diligently than guitarist/vocalist Trey Anastasio, according to the band.
Asbell and Stats acknowledge that SJB might have exerted some influence on the jam-band giants, but they humbly chalk it up to the era's burgeoning local jazz scene in general.
"[Anastasio] obviously didn't want [Phish] to be a bebop group or anything like that," says Asbell. "But he did want them to have that language at their disposal. They were there a lot."
Anastasio, who had taken guitar lessons from Asbell, would eventually sit in with the band on nights when his former teacher couldn't make it.
Despite the ardent admiration of such fans, Sneakers Jazz Band just sort of dissipated in 1996. No "breaking up" was involved, says Asbell. That's the kind of thing rock bands do, he suggests.
"[They] get together, they do tours, they break up and then they never talk to each other for 15 years," Asbell goes on. "And then they have this tearful reunion. Jazz groups don't work like that."
Some members of SJB continued to perform with one another in other musical permutations, including Kilimanjaro, the Grippo Funk Band and the Unknown Blues Band.
Courtesy of Burlington Discover Jazz Festival
Paul Asbell
Neither Asbell nor Stats expects their reunion to be tearful. On the contrary, they're both excited to play with their former bandmates, a couple of whom have moved from the area. Somerville is an accomplished trumpeter based in Atlanta whose post-SJB credits include appearing on a Grammy-nominated and Juno Award-winning album with Cirque du Soleil; he has also performed and recorded with Phish. Remington is now based in Austin and has toured and recorded with the Trey Anastasio Band.
Stats, still active musically and now a lecturer in the University of Vermont music department, says he's been playing along with the CD in advance of the band's shows.
"I'm just remembering the good feeling playing that material, the excitement about revisiting it, the vibe of the band onstage, the interplay that went on there, " he says. "It's gonna be nice."