In Vermont, the foods of summer have long meant Michigan dogs, creemees and fried fish. We still love our classic Green Mountain snack-bar fare, but this year, a new trend has made warm-weather eats more exciting than ever.
Hot on the trail of a national movement, food trucks have finally started rambling Vermont's roads (in some cases settling down in fixed locations). We're not talking about hot dog carts. The mobile eateries are feeding a hunger for creative food made from fresh ingredients. Their young chef-owners are dipping their toes into the world of restaurant ownership in a fun, low-stress way, and we're grateful for the grub.
Read on to learn more about the Seven Days food team's travels on Vermont's highways and byways of summer tastes. We visit a few of the new breed of outdoor eateries but also pay homage to restaurants with history. (For more of those, check out our 2007 through 2011 snack-bar surveys online.) Enjoy, and save room for a trip of your own.
The new cart crew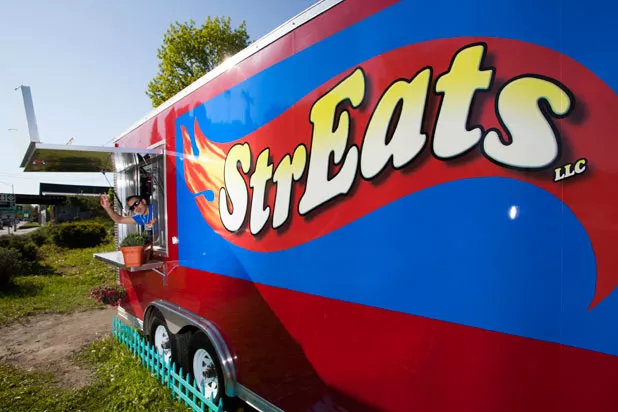 Photo by Tom McNeil.
StrEats Mobile Canteen
34 Prospect Street, White River Junction, 591-0140. Year-round, 11 a.m. to 8 p.m. daily.
Earlier this month, drivers emerging from under the Prospect Street railroad bridge in White River Junction were startled by new splashes of color against a usually muddy lot full of rusting cars. They saw two tropical-hued picnic tables adorned with umbrellas and fresh flowers and, nearby, a trailer airbrushed with gleaming, 1970s-style lettering.
The lot is the new encampment of StrEats Mobile Canteen, a food trailer opened by culinary veterans Jason Northup and Chris Brewer, and it's White River's initiation into the gourmet food-truck trend.
The trailer is a dream come true for these Carpenter & Main kitchen alums, who planned the venture for months before finding a trailer in Foxboro, Mass. They kitted it out with a menu of snack-bar staples, then took each of them two steps beyond the ordinary.
Northup used to own a hot dog cart called Dino's Dog House, so it's no surprise that StrEats' hot dogs are sublime. Their charred skins burst with umami juices at first bite, and the bun is toasted up so it crackles against your tongue. They're served with fresh crisscross potato chips and a chunky slaw of pickled cabbage and carrots; the meal is an addictive mashup of vinegar, fat, salt and crunch.
The burgers here are grass-fed beef, deeply flavorful and so moist they seem to ooze from the bun. Make that a cheeseburger and you'll be offered a plethora of unusual combos — from Vermont cheddar with jalapeños to fontina with mushrooms to crumbled blue cheese with caramelized onions, local bacon and a fried farm egg.
The pair spirited away a few specialties from their last workplace. Among them is the divine maple-glazed chicken: a leg and thigh slathered in maple sauce and char-grilled to a velvety, earthy sweetness, which you can multiply exponentially by dipping each bite in the dish of maple jus that comes alongside. Both the burgers and the chicken come with exceptionally tasty, finger-thick fries, singed at the edges and sprinkled with coarse sea salt that rolls and crunches against your teeth. (That's a good thing.)
Almost every dish here has a twist: pickled red onions dot a spinach salad; cumin and herbs speckle grilled skewers of shrimp; minced, chile-flecked catfish and fresh pico de gallo fill tacos. Daily flatbreads might be topped with grilled chicken and fresh pesto or pulled pork. Fresh gnocchi — yes, gnocchi — comes four different ways, including a sweet-salty version tossed with crumbled bacon, cubed apples, a shaving of Pecorino cheese and a sage brown-butter.
As Brewer cooks up orders, the easygoing Northup chats with customers while he blends sparkling lemonade from StrEats' own fruit base, or pops open a root beer. A freight train rumbles by as he sends diners away with their meals — and the quiet certitude that they'll be back.
— C.H.
*******
Photo by Alice Levitt
Greater Burlington. Seasonality is "flexible," still to be determined. Currently, the truck can be found at Burton Snowboards at 80 Industrial Parkway in Burlington from 11:30 a.m. until the food is gone on Mondays, Wednesdays and Fridays. Check Facebook and Twitter for daily updates.
"That was a thing of beauty," says a customer of the Misery Loves Co. truck, thanking staff for his Korean Reuben sandwich. He leaves the parking lot at Burton Snowboards' headquarters sated by the fusion concoction: substantial slices of salty, house-smoked pastrami topped with kimchee and a slick of chile mayonnaise that combine into something like a spicy coleslaw. Chopped cilantro leaves provide a hint of relief from the heat.
Three days a week, Big Red, a 1976 Winnebago that last housed Nonno's Vermont Victuals in Montpelier, parks outside Burton. The lines of diners bustle with palpable excitement — energized not just by the prospect of a high-quality lunch but by the slightly hush-hush circumstances.
Catering business Misery Loves Co. launched last summer with a series of pop-up barbecue dinners at Burlington's Hood Plant. While less elusive, the food truck is still an erratic presence, its schedule updated regularly on Twitter and Facebook, so only the in-the-know are likely to scoop up a paper bag of the herb-speckled, bistro-style fries that Aaron Josinsky perfected when he was opening chef at the Bluebird Tavern. The entire Misery team worked at the upscale eatery, including Josinsky's wife, Laura Wade, and her brother, Nathaniel, who were manager and sous-chef, respectively. They dubbed their vehicle Big Red after fiery-haired Laura Wade's childhood nickname.
Working with family makes for a relaxed atmosphere, says Nathaniel Wade, who is clearly having a ball as he jumps on and off the truck to help customers. However, the talented chef — most recently of Burlington's ¡Duino! (Duende) — says that's not the best part. "The funnest thing is not to be working for anyone else," he says. "It has to be fun; it's a food truck."
The food is suitably whimsical. A pork-meatball sandwich, served on lepinja rolls from Colchester's A Taste of Europe, is called the "Anti-Hero." The crumbly meatballs are flavored with fennel or tarragon and accompanied by tangy, tender broccoli rabe. A decadent wad of mozzarella provides comforting creaminess, as does caper mayonnaise, which also adds a zingy brightness.
Even fried dough is elevated here. Hollow and crackly in some places, plump and chewy in others, the dessert is topped with honey butter that tastes like it came straight from hive and udder to its paper take-out container. A sprinkling of cinnamon makes it impossible not to finish the almost baseball-glove-sized treat.
That can't-stop-eating feeling is what he's going for, says Josinsky. "We just want to cook good food."
"I'm sick of eating crap," adds Wade.
Though the catering business and Big Red keep them plenty busy, the Misery team is still in search of a brick-and-mortar spot to call home. The group purchased the Winnebago after they spent months searching fruitlessly for an appropriate restaurant space.
"Of course we're still looking," says Wade. "This is just the first phase of our plan. It's a natural extension from pop-up to truck to restaurant space."
Until then, we'll enjoy our fried chicken banh mi in the sun.
— A.L.
*******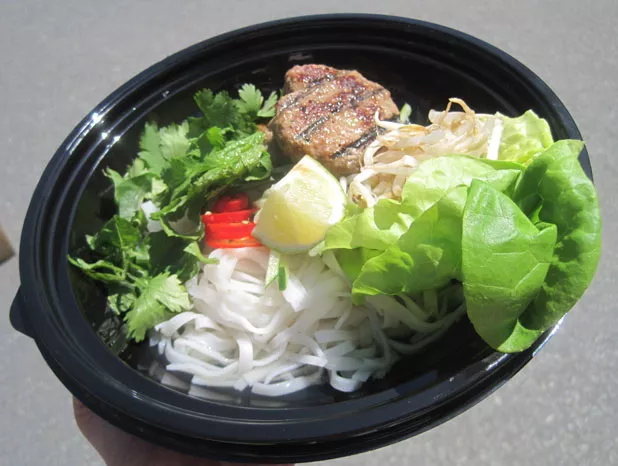 Photo by Alice Levitt
Harmony Court, Brattleboro, 380-2061, May through October, 11 a.m.-3 p.m., Monday through Saturday.
When it comes to Vietnamese cuisine, the Burlington area has an embarrassment of riches. But stepping out for a bowl of pho wasn't an option in Brattleboro until May 2, when Humble Kitchen opened.
Now office workers and artists converge on the retro cart for farm-fresh food with a Southeast Asian twist. The outdoor eatery looks like a metal hot dog cart — so much so that co-owner and manager Amy Gallant says, "At least five people a day come and ask, 'Can I have a hot dog?' Usually we explain and they go on their way."
Coincidentally, the last place Gallant and chef-partner James Smith worked was known for its great pub food, including hot dogs. Smith was the executive chef and Gallant the manager at Flat Street Pub when damage from Tropical Storm Irene shuttered it last August. The pub reopened in February, but in the meantime, Gallant — who also works in the mental health field — and Smith plotted their next move. Always fond of Vietnamese food, they thought the fresh, light cuisine would pair well with Vermont ingredients. Smith set to work refining the flavors he'd enjoyed, replacing exclusively Asian ingredients with locally grown veggies, mostly from Pete's Greens.
A delightful result is Humble Kitchen's noodle bowl or bun. It's available with grilled chicken, tofu from Vermont Soy or juicy pork patties from Vermont Family Farms. Rather than traditional vermicelli, the rice noodles are wide and dressed in tart chile-lime sauce. Without the dank flavor of fish sauce, the dish is all fresh vegetables, including pillowy leaves of Bibb lettuce, sweet bean sprouts and cucumber, garnished with bright lime and biting bird's-eye chiles.
On a hot day, sitting under a big umbrella on one of the brightly colored chairs in the Harmony lot, diners will find a banh mi equally refreshing. It's served on a locally made baguette, and the eggs in the rich homemade mayonnaise are from here, too. A pile of lightly pickled carrots and daikon pairs beautifully with slabs of grill-marked chicken.
The emphasis on local doesn't mean there aren't exotic treats. When Seven Days visited, the dessert of the day was a fluffy bread-pudding-type concoction flavored with Asian pears and ginger. The muffin-shaped sweet was bathed in a shiny-white coconut-lime sauce.
Gallant runs credit cards on a device attached to her smartphone (a method also used at Misery Loves Co.) and sends receipts to the customers' own mobiles. Three refuse cans at the back of the lot are labeled "landfill," "compost" and "recycling," but nearly everything is compostable, from the food to the paper plates to spoons for the anise-and-cinnamon-inflected chicken pho. Even the cups filled with cold basil-and-ginger limeade are biodegradable.
It's all part of the business' mission. "It truly is a humble kitchen," says Gallant. "We're giving of ourselves to the community." And the people of Brattleboro are eating it up.
— A.L.
*******
The traditionals
Photo by Alice Levitt
Pink Panther
42 Clay Point Road, Colchester, 893-7841, April through October, 11 a.m. to dusk daily.
Remember Charlie's Red Hots? The Malletts Bay hot dog joint has been closed for nearly two decades, but recent Chowhound message-board threads demonstrate that its Michigan sauce hasn't been forgotten. That recipe may be hard to come by and replicate, but Elicia Singer says you can try it at her Colchester snack bar.
Courtesy of a boyfriend who once worked at Charlie's, Singer is slinging McKenzie Country Classics hot dogs buried in a cumin-and-chile-flavored puree of beef that she claims is the very same recipe.
Retired from a career in nursing, Singer, now 63, opened Pink Panther last year on property adjacent to the home she shares with her boyfriend on the Milton-Colchester border. The white truck, decorated with wooden pink panthers attached by nails through their noses, can be hard to find, especially since Singer eschews signage. "I put up signs, but people steal them, so I can't really advertise," she says.
Though she moonlighted in food service throughout her life, working at long-shuttered restaurants such as Castaways, Woodlands and the Rooster Tail, Singer is in business with the Pink Panther for one reason only. "I'm just here to get the bus paid off," she says. The vehicle started as a relative's investment, but Singer has taken the reins — and the spatula.
That's not to say she isn't passionate about her food. Singer takes extra care to toast the buns on which her never-frozen hamburgers are served. She asks customers how they prefer their burgers cooked — and delivers. The medium really is medium, with a juicy center and a lightly charred outside.
The Sea Dog is an enormous cod filet that comes to Singer frozen and pretreated with a rich beer batter, but she hand mixes its tartar sauce to order. The $9.25 dish is the second most expensive on the menu, but it comes with crispy, well-blanched, hand-cut fries and sweet, vinegar-bathed coleslaw.
Guests can end the meal with a creemee. For now, there's just chocolate and vanilla, but Singer says to expect local maple in the fall. It's sure to be a sweet reminder of the summer gone by.
— A.L.
*******
Photo by Alice Levitt
6035 Route 17 West, Addison, 759-2276. Second week in April to last week in September. Until Memorial Day, 4 to 9 p.m. on Friday; noon to 9 p.m. on Saturday; noon to 8 p.m. on Sunday. From May 28 to mid-June, hours are TBA. From mid-June, noon to 9 p.m. daily.
There are indeed lots of goodies on offer at Goodie's Snack Bar, but the name refers to owners Steve and Cindy Goodman. Not that either of them goes by the nickname. Before the Goodmans took over the spot 13 years ago, it belonged to Norma Collette, who called it Tootie's Snack Bar. The couple named their eatery in tribute. "It just had a jingle to it," recalls Steve Goodman.
The couple still have full-time jobs, but they purchased the snack bar as a way for Cindy to exercise her already well-developed culinary muscles. Steve says another early goal was to give their kids a background in business and a strong work ethic.
The Goodman kids have grown up, but the education continues for local teenagers who staff the joint. That's why Goodie's hours are limited to weekends until school is out.
Some of the young employees have left their creative marks. One of Goodie's trademarks is an arrangement of stones painted to look like food, including hot dogs, hamburgers and strawberries. They're the handiwork of a former employee who, on a whim, asked the Goodmans if she could paint the snack bar pink. The stones were a compromise.
There's no compromise involved in the flavors of the food. Cindy Goodman's Michigan sauce is tangy, earthy and just a bit spicy. If the smooth ground beef is more suggestive of New York "red hots" than Vermont Michigans, that could be due to the eatery's proximity to the Empire State. Located in Addison, the snack bar is only three minutes from the Champlain Bridge. According to Steve Goodman, about half his clientele crosses it to dine at Goodie's.
The Michigan is one selling point. Another is the meaty, crunchy, boneless wings. Actually white meat cut into imperfect cubes, they're some of the best chicken nuggets around. For a little less guilt before creemee time, guests can get them with a tossed salad instead of gravy-drenched poutine.
However, the creemees are nonnegotiable. Particularly those served over Cindy's homemade brownies, available plain or flavored with mint or peanut butter. Creemee flavors change weekly, and Steve says some faraway customers plan their travels around favorites. The strawberry is bold and gloriously artificial: Imagine a strawberry Nestle's Quik in creemee form.
You've gotta love it. The Goodmans do. "We taste everything," says Steve. "We take a lot of pride in what we cook."
— A.L.
*******
Photo by Andy Duback
Brigante's Snack Bar
21 Severance Road, Colchester, 878-4707. Mid-April to mid-September, 11 a.m. to 3:30 p.m., Wednesday through Sunday.
When Frank Brigante retired from teaching in 1991, he never imagined his new hobby would turn into a 21-year career. It's a testament to his Michigan dogs that Brigante's Snack Bar not only is still standing but has turned into a year-round business.
The family name appears on packages of Michigan-sauce spices sold at a dozen stores throughout northern Vermont. Brigante and his wife, Dottie, also sell their flavoring online — a nice sideline in the autumn and winter when the snack bar is off-season.
For his part, Brigante is grateful to have made friends and neighbors happy for so long. He and Dottie went from a full-time schedule to a half-week one in 2006, scaling back by serving chips instead of handcut fries. However, the recipes they once cooked at home for their children are still drawing crowds, from IBM professionals on lunch break to construction workers at nearby S.D. Ireland Companies.
The latter company bought the property that houses Brigante's half a decade ago. Brigante realizes there's always a chance that S.D. Ireland will decide to develop the lot and evict the snack bar, so before reopening each year, he checks town records, then gets to work setting up his kitchen. "You never know how long we'll be physically able to, but until then, we'll keep going," he says.
The chunky-meat Michigan topping, more sloppy joe than sauce, is available on McKenzie Country Classics hot dogs and hamburgers alike. There are also meaty chicken sandwiches and pepper-and-onion-dressed cheesesteaks. "We're pretty basic in terms of what we offer," admits Brigante.
The unifying taste is that of food that has been carefully test-marketed. "By listening to our customers, we've tweaked it to where most people like it where it is," Brigante says. "We've had a good response." Twenty-one years attest to that.
— A.L.
*******
Photo by Corin Hirsch
Dari-Joy
140 Rockingham Street, Bellow Falls, 463-9816. Early April through October, 11 a.m. to 10 p.m. daily.
It was 60 years ago that Josef DeMuzio opened a soft-serve ice cream window in a lot adjacent to his home, a busy spot just north of the village of Bellows Falls where Route 5 forks into Rockingham and Atkinson streets.
Back in 1952, the locals called it Joe's, and they showed up in droves for vanilla soft-serve ice cream and hot dogs. The village teemed with Italian and Irish families who worked in the precision-tool plants along the Connecticut River, and they came often enough that Joe's — officially named Dari-Joy — grew into a local staple. DeMuzio added a dining room and eat-in counter, then a menu of fast-food fare such as burgers and fries; in the 1960s, he topped the building with the coiffed, suspender-clad figure of Big Joy Boy.
Iconic Big Joy Boy emerges from his winter slumber every April with a fresh coat of paint, his raised hand beckoning the masses that still crowd Dari-Joy's parking lot. Hot days, cold days, rainy days — it doesn't matter; Dari-Joy is always busy. DeMuzio's son, Richard, and his grandson, Philip, still run the place, along with cheerful high school kids who swirl and scoop 32 hard-serve flavors and 16 soft-serve ones into hundreds of cones, cups and sundaes every day.
Inside, the food is classic snack bar nosh — flat, messy burgers; bracelet-sized onion rings; spindly fries; and boiled hot dogs on soft, squishy buns. The vinegary Italian sub is still a meat-stuffed favorite, and the menu is peppered with healthy touches such as sweet-potato fries, wraps, a chef's salad and frozen yogurt.
But it's the fryolator that reigns supreme here, its oily oeuvre on display with everything from fried clams to plates of fish 'n' chips made with fresh haddock in batter so thick that the moist fish steams inside.
When you wash all that crunchy, oily fare down with a mocha ice cream shake, summer happens in your mouth — the heat and salt jostling against the cold, rich cream. Finish up with a hulking banana split or pineapple sundae and, like the happy throngs around you, you'll get lost in the throes of true dairy joy.