After an intense winter and a soaking spring, it seems summer is finally on the horizon. For some people, that means bike rides and water sports; for others, warmer days mean two things: creemees and fries.
For the third year, the Seven Days food team has done the legwork to let readers know where to get their snack on along Vermont's highways and byways. This year, we traveled from Chittenden County to the Upper Valley tasting peanut-butter-and-jelly creemees, gyros and even championship barbecue. The oft-maligned snack bar seems to be upping its game to appeal to foodies, and summer has never tasted better.
Dairy Creme
Dairy Creme in Montpelier. Photo by Jeb Wallace-Brodeur.
320 State Street, Montpelier, 223-5802.
Season: April through Halloween.
Hours: Daily, 11 a.m. to 9 p.m.
If "Dairy Creme" sounds suspiciously like a certain big ice cream chain, that's because the former started its life as a Dairy Queen in the 1940s. Sheriff's deputy Raymond Quero, who owned the snack bar from 1961 to 1973, is the one who made Dairy Creme independent.
Quero passed away in 1995, but his wife, Roxy, says he gave away free Dilly Bars (now called "dairy bars") every Halloween. The ice cream shack still serves frozen treats through the month of October.
It was the next owner, Lee Hershey, who moved the business from Berlin Street to State Street. A UPS driver by the name of Cliff Dodge took over in 1997, after Hershey's death. Today, Dodge is retired from Big Brown but is still concocting unique creemee combinations at Dairy Creme, such as a peanut-butter-and-grape swirl.
At any time of day, you're apt to find the waterfront location swarming with high school sports teams and young families looking to cool down. Dodge says hot-fudge sundaes and blizzards are the most popular items, but the $4 family-sized brownie sundae seems to go down easy with plenty of customers. The chewy brownies and mound of extra-thick vanilla creemee sit like islands in a shallow pool of hot fudge for a true flavor getaway.
The creemees come in an ever-changing array of flavors, with nondairy options, as do the milk shakes, ranging from butterscotch to a marshmallow that pleasantly recalls cake batter.
It's worth stopping in for dinner before getting dessert. Each chicken tender is nearly the size of a full cutlet, and thickly battered onion rings crunch loudly with each bite. The beefy burger travels on a notably fluffy, satisfying bun.
No matter how many hungry families gather, food seems to travel from ordering window to pickup at breakneck speed. It comes out fast, leaving guests time to sit down, relax and savor the views of the Winooski River, the playground toys and a taste of summer.
— Alice Levitt
Whippi Dip
Brisket sides at Whippi Dip. Photo by Corin Hirsch.
158 Route 5, Fairlee, 331-1100 (number for the Whistlestop Café next door).
Season: May through Columbus Day.
Hours: Monday through Friday, 10 a.m. to 9 p.m. Barbecues every first Saturday of the month (all year), noon to 6 p.m., or until the food runs out.
This whimsically named spot plays with snack-bar preconceptions. When we pulled up to the orange-and-white hut in the middle of Fairlee — where it's stood since 1962 — a line snaked from the order window on a chilly, rainy day. It was a harbinger of the fare to come.
The menu here has all the standards: burgers, hot dogs, clam rolls, curly fries, a zillion flavors of creemees. But the handwritten board reveals a few twists — sweet potato fries; a bacon, egg and blue cheese salad served over mesclun greens; and pulled pork and brisket sandwiches.
Brisket? Yup. It's sweet, smoky and moist, served on a bun alongside creamy, tangy cole slaw and fresh-baked beans. Turns out the owners, Crystal Johnson and Mark Fifield, helm a barbecue team called Bare Bones BBQ that competes around the country (and sometimes wins).
Some of that fiery magic appears at the Whippi Dip on the first Saturday of every month, when the pair holds barbecues. (When the Whippi Dip is closed for the season, head next door to the Whistlestop Café to pick up the goods.) At these weekend parties, diners can score anything from ribs to chicken to duck, as well as delectable side dishes such as salads of fiddleheads or red-skin potatoes and jalapeño-cheddar-andouille grits.
The Upper Valley is rich in farms, where Johnson and Fifield source as much of their meat and produce as possible. Johnson explains: "We're less interested in sauce, and more interested in meat. We're also into the ground-up approach. We built our own cookers, and we make our own charcoal, as well as our sauces and rubs."
The ground-up approach shows on the rest of the menu, as well. The Whippi Dip kitchen staff cut their own fries and blend their own sundae sauces, from hot fudge to rhubarb to lemon curd. They also put together refreshing dishes for those who prefer more refined fare, such as a sage-chicken-salad sandwich served on a fresh, flaky croissant. It's a two-handed affair eating the creamy, herbaceous chicken chunks dotted with red grapes. The onion rings are super-crisp and not too greasy. Bliss.
— Corin Hirsch
Sandy's Drive-In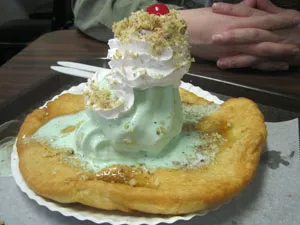 Vermont maple dough sundae at Sandy's. Photo by Alice Levitt.
5772 Route 14, Sharon, 763-7625.
Season: April through September.
Hours: Currently Monday through Friday, 11 a.m. to 7 p.m.; Saturday and Sunday, 11 a.m. to 8 p.m. Open till 9 p.m. during the warmer months.
Aloe water and Herbalife meal-replacement shakes aren't what one expects to find on a snack-bar stop, but Sandy's Drive-In is full of surprises.
Opened in the 1950s and previously known as Shorty's Swirly Top, the Sharon mainstay has a history of serving the community. It used to host auction-style tag sales that continued until eBay and Craigslist eclipsed them, says owner Sharon Aldrich. Her family has owned Sandy's for 34 years, and she's run the joint herself for 11. The recent addition of fruity diet shakes is the work of her son, Alan, who's a vendor of the health-food brand when he's not flipping burgers and scooping ice cream.
Ninety-cent burgers bring in locals and travelers alike. On "Cruise Nights," diners arrive in their vintage cars, and the retro feel extends to patties priced at 50¢.
But Sandy's uncommon creations are never pricey. The $6.25 Thanksgiving Feast grinder is best eaten in the snack bar's small, air-conditioned dining room, its walls lined with historical photos of the building and Nascar merchandise.
The thin portion of turkey seems like an afterthought in the fluffy hoagie bun filled with powerfully sage-flavored stuffing, a slathering of mayo and straight-from-the-can slices of cranberry sauce. A large Styrofoam cup filled with steaming hot gravy comes on the side for dipping. It's not bad for coating the crisp fries, either.
Though the fried-chicken dinner isn't made from scratch, the honey-stung, shattering coating is worth a try. It's paired with mashed potatoes with a well of gravy.
A decade ago, before he went on his Herbalife kick, Alan introduced fried dough to the snack bar — and a sundae that should live in delicious infamy.
The $4.25 Vermont maple dough sundae starts with a plate-sized portion of crisp dough. It's topped with a liberal shower of maple syrup and crushed walnuts. Diners select from 24 flavors of soft serve (we tried pistachio), and whipped cream, more nuts and a cherry finish it off.
This fat-on-fat orgy of hot and cold desserts may occasion certain health concerns. Just promise yourself, "Next time, I'll stick to aloe water."
— Alice Levitt
White Cottage Snack Bar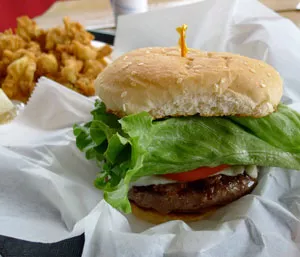 The White Cottage Burger. Photo by Corin Hirsch.
462 Woodstock Road, Woodstock, 457-3455.
Season: Early May through Columbus Day.
Hours: Daily, 11 a.m. to dusk.
Like so many snack bars, White Cottage dates back to the era of drive-ins and root-beer floats; since 1957, the good people of Woodstock have sought quick sustenance at this retro-looking respite along the banks of the Ottauquechee River.
Since buying the place 22 years ago, owner John Hurley has gradually introduced the "healthier options" that, he says, more and more customers want in their snack-bar rotation. "The kids are always going to come, and they want grilled cheese, chicken sticks and fries. But the moms don't necessarily want to eat that stuff," he adds. So he gets fresh seafood from Massachusetts by way of Black River Produce, grills the salmon for sandwiches and salads, and hand-breads and lightly fries the clams and scallops. He uses green-leaf lettuce instead of iceberg, and offers iced green tea.
White Cottage's wall menu proclaims its fried clams the best in Vermont. A batch of breaded, chewy and salty full-bellied clams — accompanied by a pile of moist brown fries — is hulking. At $14.95 for a platter, it's also not cheap. But Hurley thinks people don't mind paying a little extra for high-quality seafood, such as the hunks of fresh salmon and scallops in his oregano-flecked seafood chowder. It's fragrant and mild, more akin to bouillabaisse than a cream bomb.
The meat in White Cottage's burgers is Vermont raised and ground within days of serving; the burger itself is flame-broiled and slid onto a bun that has been lightly toasted and buttered, for a filling interplay of char, fat, butter and crunch.
Every weekend beginning in early July, White Cottage offers up boiled lobster, boiled corn, red-skinned potato salad and prime rib. "We're trying to develop a little bit of a dinner crowd," says Hurley. Though the snack bar is scheduled to shut its window when the sun disappears, dusk often brings a last-minute rush for ice cream — on cones, in shakes, in an "authentic banana split" or in frappés made with hard ice cream and milk. The chocolate frappé is like a shake on steroids — dark, sinful and rich.
— Corin Hirsch
Castleton Snack Bar
Castleton Snack Bar. Photo by Alice Levitt.
1589 Main Street, Castleton, 468-3074.
Season: April through September.
Hours: Daily, 11 a.m. to 9 p.m.
Want to buy a snack bar of your own? Call John Wells. He's owned the Castleton Snack Bar for almost two decades, but in recent years he's wintered in Florida or Arizona, returning to Vermont only to ply Rutland-area diners with 24 flavors of creemees. Now, "I'm trying to retire," he says.
The buyer will get a classic double-wide-style building that has operated as a purveyor of fried food since 1956. The new owner will also inherit a loyal following of customers who dine at the wooden picnic tables or in their cars.
But how's the food?
Surprisingly fresh and richer in green matter than are many of its peers. One of Castleton's signature items is fried zucchini. Wells says it's a personal favorite he's been making since his pre-snack-bar days, when he sold food at local fairs. The coins of squash are sliced thin enough to be comfortingly soft but thick enough to remain juicy. Well seasoned and hot almost to melting, the battered discs are simply too decadent to be healthy. Especially when dipped in ranch dressing.
The fried fun doesn't stop there. The corn-dog boat is a master version of the snack-bar staple: The flavorful dog is encased in corn batter with Technicolor-bright taste. The accompanying hand-cut potatoes are on the thick side and so airy they practically emit a hiss with each bite, leaving the eater anything but deflated.
— Alice Levitt
Country Creemee
Fried fish at Country Creemee. Photo by Corin Hirsch.
4281 Route 106, Perkinsville, 263-5677.
Season: Mid-April through mid-October.
Hours: Daily, 11:30 a.m. to 7:30 p.m.
Country Creemee overlooks the sleepy crossroads of Routes 131 and 106 in southern Vermont, a spot known locally as Downer's Corner. The picnic tables out front provide an ideal place to watch the world — cars, people and the occasional tractor — roll by. This giant of a snack bar has reigned over the intersection since 1957, and the menu appears to have undergone only slight revisions since; classics such as burgers and soft-serve are de rigueur.
Owner John Diggins has a local rep as a curmudgeon, but he's just running the place with no-nonsense Yankee efficiency. So if he steers you toward the fish and chips, it's best to comply. The golden-brown chunks of fried haddock are served over a jumble of really cooked finger-length fries. The lightly breaded fish flakes easily with your fork and is fresh and mild.
If food from the fryolator isn't your thing, you can try a grilled sweet Italian sausage smothered in slithery roasted peppers and onions and served on a grinder. Or a Mooseburger — a half pound of beef on a Kaiser roll.
Wash it all down with a mildly tart lemon slushie, bits of ice clinking as you sip, or a can of Moxie. True to its name, Country Creemee also serves more than 50 flavors of soft-serve and cones of Gifford's Famous Ice Cream. On a cooler day, try a hot, crispy and addictive slab of fried dough dusted with powdered sugar. It's enough to keep your bottom parked here all afternoon.
— Corin Hirsch
Bri's Fries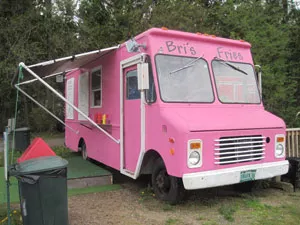 The Bri's Fries bus. Photo by Alice Levitt.
100 East Lakefront Drive, Colchester.
Season: May to mid-September.
Hours: Daily, 11 a.m. to 7:30 p.m. or "as long as people are coming."
When diners pull up for their first lunch at Bri's Fries in Colchester, one question is inevitable: "Why is everything pink?"
That's simple, says owner Brian Billings. "I like pink. It's a good advertisement. Everyone in Colchester knows the pink bus."
Three years ago, Billings parked his big pink bus, surrounded by big pink signs, in a location that formerly housed another snack bar on wheels, That '70s Bus. Billings, who works the rest of the year buying gold and silver at Yin's Gift Shop at South Burlington's University Mall, was undeterred by his lack of food-service experience. "I eat French fries all the time," he says. "It's just what I do."
His love comes through in the process of making them. Billings starts early each day, blanching potatoes he cuts himself. The result: dark-brown fries that their creator describes as more "chewy" than crisp. "My main goal — I wish I could have a Bobby Flay 'Throwdown' with Beansies and Al's," says Billings, referring to Beansies' bus in Burlington and Al's French Frys in South Burlington.
Like its dream competitors, Bri's Fries offers more than salty potatoes. Billings and his rotating crew of family members make their unique Michigan sauce from scratch, staying true to the snack bar's slogan: "It's not fast food, it's good food."
The beef-and-onion-based hot-dog covering is less sauce than meaty relish, with just a hint of heat as it goes down. Burgers can also be served Michigan style, but a thick bun with a creamy, white American cheese slice melting into it does just fine as accompaniment.
One favorite Bri's Fries doesn't offer is creemees, but no matter. Ice cream is on sale just across the parking lot at the Café Window.
— Alice Levitt
Mountain View Snack Bar
Gyro at Mountain View Snack Bar. Photo by Corin Hirsch.
107 Route 15E, Morrisville, 888-7393; 1801 Pucker Street, Route 100, Stowe, 253-7345; 144 Vermont Avenue, Hardwick, 472-3053.
Season: Late April through Columbus Day.
Hours: Daily, 6 a.m. to 9 p.m. in Morrisville; daily, 11 a.m. to 9 p.m. in Hardwick and Stowe.
Standing at the order window of Stowe's new Mountain View Snack Bar is akin to sitting paralyzed before the menu at a Greek diner. A collage of letter-sized sheets covering the outer wall tout dozens of options, including popcorn chicken and burgers topped with bacon and blue cheese and waffle cones and club sandwiches and jalapeño bottle caps and pizza. And Reubens. And pastrami.
Owners Alicia and Ted Colletti brought those last few dishes north with them when they made the transition from running delis in the New York area to running snack bars in rural Vermont. When they purchased their Morrisville flagship five years ago — with partners Jenifer and Jesse Doubleday — they made sure New York-style pizza was on the menu. Two years later, they opened a location in Hardwick, and a few weeks ago they took over what used to be the Shack, just north of Stowe.
The spot boasts an outdoor garden with a mountain view that's an enchanting place to nosh on a gyro, with slivers of tangy grilled beef, green- leaf lettuce and tomato folded into a warm pita and slathered with tangy, cucumber-laden tzatziki sauce. It's peppery, messy and a little bit stinky, the way a gyro should be. The bright-pink beef on the pastrami sandwich is smothered in melted Swiss cheese and yellow mustard for a smoky, slightly puckery dinner.
Up in Morrisville — where Mountain View has been a local institution for decades — the kitchen is now offering pancakes, egg sandwiches and French toast starting at 6 a.m. "It hasn't taken off yet, but we try to add something new every year," says Alicia Colletti. Such as the fried pickles — olive-green spears that are battered, fried and served with any of more than a dozen sauces.
After the tumble of fried batter and meat, you can eschew Reese's sundaes and banana boats for a strawberry-and-banana milkshake made with fresh vanilla ice cream — it's fruity and pink, almost light enough to be a smoothie, but fatty enough to satisfy. The dessert is emblematic of an emerging trend in snack-bar fare, at least in Vermont: brighter hues, fresher ingredients and healthier options.
Just not too healthy. These are snack bars, after all, and the fudge must flow.
— Corin Hirsch