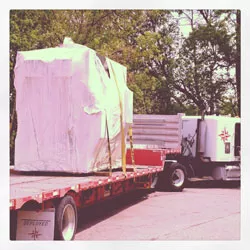 It was late last August that Bluebird Tavern owner Sue Bette announced her flagship restaurant would move from Burlington's Riverside Avenue to St. Paul Street. But what would become of the Riverside spot? Bette answered the question on May 14 with an Instagram photo of a giant smoker arriving at the building. It's confirmed. Bluebird Barbecue will open in early July.
Bette and executive chef Michael Clauss will oversee the restaurant, while Paul Link, with a year as a Bluebird line cook under his belt, fills the position of chef de cuisine. "He's a technician in the kitchen. He likes details and is super thoughtful, so I think barbecue is going to be a great fit," says Bette of the Missouri native, previously of the Essex Culinary Resort & Spa and now-closed Bistro Sauce.
A winter tour of the South informed Bette's menu ideas, which will span American barbecue country. Definites on the small menu include Texas-style brisket, St. Louis-style ribs, North Carolina vinegar-based pulled pork and German-style smoked hot links, another Texas specialty. "It was a great opportunity for me to have barbecue at its best," Bette says of her trip. "We're trying to have the same creativity and make it modern in our style and a good fit for Burlington and Vermont." Once its staff perfects the basics, Bette says, Bluebird Barbecue may experiment with international barbecue styles, too.
The menu will be "choose-your-own-adventure," says Bette, allowing diners to mix and match proteins and sides. "Sides are the exciting part in a lot of ways," she adds. "I think that it gives us the opportunity to show our Bluebird flair." The Tavern's famous fries are sure to be on the menu, joined by new additions such as vinegar-based coleslaw, pickles, pit beans, apple sauce and mashed potatoes.
As always, the Bluebird team is doing its best to source local ingredients. However, the new restaurant will need such quantities of meat, says Bette, that she will probably purchase some from elsewhere in New England and New York.
Bette's goal, she says, is to give Bluebird Barbecue a fun atmosphere perfect for a relaxed meal. Live music will contribute to the roadhouse ambiance she's long imagined.
But the ruckus is optional. Bluebird Barbecue will also offer takeout service with online ordering, catering to busy families — and family is key to Bette's vision. "The thing about barbecue is that it's comforting, and it makes you feel good, but it doesn't necessarily make you feel like you're eating bad," she says. "It's a great option for families and folks."