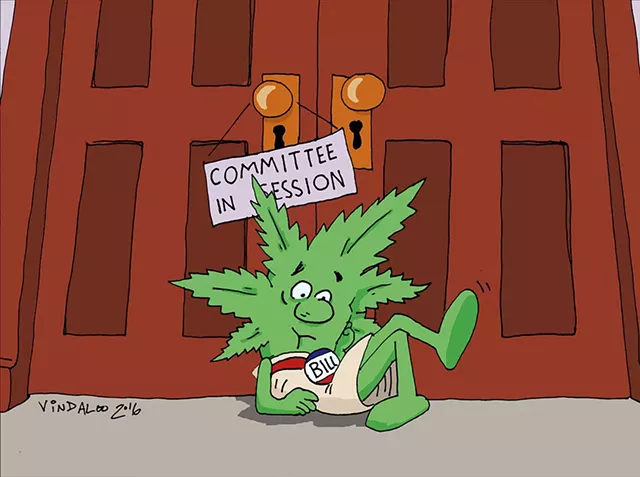 Last December, Gov. Peter Shumlin called several Democratic House members to his Montpelier office as he prepared for his final legislative session. He wanted their counsel on marijuana and was seeking champions to help get legalization legislation through.
He got plenty of advice but never found the House ally he was looking for.
"I said I thought we needed more time," said Rep. Donna Sweaney (D-Windsor), a 20-year House veteran who joined the meeting by phone. "My thinking was 'Yep, this is going to happen, but maybe not now.'"
"There was nobody ... so excited they would take the lead on it," recalled Rep. Tony Klein (D-East Montpelier), who also weighed in. Klein supports legalization, but without regulation or taxation. He didn't feel strongly enough about Shumlin's plan to take the reins.
Despite the governor's support, and passage of an early version of a bill in the Senate, the bid to legalize marijuana in Vermont went up in smoke this year. While the average Vermonter might have expected it to be a slam dunk, pro-legalization forces had trouble agreeing on who could grow and sell pot. Opponents were louder than supporters. And budding advocacy efforts never turned into the kind of statewide grassroots effort required to overturn federal legislation.
Perhaps most importantly, Shumlin didn't have the full support of House Speaker Shap Smith (D-Morristown), who last year switched his position on pot from reluctant to amenable and back again as he entered and then withdrew from the governor's race. Smith said he supported the concept but argued that the majority of his members weren't ready.
Shumlin apparently wasn't listening. Despite the lukewarm response he got from House Democrats at the end of 2015, the governor called legalization a priority in his January State of the State address. He had lined up a longtime friend and ally, Senate Judiciary Committee chair Dick Sears (D-Bennington), to lead the way in the Senate, where lawmakers of both parties were more open to the idea of regulating and taxing marijuana.
But Shumlin, Sears and other supporters underestimated resistance in the House and never came up with a game plan to win its members over.
"It is incredibly disappointing," Shumlin said after the House defeated legalization by a resounding 121-28 vote. An alternative plan to remove criminal penalties for cultivation of two plants also went down, 77-70.
What did the House object to?
"I think it's a two-year bill," said Rep. Tom Stevens (D-Waterbury), a liberal legislator who supports the concept of legal weed but voted against the Senate version of the bill when it finally reached the floor last week. "If you're going to legalize something that's illegal federally, the deliberative process has to be thorough. I think the Senate version had too many holes in it."
Ideally, people have to be talking about it outside the Statehouse, too. It takes years of public education and marketing to drive difficult-to-pass legislation across the goal line in Vermont. Supporters have to elect legislators who agree with them. Constituents have to hound them. And advocates have to find real people with moving, mind-changing stories.
Such was the case with the 2009 same-sex marriage law, the end-of-life patient choice law in 2013 and the labeling of genetically modified foods in 2014.
In 2016, that sort of effort was just starting for marijuana legalization. The Vermont Coalition to Regulate Marijuana aired ads, but such campaigns failed to create a groundswell.
"I think the governor overreached and misjudged the mood of the state," said Kevin Ellis, a veteran Statehouse lobbyist who opposed the bill on behalf of Smart Approaches to Marijuana Vermont. "Clearly, the House reflects the state more closely."
"In the House, people said they were not hearing from their constituents on this," said Allen Gilbert, executive director of the American Civil Liberties Union of Vermont, a legalization supporter. "Someone once told me, 'Politicians don't lead; they follow.' You have to lead with some sort of campaign that makes them feel compelled."
The Senate Government Operations Committee started gathering ideas about legalization in 2015. This year, Sears' Senate Judiciary Committee conducted five public hearings around the state. But there were no House Judiciary members on either panel, Gilbert noted — a missed opportunity for lawmakers working in different chambers to hear the same public testimony. "It would've been a totally different story if you held those hearings jointly," Gilbert said.
People attended the hearings, but it wasn't standing room only. Some Vermonters admitted marijuana use, but others may have been reluctant. "People who smoke marijuana don't want to speak up, because they're criminals. That's why you didn't get a lot of constituent contact," said Rep. Sam Young (D-Glover).
Opponents didn't dominate the discussion, but many of the critical voices had more clout. Police shared many concerns about legalization, including the potential for more drugged driving, for which there is no roadside test. South Burlington Police Chief Trevor Whipple and Vergennes Police Chief George Merkel stood vigil at the Statehouse last week, urging House members to defeat legalization and decriminalization.
Shumlin's urging, meanwhile, failed to convince many House members. As a lame-duck governor whose favorability ratings had spiraled, he had lost the power of persuasion.
"People are feeling pretty sore right now about Vermont Health Connect," Stevens said of the state's troubled health care exchange and how it reflects on lawmakers. "It would've been hard to say, 'Trust us on this.'" He had his own doubts, too. "I couldn't guarantee that we would be able to pull this off."
Shumlin did enlist Sears, a key move in getting the legislation to pass the Senate. The powerful senator is a retired youth counselor who said he hadn't smoked marijuana since he was first elected to the Bennington Selectboard in 1987.
He promised Shumlin only that he would give the issue a hearing. But Sears went much further, persuaded that it would be tougher for youths to get marijuana in a regulated marketplace.
A sizable group of legalization backers surrounded Sears in the Senate. Two of them, Sens. Jeanette White (D-Windham) and Joe Benning (R-Caledonia), had written their own bill in December. It would have legalized marijuana this year, including home cultivation and marijuana lounges.
Although legalization supporters were happy to have a bill on the table on day one of the session, they knew its 100-square-foot plots would never fly.
When Sears, with help from Shumlin staffer James Pepper, unveiled his own bill in late January, it allowed for sale and possession of marijuana. But Sears worried that marijuana grown on 100-square-foot plots would end up on the black market, so he nixed home growing altogether.
Politically, that hurt, said Matt Simon, New England political director for the pro-legalization Marijuana Policy Project. "It diminished the enthusiasm of supporters and created opposition," Simon said.
Home cultivators, once strong allies, came out against Sears' bill. On Facebook, the group Vermont Home Grown advised members: "Please contact your reps and ask them to vote no because this is a corporate weed bill with home grown and small farm licenses prohibited."
Shumlin said he would be OK with legalizing a small amount of homegrown pot, but he yielded to his ally Sears. It was apparent that even among supporters, there was no consensus about what legalization should look like.
White said that shows why it would be difficult to become the first state to legalize marijuana through legislation. In Colorado, voters faced a simple yes-or-no decision via public referendum. "It's way more complicated" to spell out how legalization would work, White said. "What does legalization mean? There wasn't agreement on that."
After the Senate voted 17-12 to move Sears' bill to the House, legislators' differences became even clearer. Uncomfortable with Sears' plan to legalize commercial growth and sale, House members started tossing out alternatives such as legalizing or decriminalizing home cultivation.
"There was never any gelling around a particular proposal," Speaker Smith said. "I think that caused real problems."
House Judiciary Committee chair Maxine Grad (D-Moretown) argued that Sears' bill would open the door to corporate marijuana, which she criticized as "not the Vermont way."
Sears fumed. "Corporate weed? If you really read the bill, it was more like Heady Topper weed," he said, referring to the Vermont craft beer.
But if Grad and Sears viewed the bill differently, it may have been because they never talked it over during the four-month session, Sears acknowledged last week. As counterparts, the two legislative leaders routinely discuss legislation related to legal matters. This year, however, Sears said their schedules kept conflicting, and Shumlin and his staff never pushed the two to get together. Sears conceded that the lack of communication was probably a mistake.
"We really misjudged where the House was," Sears said. Mid-session, for example, he was surprised to discover that Rep. Betty Nuovo (D-Middlebury), a longtime liberal lawmaker on the House Judiciary Committee, was adamantly opposed to legalization.
If Sears didn't know, Shumlin should have. "I was pretty candid with the governor that I had found more resistance, not only within the caucus, but in the leadership of committees," Smith said.
Right up to the end, Sears said, he expected the House to pass something that could go to a conference committee for negotiations with the Senate.
It never happened.
Even some of Smith's own members assumed he had a solution up his sleeve. He was speaker, after all, when the House enacted same-sex marriage by a single vote. Smith, who said he thought the Senate bill left too many questions unanswered, argued there simply weren't enough votes to pass alternatives, either. "I couldn't have gotten the votes," he declared.
Advocates certainly tried.
Rep. Bill Frank (D-Underhill), a member of the House Judiciary Committee, seemed like someone who could be convinced. "Of course I had lobbyists talk to me," he said.
"One day at the dinner table my wife said, 'Bill, you've done all this work to get kids to stop smoking. Why do you want to give them a reason to start smoking?'" he said. After that conversation, he never wavered.
Frank said he agreed with legalization supporters that prohibition of marijuana isn't working. But he wasn't persuaded that legalization or decriminalization would be better.
Not surprisingly, Simon was deeply disappointed when he walked out of the House chamber after last week's vote. But he maintains that statements such as Frank's are hopeful signs.
"I think we made a lot of progress this session," he said. "People recognized prohibition has failed."
Grad indicated her thoughts have shifted, too. Massachusetts and Maine residents vote on legalization in November, and Canada is working toward it. If a neighbor legalizes marijuana, Vermont will feel the impact, she noted.
"I know it's coming. I do believe we have to be ready," she said. "I'm more acutely aware of that."
The debate will go on. After measures for legalization, decriminalization and even a study commission failed to pass last week, Sears and Grad quietly agreed that a joint House-Senate panel will meet six times over the summer and fall. Its mission: to develop "a modern approach to marijuana policy."
Sears cautioned: "It doesn't guarantee anything." He would know.