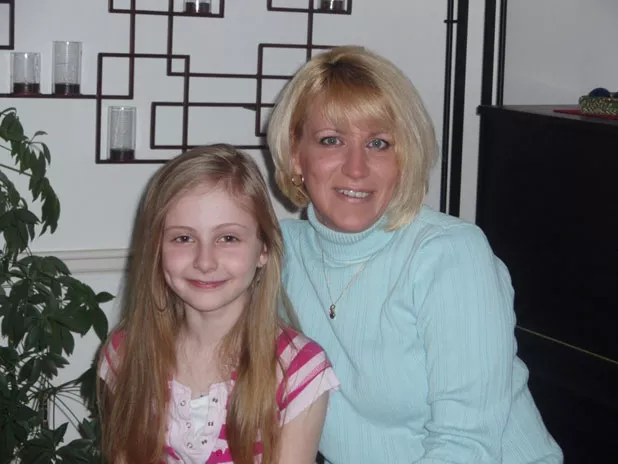 The day begins as calmly as any other this summer. Graced with blue skies outside and a break from deadlines at my desk, I decide to take my 20-month-old to Shelburne Farms for a little meeting with the moo-cows and lunch. We meet up with friends in the parking lot, and I don't think twice when one of them, a fellow mom of a toddler, offers my daughter a cashew. "Yummy, a cashew!" I say, handing her the nut. In my mind, the only thing wrong with the scenario is that I'm not offered cashews to snack on, too.
During the short walk to the children's farmyard, my daughter is her normal self, wiggling in her stroller and talking away. But by the time we consult with the chickens, she's turned sleepy and clingy, refusing to make "bok-bok" noises. Her Farm Cart sandwich goes untouched. On the drive home, she begins pulling at one ear, which has turned bright red. Then it occurs to me: Could she be allergic to nuts?
It's never crossed my mind that my daughter could have food allergies. I easily go through a jar of Teddy's peanut butter in a week. Though four of my nephews do have all sorts of allergies - some to peanuts, some to tree nuts, others to dairy - I tend to roll my eyes at the "nut-free zone" signs I see posted everywhere.
While my daughter naps on this bright summer day, I reluctantly Google "food allergies" and find nothing that matches her symptoms. Unwilling to delve deeper into Internet medical advice, I dismiss my own concerns and go back to answering emails. Then I hear violent coughing from my daughter's room. Inside, I find her covered in vomit and silver-dollar-sized hives.
Oh, crap. When I call the pediatrician's office, a nurse tells me to administer Benadryl, which I don't even have in the house. "If she's having difficulty breathing," says the nurse, "bring her straight in."
I head to Shaw's for the Benadryl. But after pouring my limp daughter into the car seat and shaking all the way to the store, imagining the worst, I figure, Screw it. Best to go to the doctor's office just in case.
By the time we're admitted, the Benadryl has started to kick in - and the pediatrician looks like she might want to give me a kick in the pants for handing a cashew to my daughter. The common protocol is to wait until kids are at least 2.
Just like that, I've joined a growing group. According to the national Food Allergy & Anaphylaxis Network, peanut allergies among kids have nearly doubled in the past five years. MaryKay Hill of the Shelburne-based Vermont Food Allergy Organization (VTFAO) informs me that 1 in 17 kids under age 3 have some sort of food allergy. With such reactions accounting for 150 to 200 U.S. deaths per year and sending some 30,000 people to the emergency room, the back-to-school season can seem especially nutty for parents with allergic offspring.
"This time of year can be very anxious for families with children in the school system," says Hill, whose own 8-year-old daughter has life-threatening allergies to peanuts, tree nuts, soy, sesame, poppy, peas, beans, pumpkin seed and pumpkin gourd. "They're very fearful that a call may come from the school saying their child just suffered a reaction and is now being transported to the nearest emergency facility."
Thankfully, my own daughter's reaction is over for now. The doctor gives me a referral to an allergist, a command to keep all peanuts, peanut butter and nut products away from her, and a prescription for an EpiPen.
Because of my nephews, I'm familiar with the EpiPen. The Sharpie-sized auto-injector contains epinephrine, which treats the anaphylactic reactions caused by certain foods (along with insect bites, latex or medications) in allergic people. It's also becoming a familiar sight around schools. Last May, Vermont passed Act 175, which allows allergic or asthmatic students to possess and self-administer emergency medications like the EpiPen. The law follows Act 158, passed in May 2006, which mandates that schools provide a "safe and supportive environment" for children with life-threatening allergies or a chronic illness.
"Vermont is one of the very few states that has both these legislative works passed into law," says Hill.
Fortunately, our EpiPen remains untouched in the days before I take my daughter to an allergist for a full examination. Though I've been warned that the test could take up to two hours, the process is straightforward and easy - at least for me. After I explain my daughter's reaction to the doctor, he sends in a nurse to conduct a series of skin pricks on her back with different solutions.
As we await the results, I ask the doctor why food allergies are on the rise. Should I have avoided nuts during my pregnancy? Nope, he tells me with a shrug. "No one is exactly sure what the cause is."
For Alesia Clear, a mom of three (two with allergies) in South Burlington, her kids' reactions to peanuts and tree nuts have been a mystery, too. Like me, she acknowledges that the nut-free life can be inconvenient. "As if parents don't have enough to deal with, now they have to change how they feed their kids," she says.
But Clear also expresses gratitude for the "progressive and proactive" policies of her youngest's preschool (where nuts are forbidden) and her oldest's elementary school (where there are nut-free zones), and for the easygoing attitude of her kids. She reports that her 7-year-old son Owen says he feels lucky to sit at a lunch table "that isn't crowded like the other tables."
Hill, who founded VTFAO in 2005 as an outgrowth of an email support group and was a leading advocate of Acts 158 and 175, says the Green Mountain State gets a gold star for its school policies. Vermont, she says, is one of six states now on the Allergy & Asthma Foundation's Honor Roll.
"To keep these children safe in whatever environment they may be in is crucial," says Hill, "and creating a safe environment comes with education, awareness and also the hope of [giving] those that do not live with this the understanding of this illness that often impacts them in our school communities."
Back in the allergist's office, it takes just a few minutes after the skin-prick test for a couple of red welts to appear on my daughter's back. "She's allergic to cashews and pistachios," the doc says, pointing them out. He tells me to resume feeding her peanuts and peanut butter, which will help foster a tolerance for the legumes.
Score, I think. My daughter can keep eating the cheap stuff while my husband and I keep the top-shelf nuts . . . on the top shelf. But as she and I climb into the car with a prescription for another EpiPen, I don't feel so cavalier. I know I'll have to be vigilant about reading labels and, one day, shipping my daughter off to school with her trusty auto-injector. Living in Vermont, with its support systems already in place, I'm OK with that.
"Part of our job as parents is to make sure our kids are able to keep themselves safe and advocate for themselves," says Clear. "We won't always be there to do it for them."