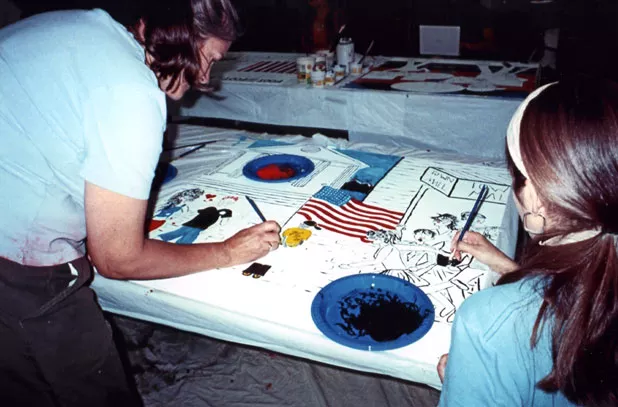 It's been said that bad officials are elected by good people who do not vote. That's exactly what graduate students in the St. Michael's College Art in Education Program are hoping to get across with a summer mural project. In an important election year, these future teachers are thinking politics, and using an activist-art medium to present the results. Hey, it's more fun than simply becoming notaries public.
"The Power of Art: The Power to Vote" is a five-panel portable mural that combines cartoon images drawn by the students with commentary from the public. "The overall goal of this project is to spread community awareness on the importance of voting," affirms Amie Read, one of 13 grad students in a course called "Aesthetics Perspective in Education: Imagination, Culture and Art."
Each panel in the piece depicts a voting scenario aimed at a different demographic - "older generations, teenagers and the general population," says Read. One geared for teens pictures an adolescent girl pulling kids out of Burlington's downtown mall and into a voter registration booth. Out on the street, a happy couple embrace, apparently thrilled to have signed up for the privilege.
"The fourth panel has an American flag on the right, with the devil and other unsavory characters casting a vote by hand. The left side has Uncle Sam with his arm around a kid," says Read. A flag-wielding Satan, and Uncle Sam as Messiah? Makes the recent Michelle-and-Barack New Yorker cover look like a Norman Rockwell painting.
To gather the public component of the mural, the St. Mike's class divided itself into five groups, each taking responsibility for a portion of the mural and soliciting responses to the question, "Why is it important to vote?" Read and her teammates interviewed shoppers at the University Mall. Not surprisingly, opinions varied.
A 14-year-old girl surmised, "Voting is a privilege worth taking advantage of." Another woman responded, "Voting means you have a say in things, that you have an opinion." But it wasn't all candy-coated voting love - the disenfranchised spoke as well. "When they get an honest political candidate, then I'll vote," one man grumbled.
The responses will appear in "thought bubbles" added to the five panels, which, in case you miss the point, collectively spell out "VOTE!"
SMC Professor Jonathan Silverman selects a different civic theme each summer for his "Aesthetics Perspective" course. This year's subject resonates in Vermont history. Since 1791, the Green Mountain State has been at the forefront of suffrage equality. All adult white males, regardless of property ownership, were given the right to vote that year. Not until 1918 were women allowed to vote in town elections, but that was three years ahead of the establishment of national female suffrage. In this spirit, the St. Mike's crew continues to carry the torch, encouraging more complacent modern Vermonters to, like, actually vote.