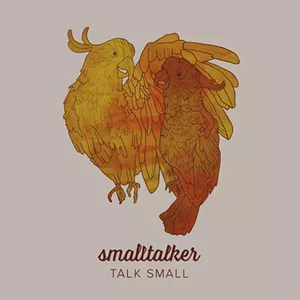 (Self-released, digital download)
The titles of R&B ensemble smalltalker's twin EPs — 2017's Walk Tall and the recently released Talk Small — sound like a mantra when lumped together: walk tall, talk small; walk tall, talk small. Repeat ad infinitum. The complete phrase implies confidence and humility, two qualities the band exhibits across the new four-song collection.
Though some of its members hail from disparate places such as New York City and New Hampshire, they identify as a Burlington-based group. The chameleonic outfit's nuanced sound is likely to please soul, jazz and pop diehards. Multiple lead vocalists and dazzling musicianship — including a bright horn section — consistently invigorate the 10-piece's remarkable songcraft.
Smalltalker take a much deeper dive into jazz on Talk Small than on their previous EP. Compositions are more complex and modern with daring harmonies and perpendicular rhythmic components. That's not to say that Walk Tall lacked these ingredients. But the band has found a new sense of boldness in the way it mixes avant-garde elements into party-ready neo-soul tunes.
"Wildcard" is a brisk ode to self-reliance: "And if I stumble / If I fall / I'm not worried at all / I'm a genie in a bottle / I grant my own wish." Vocalists Stephanie Heaghney and Claire Sammut lead with infectious mirth over waves of organ, gently tapped cymbals and softly plucked guitar. Culminating in a near-theatrical apex, a syncopated statement ("You know who we are / We are the wildcard") punctuates the cut's oil-slick instrumentation.
Brash horns open the harmonious "One Too." Working in tandem, vocals and piano enter a meandering lockstep over a brusque backbeat. A stark hook ("You're one, too") finds congruity with loose horns, which ebb and flow in congress with the vocals.
A Latin-tinged, clickety-clack beat and staccato piano chords introduce the EP's most intricate track, "To Choose." The song's inscrutable time signature aligns with its themes of unrest and indecision. After a sparse verse, the chorus sweeps in with a tidal wave of piano. Oscillating to a down-tempo, 4/4 time signature on the brief bridge, the track ramps back up to its confounding meter with swells of sax.
"Sorry," a soulful slow jam, closes out the EP. Its wistful sentiments glide along a jangly piano line and quivering organ. Working through another time signature breakdown before an acid-jazz sax freakout, the track balloons into an irrepressible climax.
Talk Small packs a lot of ambitious ideas into a tight bundle. Thoroughly enjoyable and genre defying, it raises a question for smalltalker: How much further can this crack team of players push their sound? Based on the strides made between their two EPs, the answer might well be this: as far as they want.
Talk Small is available at smalltalker.bandcamp.com. Smalltalker perform on Friday, June 29, at the Frendly Gathering music festival in Waitsfield.