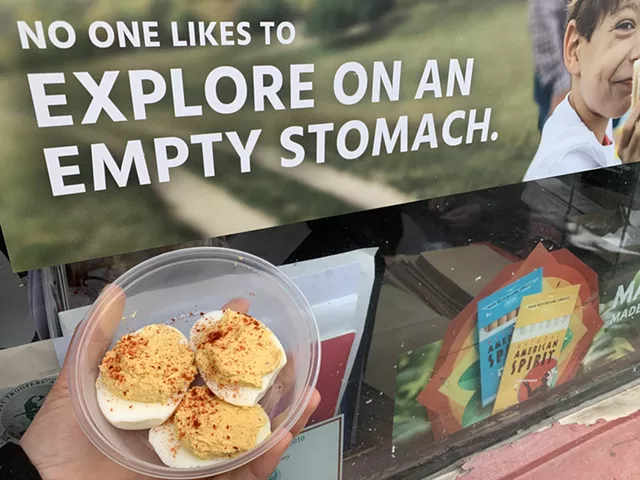 Melissa Pasanen ©️ Seven Days
Deviled eggs from the Citgo in South Barre
Deviled eggs remind me of childhood and of parties (remember those?). I love their creamy, rich, mustardy centers and the contrast between the enhanced yolk and its sturdy, plain nest of white.
But, really, how often do I make them for myself?
They're not hard to make, but the multi-step process is a little time consuming, and you never know how those eggshells are going to peel. (Believe me, I've tried every trick in the book — and on the interwebs — and have found no magic bullet that works every time.)
I have happily discovered that deviled eggs are a reliable and eminently affordable staple found in many local gas station deli counters and snack coolers.
For me, they make a perfect road snack, packed with protein and, often, a tangy bite of mustard and dusting of paprika. As the sign in the window of the Citgo gas station in South Barre reminded me, "No one likes to explore on an empty stomach."
Recently, I bought a trio of halves there for $1.99 to share with road trip companions on our way to the strikingly beautiful Millstone Trails that wind through the granite quarries of Barre. (The Citgo station is also home to Rickie's Indian restaurant, which I highly recommend for its saag paneer and aloo chole.)
Melissa Pasanen ©️ Seven Days
Deviled eggs from Village Grocery and Deli in Waitsfield
There I found four deviled egg halves for $2.19 in the deli's grab-and-go case. They were on the creamier side, lacking the mustard bite I prefer, but they still hit the spot.
The woman behind the counter told me that they vary depending on who makes them that day. She said she likes to use brown mustard in hers. I guess I need to head back on her deviled egg day.
Small Pleasures is an occasional column that features delicious and distinctive Vermont-made snacks or drinks that pack a punch. Send us your favorite little bites or sips with big payoff at food@sevendaysvt.com.