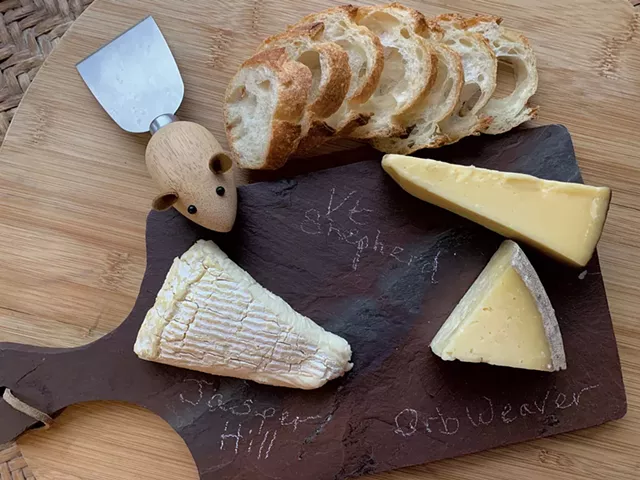 Melissa Pasanen
A trio of Vermont cheeses from the odds-and-ends bin at Healthy Living Market & Cafe
Winter in Vermont can be full of joy: catching snowflakes, bluebird days, the twinkling candles and lights of beloved traditions.
It also brings challenges: truncated daylight hours, holiday stress, a whole lot of cold and gray. And this year, we're approaching a season that likely will present extra trials.
In the face of all of this, the Seven Days food and drink team is aiming to bolster the joy factor while supporting local food and beverage makers, farmers, restaurants, bakeries, and food retailers.
A reader email about a unique and affordable pastry prompted us to consider how a small, unexpected treat can perk up a day. It inspired us to launch a new column we're calling Small Pleasures.
Each column will feature a delicious and distinctive Vermont-made snack or drink that packs a punch. We'll share them one at a time going forward, but here are five to get the ball rolling, including the original inspiration from Graeme Hutcheon of Essex Junction.
We'd love to hear from you, too! Send us your edible and quaffable small pleasures at food@sevendaysvt.com.
Let's spread joy.
— M.P.
Cheese, Please
Healthy Living Market & Café, 222 Dorset St., South Burlington, 863-2569, and 129 Market St., Williston, 879-2020; healthylivingmarket.com
I've been known to stand paralyzed by indecision for many minutes in front of local cheese counters. I love cheese more than chocolate, and I want them all: wedges of washed-rind funk, chunks of sweet cream-kissed nuttiness and rounds of spreadable, buttery velvet.
Small farmstead cheeses require a big investment of time and labor, so they are not inexpensive. I'd argue they are well worth the money, but I can't always justify the cost of buying all the cheese, especially if it's just for me.
The odds-and-ends cheese bin at Healthy Living Market solves my problem handily. Tidy, trim pieces from their impressive cheese array, which features many Vermont cheeses, are wrapped in small morsels. I can easily build a mini cheese plate of three selections for about $10 and justify returning for another set very soon.
— M.P.
Chicken Liver Mousse (With the Works)
Dedalus Wine Shop, Market & Wine Bar, 1031 Mountain Rd., Stowe, 585-7717, and 388 Pine St., Burlington, 865-2368; dedaluswine.com
Sally Pollak ©️ Seven Days
Chicken liver mousse from Dedalus Wine Shop, Market & Bar
I'll drive 76 miles round trip for an olive and an anchovy, but I won't do it two days in a row. So when Dedalus Wine Shop, Market & Bar in Stowe was out of its skewer that stabs a briny green olive, a salty and slimy slick of anchovy, and a pickle-y pepper, I was bummed. But I wasn't going to return the next day, when the deli case would hold a new load of this $2 treat.
My spirits picked up when I spotted a jar of chicken liver mousse. I know this item from Dedalus in Burlington, where I'm a superfan of the brandy-and-cognac-laced mousse. (Dedalus has a wine club; if they started a chicken liver mousse club, I'd be a charter member.) The mousse is best at room temperature, when the slab of fat atop it melts, and the puréed liver and smear of fat go together like PB&J.
I bought a jar of chicken liver mousse in Stowe as a kind of compensation for my olive/anchovy/piparra loss. At the cash register, I thought I'd gotten the wrong order when the $8 jar came with baguette slices, grainy mustard and cornichons. (In Burlington, the mousse stands alone.) Nope, I was told, this is how Dedalus does it in Stowe. "Tell your friends!" the cashier said.
— S.P.
French Confection
City Market, Onion River Co-op, 82 S. Winooski Ave., Burlington, 861-9700, and 207 Flynn Ave., Burlington, 540-6400; citymarket.coop
Melissa Pasanen
Canelés from City Market, Onion River Co-op
Reader Graeme Hutcheon wrote us in October about his wife Carol's discovery of canelés in the bakery section of City Market, Onion River Co-op. She knew her husband loved all custard-based French pastries. At 99 cents per deeply bronzed pastry, "These have to be the best dollar spent ever," Hutcheon gushed.
The distinctively shaped, darkly caramelized traditional pastry from France's Bordeaux region delivers a one-two punch of crunchy exterior and an alluringly tender custardy heart. Hutcheon said he's enjoyed the canelés hot, cold, with ice cream and with a morning coffee. Extra-dark ones, he added, "remind me of a crême brûlée."
City Market executive chef Michael Clauss said the pastries have been baked in-house daily for close to a decade, thanks to a former assistant manager from Montréal. They require special copper pans coated with beeswax, and the batter must rest overnight. "They are tedious to make," Clauss admitted, "but we have a lot of people who come specifically for them." (Pandemic-era precautions require that each pastry be individually wrapped, which softens the crunchy exterior; they can be re-crisped for a minute or so in a very hot oven.)
— M.P.
Movie Night Maple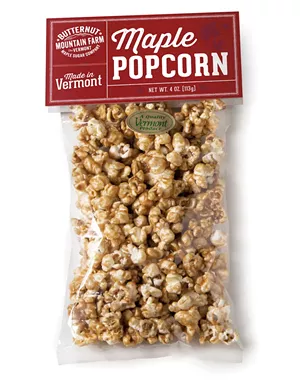 Courtesy Of Butternut Mountain Farm
Maple popcorn
For cozy evenings of binge-watching shows or movies, I nominate maple-caramel-drenched popcorn from Morrisville-based Butternut Mountain Farm/The Vermont Maple Sugar Company.
I'm a sucker for anything caramel, especially if it involves maple and a touch of salt, like this confection does. You can certainly eat it straight, but my preference is to pop up a big bowl of plain, salted popcorn and toss in one bag of the candied popcorn ($2.99 to $3.75 per 4-ounce bag, depending on the retailer) for the perfect salty-sweet mix.
Emma Marvin, Butternut Mountain's second-generation co-owner, said the company has offered the popcorn, which is made for them by another small Vermont food producer, as far back as she can remember. Now 40, Marvin has vivid memories of walking over after school to the family's store in Johnson. "We had one of those big wooden barrels filled to the brim with maple popcorn bags," she recalled. Every so often, Marvin said that her mom, who happened to be the store manager, would let her and her brother have some as an afterschool treat.
Luckily, you don't need anyone's permission to treat yourself.
— M.P.
Put On Your Adventure Pants
Zero Gravity Craft Brewery, 716 Pine St., Burlington, 497-0054, zerogravitybeer.com, and at restaurants throughout Vermont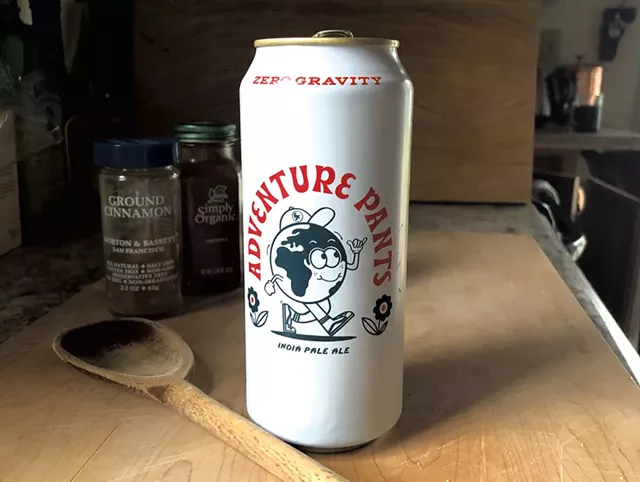 Jordan Barry
Zero Gravity Craft Brewery's Adventure Pants beer
The secret ingredient in my chili recipe is a splash of beer. Something light and citrusy works best, with a touch of hoppy oomph. Because it's only a splash, I get to drink the rest while I'm cooking. Win-win!
As COVID-19 cases climbed in early November — and as I made my millionth pot of chili this fall, sick of cooking and lacking any sort of creativity in the kitchen — I cracked a tallboy of Zero Gravity Craft Brewery's Adventure Pants. I took my first sip, imagining I was sitting at a restaurant bar, chatting with strangers and tasting the newly released beer for the first time.
Adventure Pants was brewed with those serendipitous restaurant experiences in mind. The special IPA is being sold "to support the vibrant community that gives our beer a home," the Burlington brewery explained. Profits from the beer's sale benefit the Vermont Independent Restaurants group, which is working to support restaurants during the pandemic. The benefit had already raised more than $6,000 when I checked with Zero Gravity's director of Vermont sales, Laina Grant, on November 24. "And funds are still increasing!" she said.
I paid $11.99 for my four-pack to-go from the brewery on Pine Street, but it's available at more than 60 restaurants all over the state. Adventure Pants is a straightforward, easy-drinking IPA, a blend of Simcoe, Talus, Ekuanot and Sabro hops. It fits my chili specifications perfectly — citrusy and bright — and beyond tasting good, it does good. Win-win-win.
— J.B.