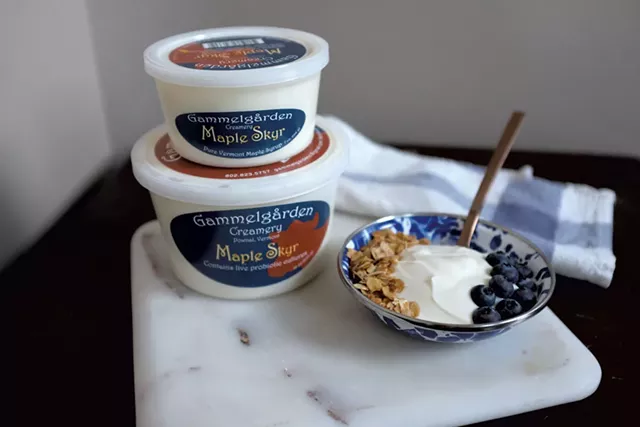 Jordan Barry ©️ Seven Days
Maple skyr
If I had my druthers, I'd eat a maple creemee for breakfast every morning.
Thanks to Pownal's Gammelgården Creamery, I get pretty close. The women-owned micro dairy's dreamy, creamy maple skyr is a socially acceptable breakfast that tastes like a treat.
Sold at stores in southern and central Vermont, Gammelgården's Icelandic-style skyr is technically a soft cheese, but it tastes and acts more like yogurt. The creamery perfectly sweetens the rich skyr with Vermont maple syrup. It also sells skyr in flavors such as apple pie, cherry almond, strawberry and wild Maine blueberry.
Gammelgården's origins date back to 2004. Stina Kutzer had always wanted to have a small dairy. On her 50th birthday that year, her husband, Peter, gave her a Jersey calf named Babette.
"I was just going to have a family cow," Stina Kutzer said. When Babette had twin heifer calves two years later, she found herself with a herd and started experimenting in the kitchen.
Courtesy
Stina Kutzer of Gammelgården Creamery
In 2010, Kutzer and her sister, Marta Willett, built a small creamery and named it Gammelgården as a nod to their heritage; the name means "small, old farm" in Swedish, Kutzer said. They planned to sell cultured butter and a yogurt made with the leftover skimmed milk, strained in cheesecloth to turn it nice and thick.
The milk inspector told the sisters that they could sell their handmade product, but they couldn't call it "yogurt" unless it was machine processed. So they decided to name it "skyr," another Scandinavian term, since they make it the same way as the traditional Icelandic soft cheese. After skimming off the cream, they pasteurize the milk, add cultures and rennet, and hang it to let the whey drip out.
Gammelgården launched with five cows and a 22-gallon pasteurizer. The sisters sold products at farmers markets in Dorset, Bennington and Troy, N.Y., and brought them to local stores. Williams College, just across the border in Williamstown, Mass., started buying their skyr in 2012; to keep up with the increased demand, they got a bigger pasteurizer and supplemented their own milk supply with high-quality milk from area farms.
The creamery now wholesales products to more than 30 businesses in Massachusetts, New York and Vermont — as far north as the Middlebury Natural Foods Co-op and Little Seed Coffee Roasters in Middlebury. Customers around the country place orders on Gammelgården's website.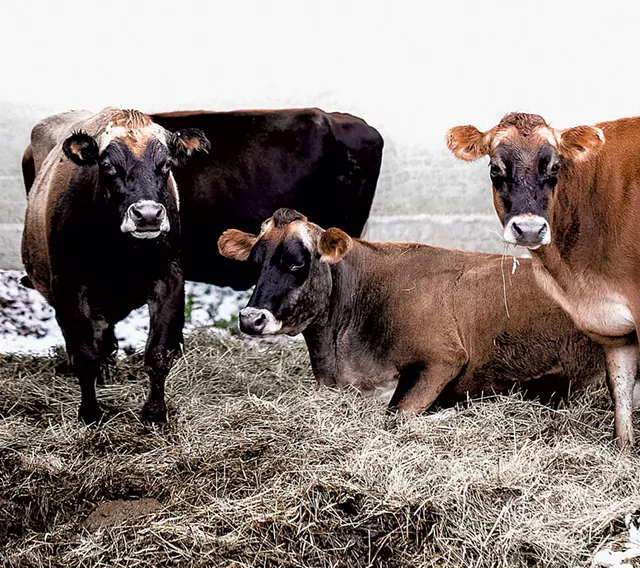 Courtesy
The Gammelgården herd
Peter Kutzer handles most of the wholesale deliveries, though the team — which includes Signe O'Neil, the Kutzers' daughter — is looking for a distributor. "That would help us expand in Vermont," O'Neil said, "because my poor father is driving all over the place right now."
Each week, the family still makes two or three batches of skyr by hand, exactly as it did when Gammelgården started, though the batches have grown. To make sure the hanging skyr has strained enough before adding maple syrup (or jam, for the creamery's other skyr flavors), Kutzer pinches it to check its thickness, she said. Seasonal changes such as the cows' diet and lactation can affect the skyr.
In any season, I enjoy Gammelgården's maple skyr with berries or rhubarb and homemade granola — or straight out of the container. Next time I stock up, I'm going to try O'Neil's winter-appropriate suggestion: a dollop on oatmeal.
Small Pleasures is an occasional column that features delicious and distinctive Vermont-made food or drinks that pack a punch. Send us your favorite little bites or sips with big payoff at food@sevendaysvt.com.