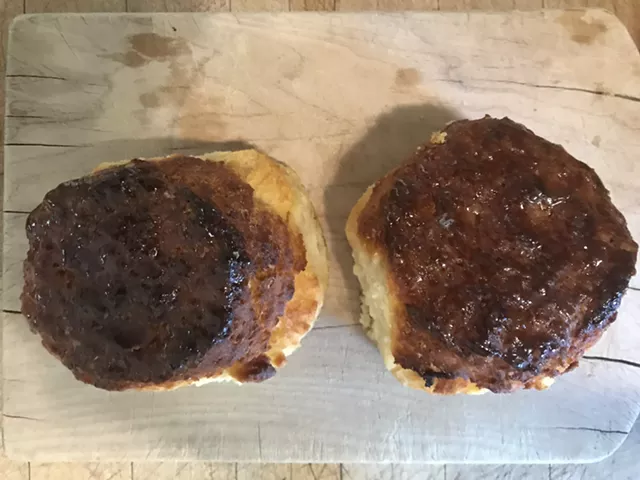 Sally Pollak ©️ Seven Days
August First maple biscuits
I don't usually measure my food, but indoor activity is hard to come by these days so I thought I'd give it a whirl. Inspired by the item I was about to eat — if only I could open my mouth that wide — I tracked down the tape measure. Its target was leaning leftward on my bread board: a high-sheen maple biscuit from Burlington's
August First
.
At its apex, I discovered, the biscuit is three inches high. But I prefer to slice it through the center and eat it by the half measure, roughly 1.5 inches of delight at a time.
By cutting the biscuit down the middle and toasting it, the inside cakey part acquires the coveted crisp of the biscuit's crown. Everything's better with butter, and August First's $4 maple biscuit is no exception.
Or you can up the morning's activity level by frying some bacon, making a sunny-side-up egg with melted cheddar on top, and placing the ingredients between two halves of a maple biscuit. Sticky and messy, but we're in a hand-washing groove these days anyway.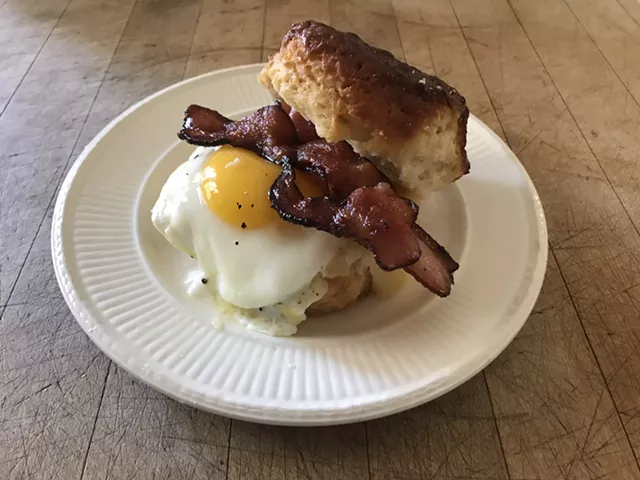 Sally Pollak ©️ Seven Days
Egg and bacon sandwich on a maple biscuit
Small Pleasures is an occasional column that features delicious and distinctive Vermont-made snacks or drinks that pack a punch. Send us your favorite little bites or sips with big payoff at food@sevendaysvt.com.