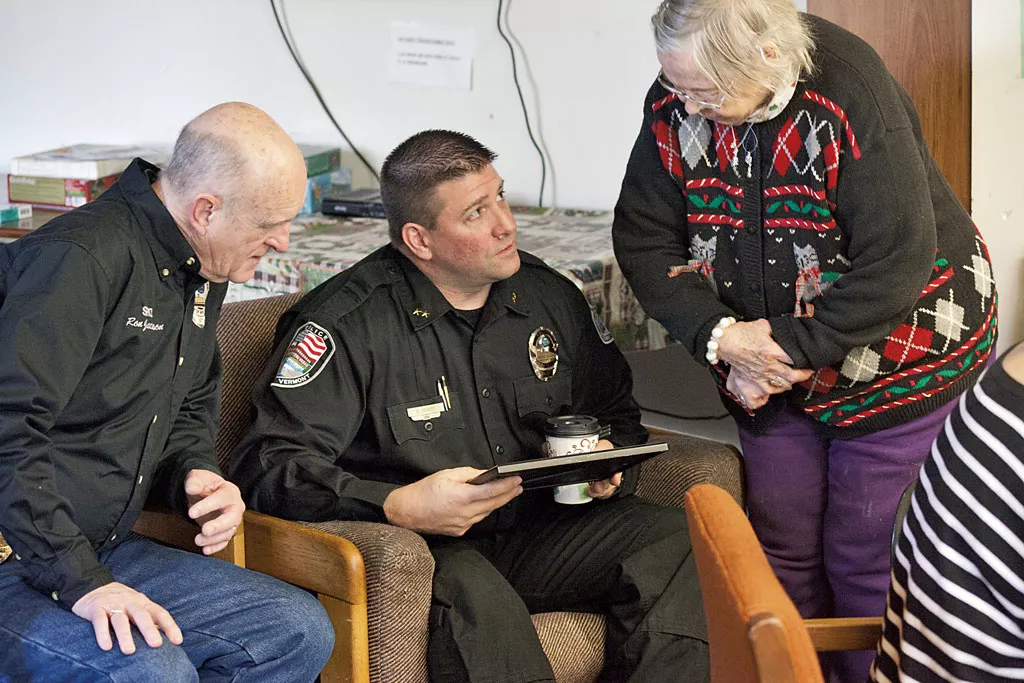 Matthew Thorsen
Officer Ron Jackson and Police chief Rick Hebert with Luella Murton at the Coffee With a Cop gathering at the Spring Gardens senior home
The Winooski Police Department's top commanders descended on the Spring Gardens senior home on Monday morning, armed with pastries and coffee and looking to make friends. Huddled around a few small tables in the common area, the cops fielded residents' questions about panhandling and traffic at the roundabout, and listened to the seniors' stories about recent surprise parties and basket-making projects.
"Coffee? Tea? Little pastry? How about I get you one of those?" Lt. Scott McGivern asked a woman who ambled into the room.
"We don't come here very often," officer Ron Jackson said with a laugh. "Guess you guys don't make a lot of trouble."
The Coffee With a Cop gathering was one of the many community initiatives the department has launched in recent months in hopes of generating goodwill that officials say has been in short supply.
Officers have also taught women's self-defense classes, started planning a basketball league for schoolchildren, hosted a potluck dinner, handed out candy on Halloween and reached out to elders in Winooski's numerous refugee communities. They are hoping to secure 3,000 likes on their newly launched Facebook page by the end of the year.
"We're starting over," said the city's new interim police chief, Rick Hebert. "We're getting to know people. We [previously] did nothing when it came to community outreach. People should be comfortable talking to us. This is a 1-square-mile town. People should know the officers by name."
Two recent events have contributed to change within the police department. First, Hebert replaced longtime chief Steve McQueen, who retired in August after 30 years of working for the department. Then a controversial case was put to rest: Former Winooski police corporal Jason Nokes had been charged with aggravated assault, reckless endangerment and lying to investigators in the shooting of an unarmed mentally ill man. He agreed to a plea deal last month and left the force.
"There's no question that I have been eager for the police department to reach out to people they don't arrest, and really become a part of the community," City Manager Katherine Decarreau said. "It really needed to be done, and I'm glad it is."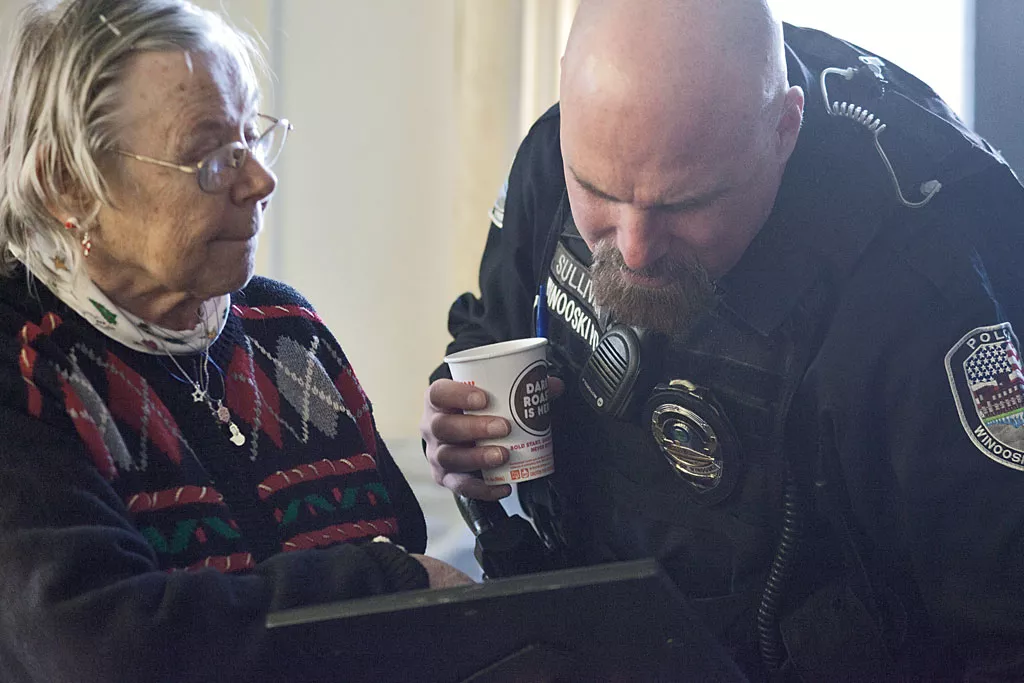 Matthew Thorsen
Luella Murton with Lt. William Sullivan
Leading the effort is Hebert, 44. He's from out of state, but just barely: He grew up in Pittsburg, N.H., a small town near the Canadian border, just across the Connecticut River from Canaan, Vt.
After graduating high school, he coached the school's baseball team and pondered his next step. The father of one of his players worked for border patrol and suggested that Hebert try law enforcement. Hebert enrolled in Champlain College's criminal justice program and planned to join the federal agency.
But while working part-time for the Chittenden County Sheriff's Department in college, Hebert was drawn to local law enforcement. In 1996, after Hebert earned a two-year degree, McQueen hired him as a patrol officer.
Police departments are as hierarchal as the military; leaders commonly must climb the ladder one rung at a time. So it was wholly unexpected when Decarreau promoted Hebert from his patrol sergeant position — a rank lower than lieutenant or deputy chief — to interim chief in August.
"I felt it was really important to give somebody inside a shot," Decarreau said. "He's calm, and I think that's really important in a leader. And he listens to people." She gave him 10 months to set a new course for the agency.
While Decarreau will launch a national search this summer, she said the permanent job is Hebert's to lose.
The giant career leap has left Hebert struggling to adjust to the hours, meetings and mounds of paperwork that come with an administrative job. "I love the basic function of policing, and that's patrol," he said. "But at some point, when you've been doing something for 18 years, you want a new challenge."
The biggest task, he said, is securing positive connections in the community. He and Decarreau acknowledge that the department's reputation in the city hasn't been strong.
Sister Patricia McKittrick, a Winooski resident and coordinator in the University of Vermont Medical Center's Community Outreach Department, said many residents have long criticized the force. "There were people that have been saying the police weren't out enough, not patrolling, not present in the community," she said.
Former city councilor Jodi Harrington said that McQueen, who was active with the Vermont Police Chiefs Association and made frequent appearances before the legislature, didn't pay enough attention to the city, which set a bad example for his officers.
"The problem is Steve McQueen was not an apolitical guy, and what you really need is an apolitical guy," Harrington said. "Mr. McQueen didn't have any interest in the community, and therefore no one in his department did."
With 13 full-time and six part-time officers, the police department consumes nearly half of Winooski's $5.8 million budget. But Harrington said there hasn't been enough to show for it.
"For us to live in a community of 1.5 square miles where there is very little evidence of a police department, I think the community is demanding more," Harrington said. "I think it's changing. But it shouldn't be too difficult."
Not everyone is critical of the department's presence, or lack thereof, in the community. In the past few years, Linda Hedelund's home on Hickok Street was burglarized, and she also discovered that someone was stashing stolen bicycles near a shed in her backyard. Winooski police officers responded promptly in both cases and gave her advice to make her home safer, she said.
"They were great with suggestions," Hedelund said. "They're visible. I see them. I've always seen them."
When asked to characterize the relationship between the city and the police department in recent years, Decarreau demurred. "Improving quickly," she said.
Dealing with crime is the department's primary task, and Winooski police say a statewide spike in opiate use in recent years has damaged their city of 7,500 residents. Earlier this year, a Winooski woman and two New York City men who had been staying in her Lafountain Street apartment were arrested on federal charges for trafficking heroin and guns. Drug overdoses are commonplace on the department's weekly activity logs.
Hebert said it's too easy to develop tunnel vision and focus on arrests rather than on building bridges with both the offenders and the public. "What we need to work on is figuring out what makes people do the things they do," Hebert said. "We're good at documenting and arresting and prosecuting. What we're trying to figure out is the why."
Hebert pointed to recent encounters — in Ferguson, Mo., New York and Cleveland — between community members and police that have ignited protests against racially inspired police brutality.
"Law enforcement is taking a big hit everywhere right now," Hebert said. "It makes you wonder, If they had a better relationship, or better understanding of the community, or if they knew who he was, would that have gone better?"
While there haven't been protests against the WPD, the department came under scrutiny for excessive use of force in the Jason Nokes case. In April 2013, Nokes responded to a trespassing complaint at the Woolen Mill apartments. He arrived to find Isaac Sage, a paranoid schizophrenic, who proceeded to punch Nokes in the face. While another officer tried to handcuff Sage, Nokes, standing several feet away, shot him in the leg.
Sage was later found to have been legally insane at the time, and, in November, Nokes pleaded no contest to two misdemeanors and received a suspended jail sentence. He was placed on two years' probation and can no longer work in law enforcement.
It was a blow to the department's reputation. Hebert said he is trying to repair the damage. Part of his strategy, he said, is showing up to as many events as he can.
McKittrick also runs the volunteer group Winooski Coalition for a Safe and Peaceful Community. Hebert attended its most recent meeting — an unprecedented step for a police administrator, McKittrick said.
And at the Spring Gardens senior home on Monday, the police officers appeared to have won over at least one fan.
"This is one of the nicest things they could do for us," said Luella Murton, who claimed she had never seen an officer visit the facility during her 17 years there. "They are good guys," said Murton. "It's a great thing that they come to a place like this and show their human side."
The original print version of this article was headlined "Small City, Big Divide: New Winooski Police Chief Seeks Community Connections"