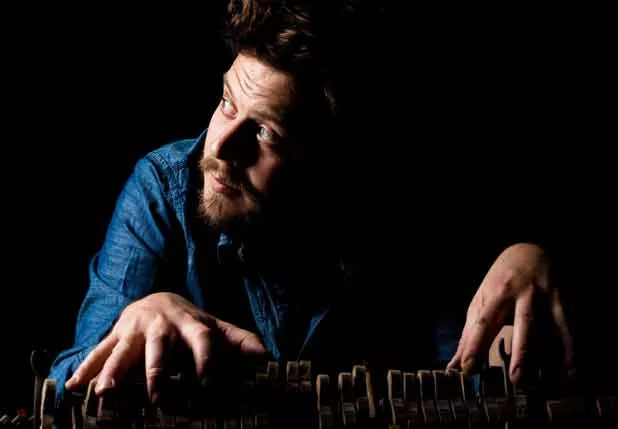 It's a typical Friday afternoon at Burlington's Radio Bean. A random assortment of '80s pop classics blares over the stereo as the late- afternoon sun beats through the coffee shop's floor-to-ceiling front windows. By the bar, an equally random collection of youngish artist types chat over beer and coffee — perhaps discussing the finer points of Michael Jackson's "Don't Stop 'Til You Get Enough." Outside, a few hipsters smoke hand-rolled cigs and lounge around patio tables on the sidewalk. All in all, a fairly typical Friday afternoon at the Bean.
In recent weeks, however, Friday evenings there have been anything but typical.
The din of conversation is shattered as a ragtag group of young men bursts through the front doors. The group's leader, a scruffy fellow clad in jeans and a dark hoodie, hoots unintelligibly as he bounds across the floor. He carries a snare drum in one hand and a stuffed lion's head in the other. Marco Benevento excitedly throws himself at Joe Adler, the Radio Bean's recently installed musi-booking guru, and they embrace like old friends who haven't seen each other in years. It's actually only been a few days.
Benevento, best known for his work with experimental rock outfit the Benevento Russo Duo, is in town for the third night of a four-week residency at Radio Bean — and the first ticketed shows in the café's 11-year history. The acclaimed keyboardist and composer's first two Friday shows have been the talk of the Queen City, intimate and informal performances that have packed the tiny hipster haunt and pulled in a number of local guest stars — Phish bassist Mike Gordon, guitarist Bob Wagner and vocalist Samara Lark dropped by last week. This night's bill includes the horn section from local funk outfit Dr. Ruckus, as well as soul vocalist Kat Wright, among others. And a stuffed lion's head — the band's mascot.
Benevento is a force of personality as his band loads in. He greets friends old and new with the same enthusiasm with which he tackled Adler. As two helpers roll his modified miniature Wurlitzer piano down the sidewalk into the coffee shop, he skips along, banging out a jaunty, ragtime-ish progression and nodding and smiling to amused onlookers. He's excited to be here. And it's infectious, as a capacity crowd later that night will discover.
Prior to the show, Benevento sat down to chat with Seven Days over a dinner of salad and poutine at ¡Duino! (Duende), the Bean's adjoining bistro. He wraps up his residency this Friday, November 4.
SEVEN DAYS: I've gotta say, you make quite an entrance.
MARCO BENEVENTO: Ha. Yeah, I guess I do. But now when we come here — this is our third show — it's like [Radio Bean] is a home away from home.
SD: Speaking of which, you come to Burlington pretty often. Do you have a personal connection here?
MB: Not really. I spend a lot of time in New York, so Burlington has always been like the Boulder of the East Coast for me. It's a cool mountain town with good food and good music.
SD: True. And you've made some musical connections here.
MB: Well, the Phish guys are from here, and I've played with them a few times. But really, it's just a cool town to come to and play gigs in. And now, having come so many years in a row and playing so many venues, from Higher Ground to the fairgrounds, Radio Bean, Parima … the community here is just really supportive of creative music. It's awesome.
SD: What does playing in such a small venue like Radio Bean allow you to do differently that you might not be able to do on a larger stage?
MB: Well, I thought it would be cool to do a small residency where I come back once a week and really get into the community, tell people to bring their instruments and sit in. And the fact that it is such a small place makes that easier to do. You get to play with people you might not otherwise at a bigger place like Higher Ground. You need to scale it down.
Above: The Marco Benevento Trio and vocalist Samara Lark cover The Knife's "Heartbeats" at Radio Bean on October 21.
SD: Well, you can't scale it down much more than Radio Bean.
MB: Nope. And that's great. When you're touring around, playing bigger rooms and in the flow of things, you sometimes forget about this element of music where everybody is in your face, you've gotta be on your game. There's no downtime. No rock-star stuff. It's a very raw way to see somebody, to see their subtleties and imperfections. And I love that.
SD: I imagine the cramped quarters present some challenges, too, though.
MB: When we walked in before the first night, I was so nervous. First, I didn't know how we were going to fit on the stage. And the sound system … well, I didn't think we'd be able to hear anything. But things went so well and it's so punk rock. You just make it work and have a good time with it.
SD: Logistically, touring small venues must present some financial limitations.
MB: That's another thing. Realistically, at a small place like this, there's not a lot of money to be made. So we've been staying at a place, like, three blocks from here and sleeping on a couch. It's not ideal. But it's like a sleepover. It's fun. A musician's career is hilly. Sometimes you're up and you only want to stay in hotel rooms. Like, "No way, I don't crash on couches anymore." But things are different now with touring. We don't have a sound guy or a driver. It's three of us in a van and we stay at people's houses. So our philosophy is "Stay small and keep it all."
SD: Solid financial strategy. And it actually sounds like a lot of fun.
MB: It is! I probably won't ever do this kind of thing again, so I'm embracing it. Like, "Yes! Let's go to that girl's house, sleep on her couch and drink beer until five o'clock in the morning. Let's do it!" I like it. Although I'd also like to be on a tour bus and sleep in a hotel…
SD: The grass is always greener, I guess. Maybe next time?
MB: Yup. Maybe next time.
Marco Benevento closes out his Radio Bean residency this Friday, November 4, at 10 p.m. $17.50/20/60.