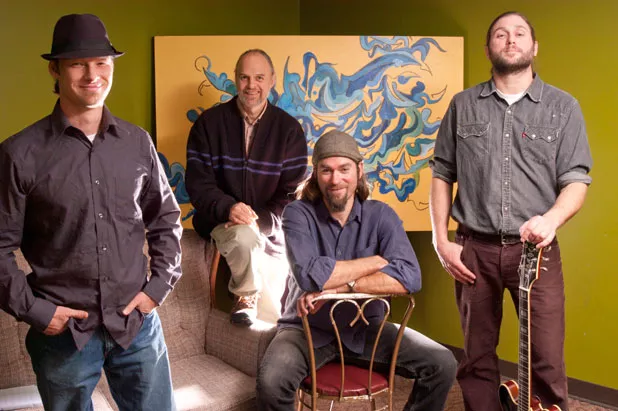 Matthew Thorsen
The Eames Brothers Band
Seth Eames is a man of few words. But, as is often the case with the strong, silent type, when he does choose to speak, you'd be well advised to listen closely.
Eames, 38, and his brother Ralph, 42, speak most forcefully as the leaders of the Eames Brothers Band. The group, whose membership often rotates and now includes Grace Potter and the Nocturnals' drummer Matt Burr, has long been revered locally. Case in point: During a recent interview with Seven Days for an unrelated story, Radio Bean owner Lee Anderson claimed the band, which was among the first to play his café 10 years ago, "brings tears to my eyes more than any other in Burlington."
That's high praise. And it's a sentiment most likely shared by those who have kept tabs on the Eames Brothers Band over the last 15 years. Yet the "mountain blues" outfit seems to shy away from the spotlight, remaining content to play regular local gigs and, every now and then, release remarkable album to little or no fanfare.
This week, the Eames Brothers Band will debut their latest such effort, Down to Change. According to Seth Eames, the record is "maybe" the band's fourth official release. (He notes that they have a number of unreleased records on the shelf at home.) Further muddying the count, the band's last studio record, Open Road — among 7D's top 10 VT-made albums of 2006 — has long been out of print, at least physically. The album is available digitally on their website.
All these circumstances spread a certain air of mystery around the group. It is a somnolent haze only deepened by their new album, which simmers and shimmers with a dark, brooding blues heart, equal parts muddy Delta clay and cold Green Mountain grit.
The album opens with the title track. A slow, sinewy guitar groove introduces the song and sets a late-night, low-lit mood that defines much of the record. It is an ambiance Seth Eames developed on his quietly brilliant 2008 solo effort, Two Moons Pullin' Down On Me, and then perfected in 2009 on a stunning collaboration with Michael Chorney, It Disappears. Where those albums evoked the bleary-eyed solitude of howling at the moon, here Eames presents a warmer, more sensuous tone.
Still, there is a familiar ache in his hollow-bodied croon. "Everybody's down to change again," he sings. "But we're walking on the same floor." Then, at the chorus, he laments, "So close together, so far apart," a thin falsetto harmony framing his deeper tones with a spooky R&B feel.
Eames acknowledges thematic threads running through much of his material, even though he says he's rarely conscious of them at the moment of creation. "I do find certain things come up again and again when I'm writing," he says recently over drinks at Radio Bean. "But I don't really set out to do that. It just sort of happens."
"One in the Morning," a thematic extension of Eames' 2008 and 2009 projects, perhaps exemplifies that process. But where those earlier albums, particularly It Disappears, revealed stark, indigo-hued sketches, this song is a more fully colored canvas. Ryan Power, who produced, mixed and mastered the record and recorded most of its tracks, lends the tune ballast with a roiling organ part. Seth Eames uses that current to unfurl snarling guitar lines, while Ralph Eames keeps the band pointed downstream with a purposeful bass part.
"Slow River" continues the record's controlled burn. Here, guest lead guitarist Jason Sperling challenges Seth Eames' hypnotic rhythm with stinging, bluesy arcs. There's black magic afoot as Eames intones, "Just the other day, sitting 'round the strangest fire, separate the truth from the lies."
Eames' voice possesses a shadowy, timeless quality. The rounded baritone crackling through the speakers sounds as though it could have been recorded through a tin can in a ramshackle Mississippi studio 80 years ago.
It's a notion than seems to amuse Seth Eames. The faintest hint of a wry smile cracks the corner of his lips as he ponders, "Well, what is old?"
"First Light of Day" bobs lazily, a woozy slide guitar answering Eames' weary ruminations, diving and ascending again against a steamy blues backdrop. Eames' weathered delivery evokes images of empty pockets and barren fields as he sings, "I won't be home for supper tonight / I've got some work to find if we're gonna get out of this bind." His plainspoken poetry is direct and powerful, as hardscrabble blues should be, regardless of its vintage.
Down to Change comes to a close with "When Old Midnight Comes." The song is like a coda, an epilogue that embodies each of the album's themes — love, self-destruction, fruitless labor — and ties them together with artful subtlety. "One bowl is overflowing; one bowl is just full / One bowl is overflowing and getting mighty close to home," Eames sings. Then, shaking off the preceding uncertainty, he offers a glimmer of defiant hope. "One seed is better than nothing, one seed in dry sand / One seed is better than nothing; I'm gonna make a stand."
Down to Change probably poses more questions than it answers. But then, that is precisely why the Eames Brothers Band continue to fascinate their listeners.