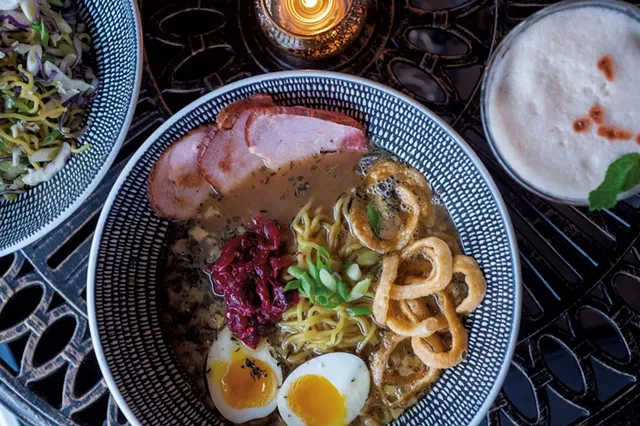 Jeb Wallace-brodeur
Pardon Me ramen bowl
The first time I ate at Stoke Ramen Bar in Waitsfield, I showed up for a late lunch and took a seat at the bar. Chef Colby Miller, who works in an open kitchen, walked over to talk to me. As I considered building my own ramen bowl, he suggested an alternative: On my inaugural visit, I should eat from the "curated" side of the menu, featuring meals designed by the chef.
I took Miller's advice and ordered the Staff Meal ($14), an option I assumed Miller not only created but also eats. (The menu offered a hint: "Not gonna lie, we eat pretty darn well.")
Within five minutes, Miller delivered a delicious meal in a deep ceramic bowl. It was essentially brothless ramen: a layered and lovely tangle of noodles, Napa and purple cabbage, duck fat, and toasted garlic, all tossed with tamari and maple syrup. It was served with pickled daikon and topped with chopped scallions and a splash of chile oil.
Living it up for no reason except a sunny fall day in the Mad River Valley, I drank a couple of shot glasses of sparkling sake. I was stoked, pun intended.
Miller and his wife, Mimi Bain, opened Stoke Ramen in late July in the Village Square Shopping Plaza, south of the center of town. The strip mall is anchored by Mehuron's Supermarket, a family-run store that's been in operation for nearly 80 years. On one side of Mehuron's is the original Mad Taco, a Mexican restaurant that opened in November 2010; on the other, Canteen Creemee Company, a snack shack that's been serving roadside fare since the spring of 2016.
Stoke Ramen stands across the parking lot from Canteen Creemee, in the space most recently occupied by Sol Juice Bar. The restaurant got its name after Bain and Miller spent three weeks kicking around ramen puns such as "Holy Ramen Empire" and "Ramen With the Devil."
Finally, Miller had had enough. He recalled saying, "I don't care what its name is. I'm just stoked that we're doing this." Stoke stuck.
Jeb Wallace-brodeur
Mimi Bain and Colby Miller
The restaurant's central feature is a simple wooden bar lined with high chairs. A couple of wrought-iron tables flank the front door, and a side lounge area offers a colorful couch, coffee table and bookshelves. Paintings by Bain's late mother, Mary Duffy, hang on the wall — and their color and composition inspire guests to look again. The noodle bar is an easy place to feel comfortable, equipped with a Wi-Fi password that's humorous and ramen-appropriate.
Bain (front of the house) and Miller (on-view chef) are behind the bar five days a week. Miller, 39, grew up in Granville and has been "gigging around" in restaurants for about 20 years. He was a chef at Mad Taco for five years and has worked at Hostel Tevere in Warren.
"I've always liked ramen, ever since I was a kid," he said. "On past menus, I've had a ramen dish as one item."
Bain, 31, studied in the Addison Repertory Theater program at Middlebury Union High School and has worked in various aspects of theater, including direction, costume design and production management. This last role, she said, proved a useful experience for running a restaurant.
Before the couple opened Stoke Ramen, Bain spent three and a half years as a manager at the Pitcher Inn in Warren. Last winter, she also bartended at Hostel Tevere. Owning her own restaurant is a "more intimate experience" than working at someone else's, she said.
Jeb Wallace-brodeur
Eggs n' Bacon appetizer
"We've got this child that we have to tend to in so many different ways," Bain went on. "It was almost like daycare working for other people. We were babysitters, and now we're the parents."
When I returned to Stoke Ramen for a second meal — dinner — the "parents" had the TV on above the bar, playing muted reruns of "The Golden Girls."
While waiting for its full liquor license, the restaurant is offering a selection of wine and beer. Bain's mixing "fun wine cocktails," she wrote in an email, including Into the Mystic, a Nigori (sake) mojito; and This Is Just to Say, a plum wine sour with egg whites.
My friend and I, seated at the bar, shared a small bottle of sake and split a pair of appetizers. The Eggs n' Bacon ($12) was exactly as it sounds: a mini breakfast-at-dinnertime delight. The seven-minute egg was marinated in tamari and sake; the pork belly was fatty and thick. We combined these with our other starter, a dish called Et tu Bruté? ($9) that presented a mélange of cabbage, pea shoots, garlic and braised daikon, popping with flavor from added bonito flakes.
For my main course, I again opted for a curated ramen bowl. The Sports Ball ($20) was a spicy and creative meal built on noodles in chicken broth with tare (ramen's main seasoning) that was flavored Buffalo-style. In the bowl were eggs, pork belly, chopped cabbage, pea shoots, scallions and a thick slice of blue cheese. Melting into the soup, the cheese gave the broth a creamy heft. The Buffalo heat, I learned later, came from Frank's RedHot. (This had to be the first time I'd driven 40 miles for a shake of Frank's.)
"That's kind of a play on hot and sour soup," Miller told me about the Sports Ball by telephone. "In that tare, Frank's gives it the character, the tamari gives it the seasoning, and mirepoix rounds out the broth."
Miller changes the menu often. At my request, he emailed a list of ingredients he has in mind for upcoming ramen bowls, including short ribs, confit duck, apples, housemade pork sausage with ginger, and birch syrup.
He combines his bold and playful approach to making ramen with a pretty chill attitude. "At the end of the day," Miller said, "it's noodle soup."