Matthew Thorsen
Up Top Tavern
The Up Top Tavern looks like the spot where a crusty New England judge in a Shirley Jackson novel might stop for a scotch on his way home from chambers. Tucked on the second floor of a 19th-century Greek Revival building on the town green, it's all low lighting, dark wood and maroon walls. There's a model ship over the fireplace — flanked by leather sofas — and one booth sits directly under a massive moose head.
But it's hard to imagine a town father sipping a "White Chocolate Martini" — a foamy concoction of vanilla Stoli, Kahlua and heavy cream scalloped with house-made dark-chocolate ganache. With six beers on tap and a cooler full of bottled brews, the Up Top offers sips of urbanity, even if the folks at the wall-length bar are likely to be regulars jawing companionably with the staff.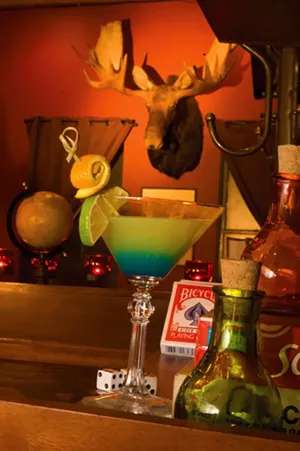 Matthew Thorsen
Up Top Tavern
The creative (and saucily named) drink specials at the Up Top change with the seasons: Among the offerings on a wintry day are the "Toboggan" (hot chocolate and Frangelico), the "Nervous Breakdown" (soda water, raspberry vodka and Chambord) and the tangy tropical "Shangri-La," which combines homemade passionfruit juice with soda water, Cointreau and lime. In the warm months, patrons can scope out the village green from the outdoor patio while sipping a black-raspberry Cosmo or a Margarita flavored with apricot or smoked sage. Many drinks come with an extra portion, and with prices hovering around $7, they're a steal by city standards.
Food choices are limited but solid: The Up Top offers a menu of hot pub fare ferried from nearby 3 Squares Café, including a Boyden Farm burger, a "Grilled Chicken Cobb Sandwich" and a veggie 'wich with asparagus and Portobella mushrooms. Like Vergennes, Up Top combines metropolitan stylings and small-town charm in a very neat package.