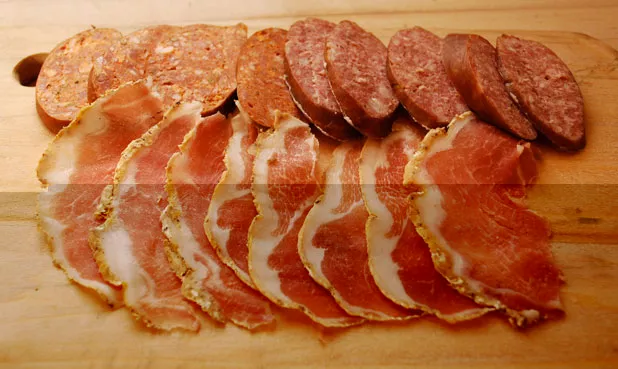 The warren of shiny, steel-gray rooms in the Mad River Food Hub doesn't look like the center of a revolution. Architectural plans are taped to the walls, the rooms are bare, and fluorescent lights dangle from the ceiling at odd angles.
However, this place is poised to become an incubator for fatty and funky flavors, and for a growing food niche. Come winter, according to plan, Vermont-grown pigs will arrive and, after a months-long process of butchering, drying and aging, emerge as tasty hunks of dry-cured pork.
Following beer and cheese, will Vermont's next wave in fermented foods be dry-cured meats? Charcuterie can fetch premium prices that could potentially be a boon to Vermont farmers and food producers, not to mention lovers of salami.
"There's a very exciting opportunity for Vermont," says Jeff Roberts, an author, food and agriculture consultant, and adjunct professor at the New England Culinary Institute in Montpelier. This summer, Roberts interviewed more than a dozen retailers around the country to study the market viability of Vermont dry-cured meats. He found that with the rising popularity of local foods and small-scale production, dry-cured meats are ready to take off. "In some ways, the cured-meat community resembles where the artisan cheese world was 25 years ago," he says.
Commissioned by the Vermont Housing & Conservation Board's Farm Viability Program, Roberts' study resoundingly endorses dry-cured local meats as an untapped market for Vermont farmers and producers.
Humans have been salting, smoking and preserving meat for thousands of years in caves, dark basements, near their hearths or even in the wind. In the New World, European immigrants kept those traditions alive — think of the salami hanging in old-school Italian delis.
Over the last 10 years or so, another charcuterie revival has been quietly taking place: chefs obsessed with producing their own house-cured charcuterie plates. At the same time, prices for dry-cured meats have skyrocketed; some cuts, such as prosciutto, fetch upward of $15 per pound.
Yet as charcuterie has become more popular, it's also come onto the radar of health inspectors. That's a mixed blessing: bad for chefs who were making it on the sly, great for those who want to exploit dry-cured meat as a commercial product.
Roberts, who has been tracking the emergence of cured meats for a decade, recalls an article in Food Arts magazine five or six years ago that profiled chefs who were doing their own curing. "Right in the middle of the article, it said that chefs were sourcing their meats from Vermont. I said, 'Damn, we're sending out great carcasses and someone else is doing the value-added.'"
That added value comes, in part, from the cumbersome process of turning out charcuterie — from sourcing quality meat and curing it with salt to creating a spot with the perfect temperature and moisture for long periods of aging. "Humidity, temperature and air speed. You try to manipulate those three conditions to create the slow and steady curing of meat," says Pete Colman of Vermont Salumi, who helped design the Waitsfield incubator space and will be its first tenant.
Colman is deeply steeped in the salumi tradition, having learned from family and friends during regular visits to Italy. He's been producing local-meat sausages for nearly two years, but since curing has always been a regulatory dead zone, he's only done it for his own consumption. "It can be done in the basement without any fancy equipment," Colman says. In fact, he's aging some prosciutto in his cellar right now.
With food-hub founder Robin Morris, manager Jacob Finsen and architect Kathy Meyer, Colman helped design a "swab-able" curing space with far more precise controls than a basement can offer. There, he'll smother local, pasture-raised pigs with sea salt to make guanciale, coppa, lonza, pancetta and salami, which will age for weeks, sometimes months.
Even then, it can be a tricky, unpredictable process. After months of waiting for meat to age, "you don't really know until the very end" if all the work will result in something edible, Colman concedes.
Those very qualities that lend the meats flavor — long air-drying time, the growth of flavor-laden bacteria — can also send shivers down the spines of meat inspectors. All of that house-cured salami and speck that diners were noshing on five years ago? Much of it was technically illegal. Now regulators are paying attention, and the U.S. Department of Agriculture is looking to certify the burgeoning curing facilities.
For his project, Roberts interviewed a chef in Providence who had been doing his own house curing for years. "He told me, 'I knew I was skating along a very thin line,'" Roberts recalls.
Roberts is happy about the Waitsfield facility, as well as the new dry-curing rooms at the Winooski meat-processing plant for Guild & Company. "This is a very healthy step, an important step," Roberts says. "If we're going to do this, let's do it right."
The "magic" of fermented foods is countered in some ways by the HACCP plan, or study of hazard analysis and critical control points. HACCP plans are standard food-industry documents that attempt to minimize risk, but they're cumbersome for dry-cured meats. "It's challenging; it's kind of a living document, and they change with the facility," says Colman. "But we're confident we're going to do OK."
A few miles down the road from the food hub, Ethan Chamberlain is putting together his own plans for the new curing room. When he worked in the kitchen of Zuni Café in San Francisco in the early aughts, Chamberlain got hooked on the house curing that went on there; he's been learning, curing and smoking ever since.
When Michael Ruhlman's seminal book Charcuterie: The Craft of Salting, Smoking, and Curing came out in 2005, it further cracked open the process for Chamberlain and others. "That book inspired a lot of people. Until then, [curing] was a mystery," recalls Chamberlain.
At American Flatbread in Waitsfield, Chamberlain makes sausage, house-cured bacon and pepperoni. The last, studded with fennel, "undergoes a quick ferment and is heavily smoked," he says, on a smoker rigged up with a turn-of-the-century woodstove, which Chamberlain fills with apple and birch wood. He then ages the pepperoni inside the restaurant's cooler.
At home, it's another story. The curls of homemade coppa and slices of lamb summer sausage that Chamberlain shares from his kitchen are earthy, rich and sublime, the summer sausage tinged with hints of coriander and pepper.
Chamberlain is modest, but his expertise trickles out as he talks about making his summer sausage. Of his starter culture, he says, "When I wake it up, I wake it up in good beer" (such as Trout River ale). After he adds it to the ground and seasoned meat, he lets the mixture ferment for four days in the refrigerator, and then regrinds the meat before stuffing it into casings. After a brief drying period, he smokes the sausage for four hours, then cures it at room temperature for four more days. "It's not heavy on seasoning. It's all about technique," Chamberlain says. Use too high a temperature when you smoke, he says, and "you'll melt the fats."
"[Charcuterie] takes time and serious patience. You lose 30 percent of the meat's weight [during drying and aging], so it's also a lot of work. You can't just wing it," Chamberlain observes. At the food hub, he plans to make salami, dry sausages and "muscles" such as prosciutto and coppa.
Morris couldn't be more pleased with those plans. The food hub spent $80,000 on the curing room — partially funded with a USDA grant — in hopes that it would help birth a new industry. "The more value you put into a piece of meat, the more value you can get back to the farmer," he points out. "Curing is the pinnacle of meat."
Though the food hub also holds a cooler, freezer, meat-processing room and kitchen, the curing room "was a much more complex facility to put together," Morris says. It includes its own processing area, dehumidifying closets and two aging rooms where different cuts will spend from four to 13 weeks. "We really want this to be an opportunity for Peter [Colman] and people like him," he adds.
In Winooski, Frank Pace is putting the final touches on his dry-curing house, which will serve Guild & Company and other eateries in the Catamount Hospitality family — and perhaps , eventually, retail. "We'll do salami, coppa — it's pretty much unlimited," says Pace (though prosciutto and saucisson sec are not on the agenda). Pace buys whole animals and sees charcuterie as a vital link in the farm-to-plate, nose-to-tail ethos. "It's part of this 'whole pork' picture," he says. "We're trying to value-add whole animals to the end for restaurants. Each part plays a very important role." Pace expects to be curing by January 1.
As both rooms swing into action, producers might hit an unexpected road bump, though: a paucity of pork.
"The barriers for Vermont will be getting quality meat," says Roberts. "If you want Vermont pork, there's a problem. There just isn't enough of it."
For now, Pace is getting pork from Vermont Heritage Grazers in Bridport. Colman is sourcing from Meeting Place Pastures in Cornwall and Deer Run Farm in Danville, as well as the whey-fed pigs of Ignacio Villa. Chamberlain purchases pigs from Gaylord Farm in Waitsfield. Roberts says Vermont pork is in high demand by out-of-state producers, too, so a crunch could come quickly.
"One of the people I spoke with [for the report] said, 'You know, we're all buying from the same people,'" he recalls. "On the one hand, it's an opportunity in that Vermont farmers could start producing hogs to specification."
Colman, who has worked on piecing together a diverse network of farms for his supply, isn't worried yet; he just seems thrilled with the possibilities of what's become his life's passion. "This," he says of the cured-meat revolution, "is sort of a dream come true."