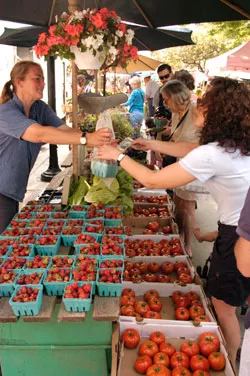 Matthew Thorsen
Burlington Farmers Market
Is the hustle and bustle of the Burlington Farmers Market too fast paced for you? Do you wish City Hall Park had another market where you could buy local foods midweek? Slow Food Vermont is addressing both those issues with a new market to launch on Wednesday, August 28.
Its organizer is Chris Wagner, manager of the Burlington Farmers Market and a board member of Slow Food Vermont. He says he's introducing the new market "in response to a lot of the customers and vendors saying the Saturday market has become more of a street fair; and that, at the same time, it doesn't allow those farmers to really slow down and talk about why they got into farming or what they love about this particular cut of meat."
The new agricultural market will run each Wednesday until September 25 from 2:30 to 6:30 p.m., featuring BFM favorites Stony Pond Farm, Arethusa Farm, Adam's Berry Farm, Half Pint Farm, Shelburne Farms, Meeting Place Pastures, Farmer Sue, Bella Farm, Maple Wind Farm and Flower Power VT.
Wagner says he hopes that the BFM and Slow Food Vermont will vote to cosponsor the market next season. If they do, he'll call in the Italian representatives of Slow Food International, who will inspect the market and decide whether it meets the criteria for a Slow Food Earth Market.
That's a tall order: Of the 35 Earth Markets registered across the globe, there's only one in the United States — in Greenville, S.C. The inspectors will check products to make sure they adhere to Slow Food guidelines such as promoting biodiversity and shunning genetically modified organisms. "Most of the rules are things Vermont farmers are already doing, so I'm not fearful of any international inspection," Wagner says. "But we all really need to see if there's even a need for this type of market in Burlington, from the vendors' perspective and from the customers'." If there is, Burlington might well get the country's second Earth Market.