As the sun set last Thursday evening, a crowd gathered at Bleu Northeast Seafood in Burlington. Upon arrival, guests received a flute of bone-dry, apple-scented Vermont bubbly, fermented in Newport by Eden Specialty Ciders. Near the door, John Brawley, a tan-faced, brawny shellfish farmer, shucked oysters. His thick fingers moved in a deft pop-pry-swipe movement, turning sealed mollusks into ruffled pools of brine. Guests splashed them with tangy mignonette and slurped with glee.
In early fall, Brawley broadcasts tiny oysters into Duxbury Bay, a sandbar-protected cove just north of Cape Cod. Though his Sweet Sound Oysters grow within spitting distance of national raw-bar staple Island Creek Oysters, he explained that varied water flows and nutrient flushes give the skirted bivalves different nuances in flavor than their well-known neighbor.
"It's subtle," Brawley said, "but there is a difference."
Such conversations occur when seamen serve shellfish directly to consumers. The practice is uncommon, even near the coast. It almost never happens in landlocked states.
But the notion of fostering such connections was what brought dozens of local food producers, thinkers, activists and organizers to Bleu for a Slow Fish Benefit Dinner last week. Proceeds from the four-course meal will help send 13 Vermont delegates to the biennial Slow Food International conference — the Terra Madre Salone del Gusto — in Turin, Italy, this fall.
Founded in 1989, the global organization has initiatives in 150 countries, each with the mission to preserve local food cultures and traditions while cultivating interest and engagement in the food-systems web.
In Vermont, most of Slow Food's work is about agriculture and local food access. With the nearest coastline hours away, most of the fish that Vermonters eat — aside from local freshwater species — come from beyond state lines.
Corey Hendrickson
John Brawley shucking oysters
Since each ocean flows into the next, and massive international firms broker annual catches wholesale, most seafood is harvested, processed and sold through worldwide channels. Even relatively "local" fish — perhaps caught off the coast of New England — often crisscross the globe between net and plate.
Burlington-based fisherman Anthony "Captain Tony" Naples is working to change that. A boatbuilder and lifelong fisherman, Naples heads to Alaska for salmon each summer. Five years ago, he began to ferry his catches from sea to consumer under the label Starbird Fish.
Naples is one of just a few dozen fishermen doing direct sales worldwide. In Vermont, you can find him at farmers markets and retail outlets such as City Market/Onion River Co-op, Healthy Living Market & Café and Hunger Mountain Coop, where he regularly offers tastings and demonstrations.
"A huge part of what I do is educate people about fisheries, fish and seafood in general," Naples told Seven Days via phone last week.
Starbird's process is labor-intensive. Naples personally catches, ships, processes and sells each fish himself. But that legwork builds accountability into the product, he said.
Since large Asian companies own most of the world's fish-processing plants, most seafood — regardless of where it's caught — goes to China for processing. "We just don't know what's happening to that fish," Naples said, adding that many processors rely on chemical applications and long-term cold storage to stabilize product until it reaches retail markets. Sometimes, that's years after the fish was caught.
So that "New England cod" you bought at the grocery store? It may have been fished off the coast of Massachusetts, but it likely traveled to China and back before you snapped it up.
Corey Hendrickson
Doug Paine
"People just go to the store and get [fish] from a cooler, and the sticker says 'Product of the USA' — or Indonesia," said Bleu chef Doug Paine on a sunny afternoon earlier last week. "But that's just where the boat came in. People need to know where it came from." That day, the chef was casting lines into the mouth of the Winooski River. A camera crew took footage for a promotional piece looking at his work with sustainable seafood.
Unlike produce and meats, which are usually farmed, most seafood is still wild-caught. And since fish populations are vulnerable to factors ranging from overharvesting to oil spills to global warming, "[Seafood is] something we really need to protect," Paine said. "It will go away if we don't treat it well."
At Bleu, responsible sourcing is a top priority. "People need to know their fishermen," the chef said, tossing a line into the water.
Often, that means serving species that may be unfamiliar to many diners. That's hard, Paine admitted, "because everyone wants shrimp cocktail and crab cakes."
When Bleu opened two years ago, it offered neither, lacking a consistent, conscientious vendor for those species. It took a year and a half to find a steady crab source, he explained. Paine often swaps lesser-known fish for well-loved, overfished or otherwise threatened species, such as halibut and sea bass.
When guests ask for red snapper, for example, Paine offers ocean red perch. It's a smaller fish but similar in color, flavor and texture — a fact that Bleu's servers must explain over and over. Diners are generally receptive to trying an unfamiliar fish once they're assured that it's not so foreign.
The vast majority of Bleu's fish comes from coastal New England, Lake Champlain or the Canadian Maritimes, via trusted channels. Paine's one non-regional exception is Alaskan wild salmon, which he gets from Naples at Starbird Fish.
This spring, Naples and "Cranberry Bob" Lesnikoski attended the Slow Fish convention in New Orleans. While there, Naples said, a group of direct-sales fishermen noted that "we're kind of the spokespeople for this sustainable fishing industry."
From a consumer perspective, buying fish from the person who caught it means you can ask questions. Rather than coming from some unnamed boat trolling faraway waters, Starbird's fish comes from a real person who is integrally involved in every step of the process. And that means Naples can set his own prices.
Lesnikoski grew up fishing in coastal Connecticut and worked for a local fish packer after he started the Vermont Cranberry Company in East Fairfield. These days, he moonlights on a boat out of Rye, N.H. He met Naples at the Burlington Farmers Market three years ago. Naples needed cold storage and fish-processing space; Lesnikoski had room to spare on his farm.
Last summer, the two partnered on a lobster-roll cart, which made regular appearances at Friday-night Truck Stops, hosted by ArtsRiot in Burlington. This year, they'll up the ante with a full-on food truck.
Retailing fish directly to consumers means the fishermen can command several dollars more per pound than wholesale fishermen, whose prices are dictated, top down, by international markets. "[Fishermen] are totally beholden to large companies that control prices," Naples said. "It's so unnerving. You're about to go out [to sea for months] to harvest this food, and you don't know what you're going to get paid for it."
When people connect the dots between sea and plate, they care. At Bleu, Paine said, "People want to eat something that's good for them and good for the environment."
Most people in the food system regard such conversations as the front lines of the sustainable food movement. And special tasting-style meals like last Thursday's dinner are hotbeds for intersystem dialogue. Paine hosts similar themed events once a month or so at Juniper or Bleu.
At the benefit, the food and corresponding beverage pairings came courtesy of local movers and shakers including the fishermen noted above, as well as Vermont Brewers Association president Sean Lawson (of Lawson's Finest Liquids), Eden Specialty Ciders' Eleanor Leger, food activist and Miss Weinerz doughnut maven Ren Weiner, and Brio Coffeeworks owner Magda Van Dusen, among many, many others.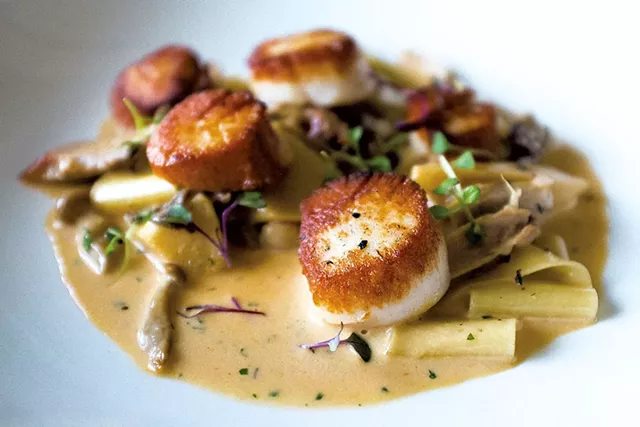 Corey Hendrickson
Scallop pappardelle at Bleu Northeast Seafood
Over sips of sparkling cider and nibbles of Rhode Island calamari — which was encased in effervescent cornmeal and so tender you could easily cut it with a fork — conversations meandered from fish to forest farming and permaculture. My tablemates talked books, community food education and feeding the hungry. We discussed how to funnel excess produce from local farms into hospitals, schools and prisons, and acknowledged that Vermont leads the nation in many of these practices.
"I think the fact that we're [a] small [state] allows us to do these things," Weiner said, assembling a bite of Starbird salmon with crunchy sprouted beans and ramp-tinged crème fraîche.
Vermont's small size makes for tight, strong communities and facilitates open dialogue that can yield meaningful local results. All of which represents the heart of the Slow Food mission.
When the final savory course arrived, the room quieted, aside from a few oohs and ahhs, as guests savored Lesnikoski's plump Rhode Island sea scallops. Seared golden on the outside, they were served with a heap of pork-studded mushroom pappardelle.
As I contemplated the mollusks' milky internal sweetness, I recalled a comment from Slow Food Vermont board chair Ann Cromley earlier in the evening. At events like this, she said, "We gather. The gathering matters. What else is there, really?"